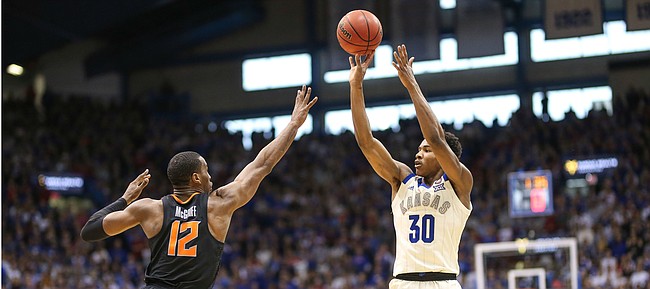 No. 12 Kansas Jayhawks (20-6 overall, 9-4 Big 12) vs. No. 14 Texas Tech Red Raiders (21-5 overall, 9-4 Big 12)
Time: 7 p.m. | Location: United Supermarkets Arena, Lubbock, Texas
TV: ESPN | Radio: IMG Jayhawk Radio Network
Not going to be home for the game? Sign up for ESPN+ and watch your Hawks on the go.
Log on to KUsports.com for our live game blog coverage and follow the KUsports.com staff on Twitter: @KUSports @mctait @bentonasmith & @SJacksonLJW
Keys for Kansas
1. One game at a time
It's one of the biggest cliches in sports and an obvious objective for most teams most seasons, but every once in a while an occasion arises where the one-game-at-a-time mindset actually matters and means more than all of those other times.
This is one of those times.
With the Jayhawks still in the hunt for a 15th consecutive Big 12 title, but trailing K-State by a game in the standings with 5 games to play, the next three days will be massive for KU's hopes of extending its streak.
Monday night's Big Monday game against the Wildcats at Allen Fieldhouse affords KU the opportunity to pick up a full game on K-State, but it won't mean quite as much if the Jayhawks can't find a way to win in Lubbock first.
Self knows that and has been emphasizing it all week with his team.
"Obviously that 48 hours is going to be really important for our program and this particular team," Self said Thursday. "The key to having success is you worry about Saturday. You don't even think about Monday.
"After Saturday's complete, then, regardless of outcome, you've got to totally retool them and then you've got a 30-minute prep day for K-State the next day. We'll start worrying about that when the final horn sounds and not until then."
The Jayhawks did spend a little time this past Monday looking at Kansas State, but their focus from Tuesday on has been on the Red Raiders and that has to have their total attention, from pregame to KU departing the building, if the Jayhawks hope to survive this monster game with Texas Tech.
"It'll be a great atmosphere, I'm sure," Self said. "But, you know, you come to places like (KU) to play in big games, and this is obviously one of the biggest games we've had in the regular season for a while and it'll probably be the biggest game of our season until Monday."

Added junior forward Mitch Lightfoot of the benefit of having two big games so close together: "You can kind of keep the momentum rolling. But in order to keep momentum rolling, you've got to start with the first one."
2. Remember the Frog Dome
It's no secret that the Kansas men's basketball team has had its trouble on the road this season.
Outside of its success in neutral-court settings in Indianapolis and New York, the Jayhawks are just 2-6 in true road games, with four of those six losses coming in Big 12 play.
The last time this team hit the road, however, it finally came home with a victory. The overtime thriller two weeks ago at TCU featured Kansas playing a tougher, more intense and more impassioned brand of basketball and the Jayhawks are hoping that the lessons learned in that game will carry over to this one.
"We've got to use that game," Lightfoot said this week. "We've got to use how that game went, that energy we had in the locker room and have that help pump energy into us on the defensive end to get some flow."

Turnovers have been a major problem for the Jayhawks in their road losses, with season-highs of 24 and 23 turnovers coming in losses at Iowa State and at Kansas State.
In all, the Jayhawks have averaged 17 turnovers per game in their six road losses. They finished below that number in the win at TCU (15) and would have been well below it if not for a disastrous final 5 minutes that forced overtime.
Regardless of what happened near the end of the game, it was the Jayhawks on top when the final horn sounded, and that result set off a wild celebration in the KU locker room in Fort Worth, Texas, and the mere fact that this team received a reminder that it can actually have success away from home should help their mental state at Texas Tech.
"I think we'll be more confident going there," Self said, "because we won at TCU. I would agree with that."
3. Playmaker must emerge
A year ago, KU senior Devonte' Graham put the Jayhawks on his back and helped Kansas walk into Texas Tech and clinch a share of the 2018 Big 12 title with a tough victory over KU's toughest challenger.
Self said this week that that was the day Graham locked up the Big 12 player of the year award, finishing with 26 points on 10-of-18 shooting along with 4 assists in 40 minutes of KU's 74-72 victory.
Graham is gone, of course, and the Red Raiders' defense is too good for Kansas to think it can script and schedule all of its points in this one.
"We win the game by (2)," Self began. "And he scored about 8 or 10 points in the second half that were just him making unbelievable plays. We're going to have to have somebody else do that. When you play a really good defense, you've got to rely on players to go make individual plays."
In each of the Red Raiders' five losses this season they failed to score more than 63 points, including a 79-63 loss in Lawrence. What's more, Tech has held its opponents to 65 points or fewer in 20 of its 21 victories.
So simple math says 66 is the magic number for Kansas in this one. Get to that mark and your odds of winning increase substantially. Fall short and it's tough to see things going KU's way.
Mega Matchup
KU freshman Ochai Agbaji vs. Texas Tech sophomore Jarrett Culver
Texas Tech star Jarrett Culver was flat-out off in the Red Raiders' loss in Lawrence earlier this season. And freshman guard Ochai Agbaji's defense was a big reason why.
Culver shot just 5-of-17 in the first meeting with the Jayhawks and finished with 10 points, 6 rebounds, 5 turnovers and just 1 assist.
Agbaji said this week that the key to continued success against the 6-foot-6, 195-pound sophomore was to hone in on what worked last time while being aware that Culver may try to mix it up to get going.
"He's a great player and it's obviously not easy," Agbaji said of the assignment of guarding Culver. "All the guys who are going to be guarding him just have to buy in. He's a really good passer in my opinion. He can really create for other players. He was turning the ball over when we played him, but, from other games I've seen him play, he's a really good passer."
Although his team prepared for Tech this week much like it did leading up to the first meeting, Self said he, too, was expecting TTU coach Chris Beard to throw a few new wrinkles KU's way.
"I also know they watched the first game, too," Self said. "So they'll make adjustments on how they want to do different things. It'll be interesting to see how Chris does that. But we played four guards the entire time the first game and we're going to definitely try to play two games this game. So it'll definitely be different for both of us."
A potential wrinkle from KU's end could be the return of Marcus Garrett, the team's top defensive player who missed the first meeting with the Red Raiders.
Although Self has said that Garrett will not be 100 percent healed from the left ankle injury that kept him out of five consecutive games, there's little doubt that Garrett would draw Culver as his defensive assignment for at least a few possessions if he does play in this one.
Jayhawk Pulse
They don't make them much bigger than this. For the second consecutive season, the Jayhawks head to Lubbock for a late-season showdown with all kinds of Big 12 title implications on the line.
"It's a huge game for both teams," Self said earlier this week. "It doesn't necessarily put on exclamation point on where your season will finish based on the outcome. But it certainly would benefit the (winner) greatly and at least put them in position to maybe play for something."
Last year, the Jayhawks were that winner. This year, however, both teams enter on different rolls, with Kansas having won three in a row over teams at the bottom of the standings and Texas Tech on a four-game winning streak, with two of those wins coming on the road, one coming over Big 12 contender Baylor and three of the four coming by 25 points or more.
"They're just beating the crap out of people," Self said of the Red Raiders' roll since losing in Lawrence. "They're blowing people out."
Recent history shows that will be hard for Texas Tech to do in this one.
Kansas leads the all-time series with Texas Tech, 35-5, including a 14-4 mark in Lubbock and 10-3 record in United Supermarkets Arena.
The Jayhawks have won 17 of the last 18 meetings with the Red Raiders and, of Tech's five total victories in the series that dates back to 1959 have come by an average of 8.6 points.
Las Vegas lists the Red Raiders as a 5.5-point favorite over the Jayhawks.
Probable Starters
No. 12 Kansas
G – Devon Dotson, 6-2, 185, Fr.
G – Quentin Grimes, 6-5, 210, Fr.
G – Ochai Agbaji, 6-5, 210, Fr.
F – Dedric Lawson, 6-9, 235, Jr.
F – David McCormack, 6-10, 265, Fr.
No. 14 Texas Tech
G – Matt Mooney, 6-3, 200, Sr.
G – Davide Moretti, 6-3, 175, Soph.
G – Jarrett Culver, 6-5, 195, Soph.
F – Norense Odiase, 6-9, 245, Sr.
F – Tariq Owens, 6-10, 205, Sr.