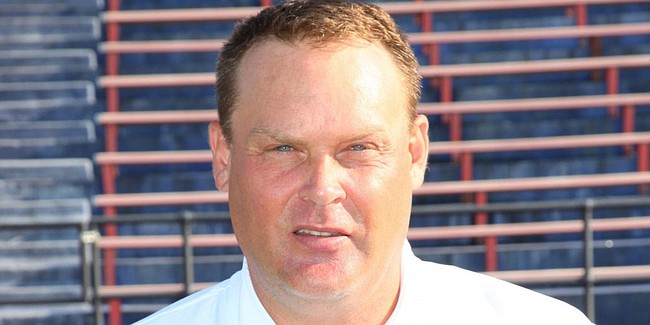 Baker University now has an old, familiar face in place as its new head football coach.
After conducting what school officials deemed to be "a thorough national search" to fill Baker's football opening, BU President Lynne Murray, along with Athletic Director Nate Houser, announced Friday afternoon that longtime defensive coordinator Jason Thoren had been named the leader of the Wildcats.
"Jason has been part of this program and this university for 15 years guiding student-athletes," Murray said in a news release. "I feel that he has what it takes to take this program, this university and these student-athletes to the next level, both on and off the football field. Jason's experience as part of our faculty will also be extremely helpful in developing young student-athletes for years to come."
Thoren, who served as the program's interim head coach for the past month, was considered by many to be a favorite to land the job the day it came open in late January, when BU announced that former coach Mike Grossner had been dismissed for violating the university's code of ethics and conduct.
A former standout running back and linebacker at Lawrence High in the mid-1990s, Thoren went on to star as a linebacker at the University of Kansas, where he earned various all-Big Eight and all-Big 12 honors from 1994-97.
Before joining the Baker football staff 15 years ago, Thoren spent three seasons as a graduate assistant at Minnesota, where he worked with the Gophers' offensive line and tight ends.
During his 15 seasons at BU, Thoren routinely has helped lead defenses that ranked among the best in the NAIA.
Under his guidance, eight Baker defensive players have earned All-American honors and the BU defense has finished in the Top 10 of the NAIA rankings in at least one major defensive category every season.
In addition, Thoren is a three-time Heart of America Athletic Conference Assistant Coach of the Year honoree, winning the award consecutively from 2016-18.
"I am very excited for the future," Houser said in Friday's release. "Jason has been successful throughout his entire career. His experience on the field and in the classroom will continue to put our student-athletes in the best position for success now and in the future."
The BU administration is hardly the only member of the Baker family looking forward to the beginning of the Jason Thoren era.

"I'm extremely excited and grateful for the opportunity to continue to coach in such a prestigious program steeped in tradition," Thoren said in the release. "Baker University is a special place to me, and I am truly humbled and honored for this opportunity."
Added Baker baseball coach, Ryan Goodwin, who played football with Thoren at LHS in the mid-90s: "This is awesome. Jason's obviously an outstanding coach, but, beyond that, he's been so supportive of our baseball program and of all of our athletic programs here at Baker. It's just great knowing our administration stayed true and stayed loyal to him because he wants to be here and he wants to coach kids in this area. I don't feel like Baker could've hired a better guy to take over the football program."