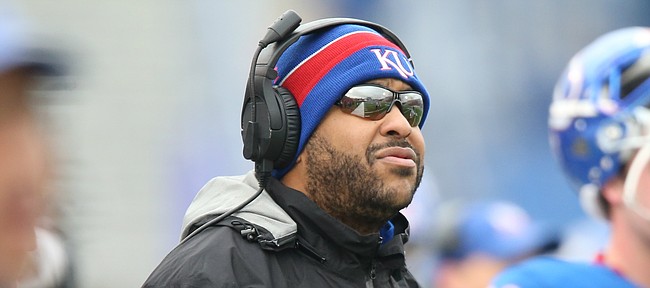 It wasn't long ago that Tony Hull's future with Kansas football was in limbo.
Les Miles had been hired to take over the program, and while the team's new big wheel stated publicly that he would assess the viability of retaining some assistant coaches from David Beaty's final staff at KU, that didn't mean Miles had to bring anyone back, including Hull, the team's most effective recruiter for the previous regime.
For that matter, there was nothing stopping Hull from pursuing jobs elsewhere.
"It was probably the most chaotic time of my life," the Jayhawks' running backs coach said while recently reflecting on the period of uncertainty during his first media session since Miles announced a week before Christmas that Hull and former defensive coordinator Clint Bowen, now KU's safeties coach, would return.
Before everything got sorted out, the situation was precarious enough that Hull owed it to himself to look into other coaching opportunities.
Ultimately Miles asked the New Orleans native who had successfully recruited coveted prospects from his hometown such as Mike Lee, Corione Harris and Pooka Williams to stay at KU.
Hull accepted, the fourth-year KU assistant shared, subsequent to considering three factors he deemed important.
Having spent his first 11 years in coaching working at the high school level in Louisiana, Hull obviously was readily familiar with Miles' résumé at LSU, a tenure that included a national championship following the 2007 season.
Even so, Hull wanted to discover as much as he could about Miles before reaching a personal decision on the next step of his career.
"I talked to a lot of the guys that played for him at LSU, from the area," Hull said, "and I want to say all of them had nothing but great things to say about him. So that helped out."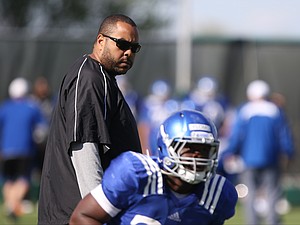 The second component of his conclusion, the Louisiana transplant said, was his new home away from home.
"Lawrence is a special place," Hull remarked. "The community, the school, the kids that we have here, it's an extremely special place, and I didn't want to leave this place at that time."
The third determinant came down to the program's success. Despite Hull's efforts in devising somewhat of a recruiting pipeline from Louisiana to Kansas and his work with the team's running backs, if he left KU this offseason Hull knew he would be doing so at least somewhat unfulfilled.
"We've still got a lot left to do and I believe in what Coach Miles' vision is, and I want to work for a guy like that," Hull said, "because he's done it at the elite level and he knows what it takes to be successful. So it was a great opportunity for me to learn, and also finish the job here."
Under contract with KU through February of 2020, Hull's tasks haven't changed too drastically since Miles took over, even though he no longer holds the associate head coach title that Beaty gave to him.
His new boss, Hull related, wants him to continue on his already established path of professional progress, both as a recruiter and a position coach.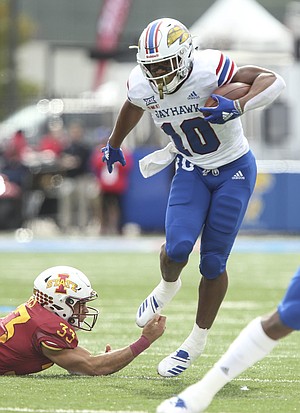 In 2018, KU's top three running backs, Pooka Williams, Khalil Herbert and Dom Williams, combined to average 164.9 yards per game and score 12 total touchdowns. Pooka Williams averaged 7.0 yards per carry, while Herbert finished the season at 4.4 per rush and Dom Williams registered 4.2 a carry.
As a team, KU averaged 4.5 rushing yards per attempt, which ranked 56th among 130 FBS teams. The Jayhawks' 158.8 rushing yards per game ranked 79th and their 35.3 carries a game ranked 107th.
"I believe we had a really, really good year, not just with Pooka, but with Khalil and Dom," Hull said. "And the yards per carry that they had was some of the best in the country with the limited touches they had."
While Pooka Williams' exact future status with KU football remains unclear at this point, as the running back's next court date dealing with his domestic battery charge is set for June 3, Hull's plan is to get the most out of the team's running backs in his first season working for Miles.
After spending a couple of months around KU's new coach, Hull likes the program's direction.
"Everybody's on board. That's been a number one thing when talking to recruits," Hull related of conversations he has had with prospects and their parents.
The running backs coach said everyone involved with the team believes in Miles' plan.
"That's a good culture to have," Hull said.