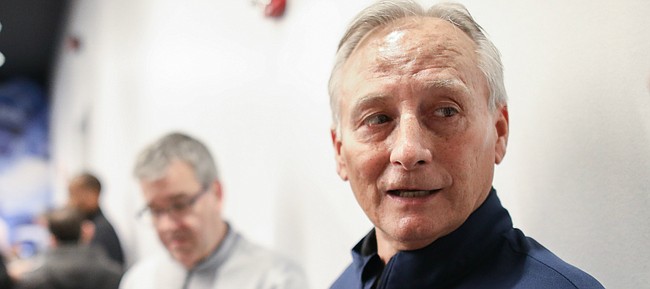 Any time a football program hires a new coach, those who follow the team want to know what the presence of a fresh perspective will mean for the product on the field.
Unfortunately for those diehards who keep up with Kansas football and are curious about what the offense will look like this fall, with an overhauled staff working for new head coach Les Miles, the man who will be calling the Jayhawks' plays is concealing more than he is revealing about his offensive philosophy — at least for now.
Asked earlier this month while speaking with reporters for the first time since he was hired about what he likes to do offensively, coordinator and quarterbacks coach Les Koenning began his response by explaining his current flexibility on the subject.
"Well, it depends on what your personnel is," Koenning replied. "Look, if we need to throw it every down, we're going to throw it every down. If we're going to run it, we're going to run it."
Koenning, whom Miles hired to replace Chip Lindsey once the short-lived OC left KU to become the head coach at Troy, doesn't expect to be quite so noncommittal about the offense in the near future.
Hired a little more than two weeks before he spoke with media members on National Signing Day, Koenning was still finding his bearings to an extent — learning people's names around Anderson Family Football Complex and figuring out where all the offices, meeting rooms and even restrooms are located.
"I know a little bit of the personnel we have, but this spring will be really, really big for us," Koenning said of offseason practices that will begin in March. "I mean, we'll have the ability to line up under center, we'll have the ability to line up in the gun. I think that's one of the things that got me hired. It was multiplicity of things. When you become one (dimensional) you either fit one guy or you don't. So it was easy for me when I talked with coach. I said, you'll get those things arranged really easily. It fits right in to what we do. I think that's the big thing."
Some of Koenning's hesitancy to discuss the specifics of what KU's offense could look like during the 2019 season, he admitted, stemmed from his own coaching impulses.
"The more information I tell you guys," he began, "guess what? We've got to play against them. There's people listening. And every time you can make it a surprise or a little bit different it's hard (for future opponents) to prepare."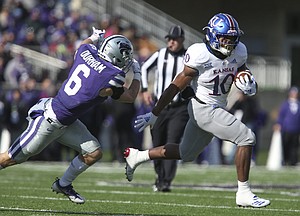 The construction of KU's offense, as Koenning alluded to, will really begin to take shape during spring practices. That's when he and Miles and other offensive assistants will see firsthand what type of personnel with which the Jayhawks are working.
At this point, Koenning doesn't know as much about returning players with starting experience, such as offensive linemen Hakeem Adeniji, Malik Clark, Kevin Feder and Andru Tovi, or receiver Stephon Robinson or running backs Pooka Williams and Khalil Herbert.
Of course, Williams' future role with the team remains uncertain, too, as the running back's next court date dealing with his domestic battery charge is set for June 3.
Koenning will be far more familiar with the entire roster a couple of months from now. As of early February, he hadn't dived too deeply into game footage of KU's returning offensive players.
"We have strictly been watching recruits," he said at the time. "I've watched every 2020 quarterback, I went through all our signees that we've signed."
But he expected to forge relationships with the players already in the program soon. And coaches this week have had more opportunities to interact with players now that the most frenzied part of recruiting season has died down and staff members have been able to better settle in after moving to Lawrence and joining the program.
"This is not going to change — who we have. It's not like they're going to leave tomorrow or something," Koenning said. "We're excited about them. They're excited about seeing what we're putting together."
Koenning, the running backs coach at Southern Miss in 2018, has spent much of his career working for programs more renowned than KU, such as Alabama (2001-02), Texas A & M (2003-07), Mississippi State (2009-13) and Texas (2014).
However, he said it didn't take much for him to be sold on coaching at Kansas. When he worked with Dennis Franchione at A & M, Koenning shared, the head coach with Sunflower State roots described KU as a "great place."
"When I came here and interviewed with (Miles), of course I'd played — not played here, but I'd coached here a bunch. So it was pretty exciting, the things you saw happening," Koenning said, pointing to the program's new indoor facility outside of David Booth Kansas Memorial Stadium.
Challenges inevitably await Koenning as he takes the reins of an offense that has lagged behind its Big 12 competitors for years.
Asked to identify the biggest task ahead, Koenning said he thought the staff addressed one at the quarterback position, because KU signed junior college quarterback Thomas MacVittie, and there are "some other kids" with playing experience (Carter Stanley and Miles Kendrick).
"I think that's where it starts. You've got to start with a quarterback. And sometimes he gets too much credit and sometimes he gets too much blame, but he's the guy that gets the ball every time, so that's where we need to start," Koenning said.
"The other parts of the offense, when you ask me after spring I'll be able to tell you directly, rather than me making assumptions and guessing," he added. "That gets us all in trouble."