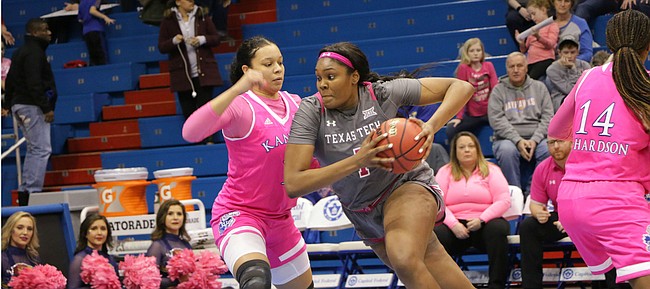 With less than 10 seconds remaining, Kansas thought it would have one last chance to tie the game. Texas Tech's Sydney Goodson had other ideas as she snatched the ball from Chelsea Lott and had the fans heading for the exits.
The Kansas women's basketball team fell, 75-71, to Texas Tech at home on Sunday afternoon. The Red Raiders (12-13, 3-11 Big 12) earned their third win in the conference with their second victory over the Jayhawks (12-12, 2-11) this season.
Freshman Aniyah Thomas and Lott would earn starts for the second game in a row and quickly provide a spark to both sides of the floor as the Jayhawks jumped out to a 14-4 lead on a 10-0 run just five minutes into the game. Kansas entered the second quarter with an 8-point lead.
Texas Tech's Brittany Brewer hit a pair of 3-pointers to end the second quarter and put the Red Raiders within a point to start the third.
With the first shot of the second half, the Red Raiders took the lead and continued to dominate the offensive glass to pull away and take a second-half advantage.
"Two flurries were really the difference in the game," KU coach Brandon Schneider said. "When you have two moments or flurries in a game when you make compound mistakes, that's going to get you beat in most situations."
Though they would go down by as much as 9, Kansas didn't give up the game.
With under eight minutes to go in the game, senior Kylee Kopatich netted a triple to put Kansas back within a basket, and the Jayhawks ultimately took the lead with another 3-pointer six minutes later by Kopatich — her 11th point of the fourth quarter — to give her team a 1-point lead.
Austin Richardson tied the game with 46 seconds to go, but Kansas couldn't score on its next two possessions. The Jayhawks would give up 4 points to the Red Raiders off of free throws.

Late in the game, Brooklyn Mitchell fumbled the ball in the far corner, which led to a Red Raiders jump ball call to give them back possession. Schneider said after the game that he was trying to call timeout, but hoped Mitchell would herself, as well.
Kansas got the ball back down just 3, but gave up a steal to Goodson on a play where Schneider said his team "just couldn't read the defense."
Each of the 11 players that saw the floor for Kansas scored. Lott finished with a career high in rebounds with 10.
Kansas will travel to face No. 1 Baylor at 6 p.m. Wednesday.