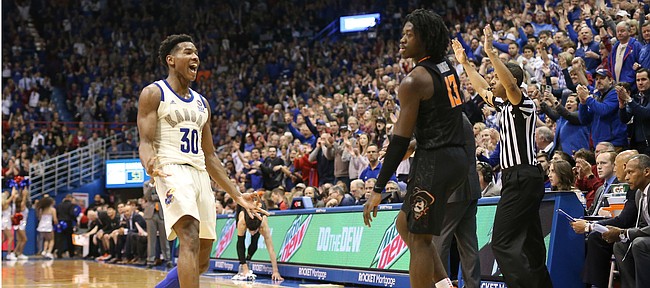 No. 14 Kansas Jayhawks (19-6 overall, 8-4 Big 12) vs. West Virginia Mountaineers (10-14 overall, 2-9 Big 12)
Time: 3 p.m. | Location: Allen Fieldhouse, Lawrence, Kansas
TV: ESPN | Radio: IMG Jayhawk Radio Network
Not going to be home for the game? Sign up for ESPN+ and watch your Hawks on the go.
Log on to KUsports.com for our live game blog coverage and follow the KUsports.com staff on Twitter: @KUSports @mctait @bentonasmith & @SJacksonLJW
Keys for Kansas
1. It's all about chemistry
The Jayhawks are 2-0 in the two games they have played this month without senior guard Lagerald Vick, who recently returned home to Memphis for a leave of absence that did not include a timetable for a return.
In Vick's absence, other young players have had to step up, both in terms of their play and their production and as players willing to assert themselves and take charge.
It appears to have worked brilliantly, as Devon Dotson, Ochai Agbaji and junior leading scorer Dedric Lawson have been the faces of that focus, with Mitch Lightfoot, David McCormack, Quentin Grimes, K.J. Lawson and Charlie Moore all chipping in quality minutes and going along for the ride.
The vibe around the program is also better. Self said this week the players are having fun again. And a big reason they are is they're competing at a high level, with an us-against-the-world attitude and the feeling of having nothing to lose.
That approach can make any team dangerous, but it can be particularly dangerous when that team features all kinds of McDonald's All-American talent and a Hall of Fame head coach.
"The two that have stepped up the most are Devon and Ochai," Self said this week. "You can't win without the Mitches and Davids and the things that K.J. did the other day. You can't win without that. But you still have to have your producers. And (Dotson and Agbaji) went from being those that help a team win to those guys that are counted on to help a team win. There is a big difference. They have produced as of late."
And the program has won as a result. That has elevated everyone's spirits and appears to have been the jumping-off point for that time in the season that Self always talks about when a talented group of players becomes a true team.
2. Time for a signature Bill Self defensive effort
So far this season, the Jayhawks have left a little to be desired defensively. And that has cost them in several instances, both in terms of making winnable games tougher and in the win/loss column, as well.
But this one is set up perfectly for Self to get a monster effort out of his fast-improving defense, one that could launch the Jayhawks into the home stretch with a ton of confidence on the defensive end.
Playing at home should help Kansas bring an elevated intensity and effort on the defensive end. And playing West Virginia could make that thing fly.
The Mountaineers enter this one with the worst offensive efficiency rating in the conference in Big 12 games (94.3) — Kansas, meanwhile sits at 103.9 in the same category — and are one of the conference's worst shooting teams.
WVU's offense ranks last in the Big 12 in effective field goal percentage (44.5 percent), last in 3-point percentage (27.2), last in free throw percentage (66.9) and 8th out of 10 in 2-point percentage (46.5).
What's worse is the fact that the bulk of those numbers came with Esa Ahmad and Wesley Harris in the lineup. Despite no longer being with the Mountaineers, those two still rank fourth and fifth in scoring on WVU's stat sheet and replacing their production could be tough against a Kansas defense that is on the rise and out for blood.
Although the Jayhawks are still second in the Big 12 in field goal defense (41.2), they rank just seventh in scoring defense (71.2 points per game allowed) and seventh in 3-point defense, allowing opponents to hit 36 percent of their 3-point shots.

3. Ace the turnover test
Any time any team faces West Virginia, the first thing they're going to think about is that famed "Press Virginia" defensive pressure and the Mountaineers' ability to force turnovers that lead to easy buckets and turn the game upside down.
This year, however, things have been a little different. The Mountaineers rank dead last in the Big 12 in turnover margin (-2.5 per game) and just sixth in steals at 6.2 per game.
Even with that, turnovers played a huge role in the Mountaineers' win over KU back in January, when the Jayhawks turned it over 18 times, which amounted to 26.1 percent of their possessions. That number was way above the percentage WVU forces (18.5) and even higher than KU's average of giving the ball away on 20 percent of its possessions.
What's more, the Mountaineers actually turn the ball over on offense more than any team in the conference, giving it away 22.2 percent of the time, 12.3 of which comes via a steal by the opponents.
The Jayhawks have been hot and cold with their ability to take care of the ball this season. Their 23 turnovers at K-State on Feb. 5 cost them dearly and even though that number dipped to just 15 on Monday night at TCU, it was a stretch of four consecutive turnovers in the final 5 minutes that allowed the Horned Frogs to get back into the game and get into overtime.
The new-look Jayhawks have really emphasized energy, effort and opportunity on the defensive end of late. So if Kansas can be the one that forces WVU into turnovers instead of the other way around that should go a long way toward making this game one of the more comfortable clashes the Jayhawks have had in a while.
Mega Matchup
KU freshman Devon Dotson vs. West Virginia junior James "Beetle" Bolden (if he plays)
For the second game in a row, Dotson could get the opportunity to test his mettle against one of the league's better guards and true veterans.
And this time, Dotson will have revenge on his mind.
During the first meeting between KU and WVU, back in Morgantown, W.Va., in January, it was Bolden who made all kinds of winning plays and showed the poise of an upperclassman to help lead the Mountaineers to the come-from-behind victory over Kansas.
The fourth-year junior from Covington, Ky., finished with 12 points and 4 steals in 29 minutes off the bench that night.
Dotson, meanwhile, finished with 9 points in 35 minutes but also turned it over a career-high 7 times by himself.
Bolden has missed the past four games with a high ankle sprain and Huggins said this week that there was no update on his health nor that of center Sagaba Konate, who has missed 16 games in a row because of a knee injury.
Earlier this week, in a rematch with TCU veteran Alex Robinson, Dotson shined, playing all 45 minutes and dropping in 25 points and 10 rebounds — both career highs.
Robinson said after the game that Dotson was "a really good player" and Dotson's defense and intensity forced Robinson into a 4-of-14 shooting night and 4 turnovers.
If Bolden plays, Dotson will be out for the same kind of bounce-back game against. If Bolden remains out, Dotson's experience, comfort and recent spike in confidence actually could put the point guard advantage firmly in KU's favor.
Jayhawk Pulse
West Virginia has been off all week, but it has been a rough week. The Mountaineers recently dismissed two starters from the program for a violation of athletic department policies and both Esa Ahmad and Wesley Harris have had their share of success against the Jayhawks in recent years.
While their absence changes the look of this Mountaineers team dramatically, there is still a lot of pride on that roster and you don't have to convince Bob Huggins of the importance of being locked in mentally for a game in Allen Fieldhouse.
"He'll have them ready and our crowd will help prepare them because it will be so good, I would assume," Self said of his good friend and Saturday foe, Huggins. "We know we're going to get a very good effort and good shot from them, there is no question."
Kansas leads the all-time series with West Virginia, 10-5, and the Jayhawks have won four of the last five meetings between these two programs.
KU is 6-0 all-time against WVU at Allen Fieldhouse and Huggins is 5-14 all-time against the Jayhawks, 5-10 while at West Virginia.
The Jayhawks opened as a 15-point favorite in Las Vegas, which is by far the biggest point spread of the season for a Kansas basketball game.
Probable Starters
No. 14 Kansas
G – Devon Dotson, 6-2, 185, Fr.
G – Quentin Grimes, 6-5, 210, Fr.
G – Ochai Agbaji, 6-5, 210, Fr.
F – Dedric Lawson, 6-9, 235, Jr.
F – David McCormack, 6-10, 265, Fr.
West Virginia
G – Brandon Knapper, 6-0, 180, RS-Fr.
G – Chase Harler, 6-3, 210, Jr.
G – Jermaine Haley, 6-7, 215, Jr.
F – Logan Routt, 6-11, 260, Jr.
F – Derek Culver, 6-10, 255, Fr.
More like this story on KUsports.com