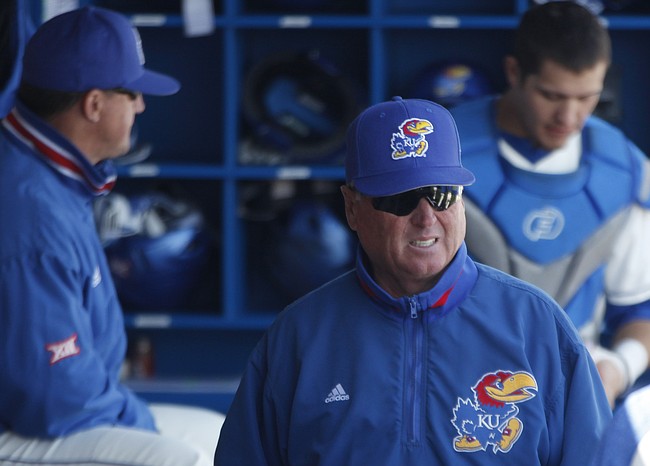 If Ryan Zeferjahn isn't KU baseball's highest draft pick in program history, coach Ritch Price will be "really disappointed in him."
"I'm going to put a little pressure on him, right there out of the gate," Price said jokingly at KU baseball's annual media day on Wednesday.
Zeferjahn, the junior from Topeka who was recently named preseason All-American by Baseball America, highlights a lineup that was last year's youngest team in the Big 12.
A season later, only three juniors are left for the draft, and the sophomores have become juniors. Price believes Zeferjahn will be among one of up to seven draft selections in June.
"He's got one of the best arms in college baseball," Price said of Zeferjahn. "I'm looking for him to go out and have a tremendous season and set himself up for a long career in professional baseball."
On track to graduate in three years, Zeferjahn is excited for what's to come.
"You get to play baseball everyday almost all year round," Zeferjahn said. "It's a grind, but they love it."
Hunt for a closer
As redshirt junior Ryan Cyr, freshman Eli Davis and Zeferjahn command the rotation, Price said Wednesday afternoon that the closer role has been the only spot yet to be solidified so far.
Price said that he would take redshirt junior Blake Goldsbery, who missed the last three months of last year's season, out of his previous midweek starters role and into the back end of games.
Another candidate from workouts was Jonah Ulane, but Price said that he planned to mix and match.
"I don't know if you'll see us use the one set guy like we've traditionally done," Price said. "We might use two or three different guys in that role."
Cyr, who pitched out of the bullpen last season, got a taste of the starting role during the Jayhawks' trip to Taiwan last July for the World University Game. Davis, listed as third in the rotation, had a chance to start out of the bullpen for that experience, as well.
Groshans, Messigner highlight loaded core of hitters
From the batter's box, the Jayhawks will try to maximise Jaxx Groshans' potential by minimizing his use at the catcher's position. Groshans is listed as both a catcher and first baseman for the season opener.
"We're trying to reduce the amount of innings he catches this season, so, hopefully, he can swing the bat up to his potential," Price said. "That's his best tool, he's as good of a hitter as there is in our conference, and I feel like if we can not catch him all three days on a weekend, he's got a lot better chance at hitting .350 and double-digit home runs."
Skyler Messinger, Brett Vosik, Conner VanCleave and Rudy Kare highlight one of the Jayhawks' strongest groups of batters in a while.
"I think we're going to make a regional for sure. I'm not worried. I don't have a doubt that we're not going to make a regional," Cyr said. "We definitely have the most put-together team that i've seen here in a while … we're not on people's' radars right now, but we will be in the future."
Baseball weather?
The Jayhawks will open their first 11 games on the road during what has been a rough couple months to get a chance to play baseball outside.
Even before the NCAA had pushed the season's start date back up to the second week of February, Price would usually use the first few weeks to play games against West Coast schools.
"Without question, this is the worst month (of weather) we've had to get started with," Price said. "Other teams are outside, but if you don't prepare, you're going to be really far behind when you get started, and you can't afford to be behind in this conference."
The Jayhawks will begin their season in Spartanburg, S.C., with USC Upstate at 3 p.m. Friday.