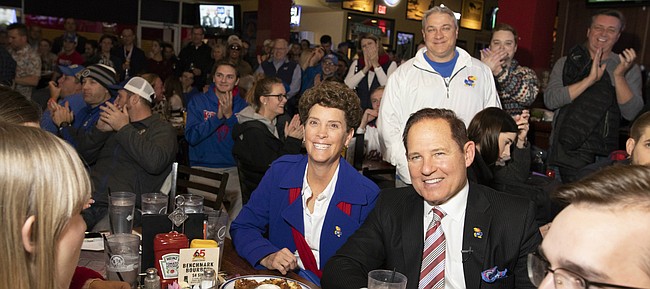 When six junior college prospects signed with the Kansas football program this past December, it seemed new head coach Les Miles might be headed down a familiar recruiting path.
The man who held the job before him, David Beaty, signed 10 juco players in 2017 and 12 more in 2018.
However, when the dust settled on Miles' first recruiting class at KU, he and his staff only ended up signing five transfers from the junior college ranks — cornerback Justin Ford left the class and reopened his recruitment.
Among the 19 players in KU's 2019 signing class, 14 will enroll this year as true freshmen.
And from the way Miles made it sound during the National Signing Day edition of his "Hawk Talk" radio show, he'd like for the percentage of high school signees to grow even higher in future classes.
"I'd like to stay high school the entire way," Miles said while discussing his recruiting philosophy. "The only way that you jump in and get a junior college guy in my opinion is if he makes a tremendous difference to your team."
To that point, Miles and his assistants expect the five junior college players who signed to contribute immediately.
Quarterback Thomas MacVittie and receivers Ezra Naylor and Andrew Parchment already are enrolled at KU, giving them the opportunity to participate in spring football, which will start in March. Defensive linemen Malcolm Lee and Caleb Sampson, who will join the program later on this year, were targeted specifically to help beef up a position group Miles identified as an area of concern.
Miles has no problem locating and adding junior college players if he thinks they can make the team better. He would just like to get to a point where the program doesn't have so many glaring needs that the coaches have to go find older, ready-to-play transfers.
Miles said he hopes that with "good recruiting and staying in front" in the years ahead, KU's roster will be in a position where coaches can focus on adding high school recruits.
"Two years, as opposed to four years, that four-year guy gives you a lot of time to develop him and make it work," Miles said. "The two-year guy is just a little short there."
MacVittie, Naylor and Parchment will be juniors for KU this coming season, while Lee and Sampson are set to join the program as sophomores.
KU football's 2019 recruiting class
(ratings from Rivals; √ = signed)
National Signing Day signees
√ 4-star South Oak Cliff H.S. (Texas) LB Steven Parker (6-4, 220)
√ 3-star Broken Arrow H.S. (Okla.) LB Gavin Potter (6-2, 205)
√ 3-star Dallas Skyline (Texas) RB Velton Gardner (5-9, 190)
√ 3-star Blue Valley North H.S. RB Amauri Pesek-Hickson (6-0, 225)
√ 3-star Menendez H.S. (Fla.) CB Kenny Logan Jr. (6-0, 195)
√ 2-star Park Crossing H.S. (Ala.) DL Marcus Harris (6-2, 265)
√ 2-star Carver H.S. (Ala.) LB Jerome Robinson (6-3, 235)
√ A.L. Brown H.S. (N.C.) QB Jordan Medley (6-2, 200)
√ Westerville Central H.S. (Ohio) K Jacob Borcila (6-2, 170)
December early signees
√ 3-star St. Thomas Aquinas H.S.S Jayden Russell (6-3, 190)
√ 3-star McEachern H.S. (Ga.) CB Valerian Agbaw (5-10, 170)
√ 3-star Mesa C.C. (Ariz.) QB Thomas MacVittie (6-5, 225)
√ 3-star Iowa Central C.C. WR Ezra Naylor (6-4, 210)
√ 3-star Iowa Western C.C. DE Malcolm Lee (6-5, 270)
√ 2-star Coahoma C.C. (Miss.) DL Caleb Sampson (6-4, 285)
√ 2-star Iowa Central C.C. WR Andrew Parchment (6-2, 185)
√ 2-star Meridian H.S. (Miss.) DL Da'Jon Terry (6-4, 350)
√ 2-star Andale H.S. TE Mason Fairchild (6-5, 250)
√ 2-star Rochdale H.S. (Texas) QB Torry Locklin (6-2, 195)