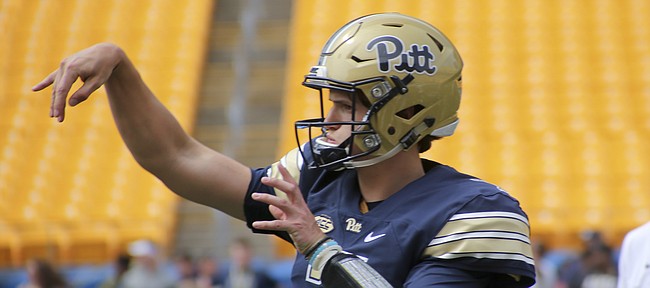 When Les Miles took over the long-struggling Kansas football program this past November and began making decisions about the roster's most pressing needs, it became clear to him where to get started.
"Offensively, it was we needed to have a quarterback," Miles shared during his "Hawk Talk" radio show this past week. "And Thomas MacVittie is that guy. He's mobile. He can run it and throw it."
Luckily for Miles, the Jayhawks were able to pursue MacVittie, a junior college prospect who played at Mesa Community College (Ariz.) in 2018, with a preexisting knowledge base about the QB's abilities.
Back during his days as a standout prep at Archbishop Moeller, in Cincinnati, MacVittie, a three-star prospect in the Class of 2016, was committed to Pittsburgh when Miles tried to recruit him to LSU.
Miles joked during his signing day press conference this past week that MacVittie looked like he was about 12 years old at the time. Now listed at 6-foot-5 and 225 pounds, MacVittie, the coach added, is a "much different-looking guy."
"But we recognized his ability to throw the football," Miles recalled of recruiting him as a high school junior, "so he was offered very young."
In his first season with the Panthers, MacVittie redshirted. In 2017, he played in only three games, and his appearances came on Pitt's punt return unit. After the season ended he transferred to Mesa.
During his redshirt sophomore season at the juco level, MacVittie played in six games and completed 92 of his 172 passes (53.5 percent) for 1,064 yards, with 16 touchdowns and eight interceptions.
Though he was rated a two-star juco prospect by Rivals when he committed to KU in December, MacVittie has since been upgraded to three-star status on the recruiting site, which lists the QB as the 34th-best junior college transfer available in 2019. Meanwhile, 247 Sports ranked MacVittie as the No. 1 juco QB in the Class of 2019.
According to KU offensive coordinator and quarterbacks coach Les Koenning, his short-term predecessor with the program, Chip Lindsey, did a "great job" in recruiting MacVittie to Kansas before Lindsey left to become the head coach at Troy.
Koenning said he reached out to MacVittie's coach at Mesa, Ryan Felker, in order to study up on the QB he was inheriting.
"When I first met him," Koenning said of MacVittie, "I really liked him. It was one of those deals where you meet a kid and you see the toughness and you see the spirit to win and stuff like that."
While Miles hasn't said MacVittie will be KU's starter in 2019, the head coach on a couple of occasions already has spoken of hypothetical situations using the word "if" along with the idea of MacVittie as the No. 1 QB.
A junior with two years of eligibility remaining, MacVittie is one of four quarterbacks expected to compete during spring football, which starts in March. A 2019 signee, Torry Locklin, like MacVittie, already is on campus. And, of course, KU has QBs Carter Stanley and Miles Kendrick returning, as well.
While Koenning avoided talking much about any competition at the position, he said he was impressed with MacVittie when he got the chance to talk a little football with him.
"He's been through it," Koenning said. "It's not one of these deals where you're working with a really young kid coming in. I've been very impressed with him. I'm looking to see how he competes. I watched him spin the ball on tape and he was impressive now. Chip made the right choice there."