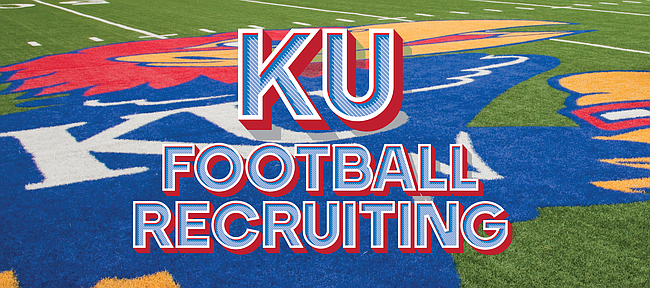 While head coach Les Miles and his assistants seem genuinely enthused about the Kansas football program's 2019 signing class, no one in the crop of incoming Jayhawks is as touted as four-star talent Steven Parker.
A dominant defensive end at South Oak Cliff High, in Dallas, Rivals ranked him as the 20th-best weakside defensive end in the nation, as well as the No. 40 overall prospect in the state of Texas.
A 6-foot-4, 220-pound prospect who will play linebacker at KU, in defensive coordinator D.J. Eliot's 3-4 scheme, Parker was the Texas 6-5A Player of the Year as a senior, as well the District 5A Defensive Player of the year.
Eliot doesn't think Parker, who chose KU over Texas Tech and Nebraska, will have much of an issue plugging in as an outside linebacker at the college level, either. Even though Parker will be at his lightest and least experienced during the upcoming 2019 season, Eliot foresees the signing class's largest talent finding ways to make plays.
"He won't have the bulk for a D-end, but for an outside linebacker, he's not far off," Eliot said. "I think he may be able to contribute faster than you realize."
In 2018, KU defensive tackle Daniel Wise led the team in sacks, with 5 as a redshirt senior. Fellow fifth-year defender Joe Dineen had 3 sacks, and graduate transfer Brian Lipsomb made 3, as well. None of them have eligibility remaining.
KU finished ninth in the 10-team Big 12 in sacks, with 21 in 2018. As Eliot and his defensive assistants look for players capable of getting to the quarterback, Parker may end up factoring in immediately.
"Steven, I think is a very good pass rusher," Eliot said. "I think that he'll be able to help us on the edge and creating pressure on the quarterback. He's long, he's fast."
No one at KU knows Parker as well as receivers coach Emmett Jones. The standout defender from Dallas was recruited to Texas Tech by Jones before coaching changes at both Big 12 programs led to the assistant and the prospect ending up at Kansas.
Jones is excited about what Parker may one day become for the KU defense.
"I think his ceiling is so high," Jones said. "You know, he's nowhere near his ceiling. The kid really began loving the game around his sophomore year. He took off from there, and I think he'll benefit from our nutrition program, our strength and conditioning program."
When the assistant who recruited Parker spoke about the four-star signee, Jones imagined the type of player who could help energize a program.
"I think the guy's going to be a freak of nature in the Big 12," Jones declared. "You know, crazy athleticism. He's going to help us in all types of areas."
True freshmen tend to have trouble getting on the field at the Power Five level, even at Kansas. But Jones isn't counting out Parker playing this coming fall.
"It just depends on what he does from now until the season," Jones said. "Once he gets here at the end of May, we'll put him in the (weight) room and we'll see that change kick in quicker."
While the man who now oversees the entire program didn't speak specifically about the ability of Parker to play as a true freshman this coming fall, Miles said during his National Signing Day press conference this past week that he's more than willing to put first-year players on the field.
"Yeah, I'm open to improving our team," Miles said. "In other words, I want to play the guy that's the best player at the position."