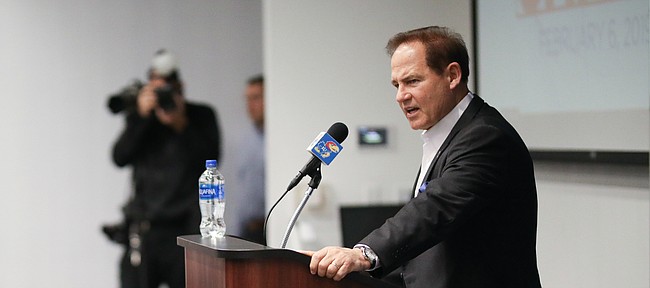 On the second Sunday of December, new Kansas football coach Les Miles got his first commitment for the program's 2019 recruiting class.
By the first Wednesday in February, also known as National Signing Day in the college football universe, Miles was able to laud 19 prospects who will become a part of his debut season in Lawrence this coming fall.
During his press conference earlier this week, Miles delivered a confident message and even had some bold declarations about what lies ahead for some of the most talented players in the class.
Here are some tidbits on each of KU's signees, accompanied by the player's Rivals ranking.
• 4-star LB Steven Parker: Miles said the staff was "thrilled" to land the Texas 6-5A Player of the Year, a 6-foot-4, 220-pound prospect who will play linebacker in defensive coordinator D.J. Eliot's 3-4 scheme.
When visiting South Oak Cliff High in Dallas to recruit Parker, Miles was impressed by the talented prospect's reputation.
"The teachers and the principals and the people came out of their classroom to come to tell me, 'Let me just tell you about Steven Parker.' And that was special," Miles shared.
• 3-star LB Gavin Potter: Miles said when he made a home visit with the linebacker who was committed to Kansas State at the time, he had a feeling Potter was going to have some real interest in KU.
Eliot, who led the recruitment of Potter, loved what he saw of the 6-2, 205-pound prospect's game footage from his standout senior season at Broken Arrow High (Okla.).
"This guy's a player," Eliot said. "He's big, strong, athletic. He can run, he can tackle, he's instinctive, makes good decisions. He can do everything that you would want as a defensive player."
• 3-star RB Velton Gardner: Miles praised Gardner's athleticism while discussing his potential, and pointed out the coaches at Dallas Skyline High were able to line up the 5-9, 190-pound versatile playmaker at not only quarterback, but also slot receiver and running back.
• 3-star RB Amauri Pesek-Hickson: Miles first became interested in the local prospect from Blue Valley North when he took over at KU in November. But at the time Pesek-Hickson was committed to Michigan.
"Michigan didn't quite handle it in a way that the prospect would have enjoyed," Miles said, "and so we had an opportunity to sneak in there."
Miles repeatedly described Pesek-Hickson, listed at 6-0, 225, as a "big back" and said that landing that type of player filled an offensive need.
• 3-star CB Kenny Logan Jr.: A basketball player and track athlete, as well, at Menendez High, in St. Augustine, Fla., the 6-0, 195-pound Logan, Miles said, is not afraid of contact.
"A guy that's a really, really good corner," Miles added.
• 3-star S Jayden Russell: A three-star prospect from nearby St. Thomas Aquinas, the 6-3, 190-pound defensive back, Miles noted, was the first player to commit to KU after he took over.
The head coach called Russell "very bright" and forecasted him playing an important role in the program's future.
"He'll be a team leader," Miles predicted. "He'll be a guy that handles that secondary extremely well."
• 3-star CB Valerian Agbaw: A December signee for KU, the 5-10, 170-pound corner from Georgia, Miles said, possesses the type of athleticism to stand out in the secondary.
"He's going to get a lot of speed to come from behind," Miles said. "He's going to get a lot of opportunity at interceptions.
• 3-star juco QB Thomas MacVittie: The headliner of KU's early signees, the 6-5, 225-pound quarterback enrolled this spring and will be a junior this coming season.
A frontrunner in the starting QB race, MacVittie's career began at Pitt, before playing in 2018 at Mesa Community College (Ariz.).
"He ended up in junior college to kind of get himself to make a new decision," Miles said. "We recruited him at the place I was last as about a 12-year-old. Thank goodness he grew into something special. We would expect a lot out of him. So wait until you see — he's 6-5."
• 3-star juco WR Ezra Naylor: The tallest man in the receivers room the moment he arrived on campus this semester, the 6-4, 210-pound junior wideout caught Miles' eye.
"Talented receiver, a dominant guy, not afraid to block," Miles said.
• 3-star juco DE Malcolm Lee: Miles identified the defensive line as a position in need of bodies, and the coach expects to see the 6-5, 270-pound sophomore helping sooner rather than later.
"A guy that will play next fall," Miles said.
• 2-star DL Marcus Harris: Miles envisions big things for the 6-2, 265-pound "high school lad" from Montgomery, Ala.
The coach expects Harris to develop "very, very nicely" eventually.
"He's going to be something special," Miles estimated, "and it's going to take a little bit of time to grow into his body."
• 2-star LB Jerome Robinson: Like Harris, a Montgomery, Ala., native, the 6-3, 235-pound Robinson was described as a powerful athlete.
"Just has speed, slams a basketball," Miles added, "is a really good basketball player."
The coach said Robinson played some great football, too.
• 2-star juco DL Caleb Sampson: A junior defensive lineman whose college career began at Missouri, the 6-3, 280-pound Louisiana native is expected to help beef up the interior of KU's D-line.
• 2-star juco WR Andrew Parchment: A junior receiver who was a teammate of Naylor's at Iowa Central Community College in 2018, the 6-2, 185-pound Parchment, Miles said, has great speed and hands.
"We needed tall, athletic wide receivers," Miles said of the duo, "and those are guys that we went after and got them.
• 2-star DL Da'Jon Terry: A massive D-lineman from Meridian, Miss., Terry is listed at 6-4, 350.
"I would not want to block that lad," said Miles, an offensive lineman in his playing days.
• 2-star TE Mason Fairchild: Miles repeatedly used the words big and physical to describe the 6-5, 250-pound in-state signee from Andale.
Fairchild, the coach added, is capable and should be a "very helpful" addition.
• 2-star QB Torry Locklin: A Texas 3A state champion-winning quarterback during his senior year at Rockdale, in 2017, Locklin was recruited by David Beaty's staff and committed ahead of 2018's National Signing Day. Now Locklin is enrolled at KU.
Miles said it's possible they could end up asking the dual-threat QB to switch positions, and called him a "very, very dangerous runner."
• QB Jordan Medley: Listed at 6-2 and 200 pounds, Medley's speed kept coming up when Miles discussed the prospect from Kannapolis, N.C.
The coach thought Medley runs around a 4.55-second 40-yard dash, but said the QB can throw the ball, too.
• K Jacob Borcila: A kicker from Westerville, Ohio, Borcila, according to Miles, has a powerful enough leg to connect on 60-yard field goals.
"When we get down in the back end of contests and we look for somebody to go step in there and kick one through, we will be very confident in him," KU's coach said.