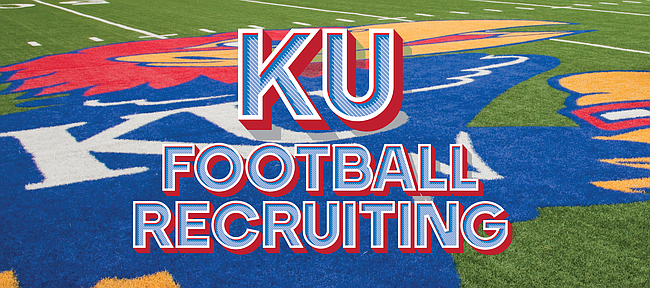 Although Les Miles and his staff finished off much of their work ahead of December's early signing period, a little drama remains for the first-year Kansas head coach and his assistants heading into National Signing Day.
The Jayhawks already have 11 signees and a key verbal commitment from four-star Dallas defensive end Steven Parker in place.
But the total composition of what will be a small 2019 signing class won't be known until KU gets signatures on Wednesday from Parker and a yet to be determined number of prep prospects.
According to Jon Kirby of Jayhawk Slant, some prep players being targeted by KU in the final hours leading up to signing day include:
• Velton Gardner, a three-star athlete from Dallas Skyline High, who is expected to announce his decision Wednesday morning
• Kenny Logan, a three-star athlete from St. Augustine, Fla.
• Gavin Potter, a three-star outside linebacker from Broken Arrow, Okla., who is currently committed to Kansas State
• Marcus Harris, a two-star defensive end from Montgomery, Ala.
• Jerome Robinson, a two-star defensive end from Montgomery, Ala., who is currently committed to UAB
• Paul Matavao-Poialli, a three-star offensive lineman from Daly City, Calif.
The Jayhawks also recently had Blue Valley North athlete Amauri Pesek-Hickson in for a visit. Pesek-Hickson was previously committed to Michigan, but those plans officially changed on Monday, when the 6-foot-2, in-state prospect announced his recruitment had reopened.
Kansas signed five high school prospects and six junior college players in December.
Back in November, when Miles last fielded questions from local media outlets, he thought this year's signing class would have somewhere around 15 players in it.
KU football's 2019 recruiting class
(ratings from Rivals; √ = signed)
Commitments
• 4-star South Oak Cliff H.S. (Texas) DE Steven Parker (6-4, 225)
December early signees
√ 3-star St. Thomas Aquinas HighS Jayden Russell (6-3, 190)
√ 3-star McEachern H.S. (Ga.) CB Valerian Agbaw (5-10, 170)
√ 3-star Mesa C.C. (Ariz.) QB Thomas MacVittie (6-5, 225)
√ 3-star Iowa Central C.C. WR Ezra Naylor (6-4, 210)
√ 3-star Golden West Coll. (Calif) CB Justin Ford (6-1, 180)
√ 3-star Iowa Western C.C. DE Malcolm Lee (6-5, 270)
√ 2-star Coahoma C.C. (Miss.) DL Caleb Sampson (6-4, 285)
√ 2-star Iowa Central C.C. WR Andrew Parchment (6-2, 185)
√ 2-star Meridian H.S. (Miss.) DL Da'Jon Terry (6-4, 350)
√ 2-star Andale H.S. TE Mason Fairchild (6-5, 250)
√ 2-star Rochdale H.S. (Texas) QB Torry Locklin (6-2, 195)