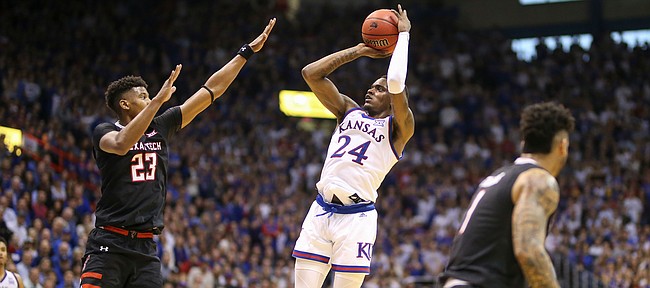 No. 13 Kansas Jayhawks (17-5 overall, 6-3 Big 12) vs. Kansas State Wildcats (16-5 overall, 6-2 Big 12)
Time: 8 p.m. | Location: Bramlage Coliseum, Manhattan
TV: ESPN | Radio: IMG Jayhawk Radio Network
Not going to be home for the game? Sign up for ESPN+ and watch your Hawks on the go.
Log on to KUsports.com for our live game blog coverage and follow the KUsports.com staff on Twitter: @KUSports @mctait @bentonasmith & @SJacksonLJW
Keys for Kansas
1. Defense wins
Kansas coach Bill Self said this before the Jayhawks' win over Texas Tech last weekend, and it ultimately proved to be plenty true.
"Sometimes, the best way not to put too much pressure on your offense to score against a really good defense is to make sure they don't score," Self said. "So we need to do a great job on that end."
The same idea applies against K-State, which, like Tech, is led by its stellar defense, which ranks 5th in the nation in efficiency according to KenPom.com.
With Kansas locking down the Red Raiders on the defensive end, the Jayhawks' offense came easy, with KU outscoring Tech, 14-5, in fastbreak points.
Beyond their ability to turn defense into quick offense, the biggest thing that stood out about the Jayhawks during last Saturday's win over Texas Tech was how they forced TTU star Jarrett Culver into a rough night. Culver shot 5-of-17 from the floor and also turned it over 5 times. The Jayhawks swiped 6 steals and forced the Red Raiders into 34.4 percent shooting from the floor, too.

Clearly, Kansas is a team that has shown an ability to defend at a high level, but Self said Monday that he did not consider his team to be anywhere close as polished as K-State or Texas Tech when it comes to defense.
"I think we're still a ways away from being at that level," Self said. "There's no question we're much better defensively than what we were in December. No question. But I still think there's a big step we can take in that regard."
There's no better time than against the other elite defensive team in the Big 12 to take that step.
2. Pretend it's still Saturday
Energy was a Red Raider killer last Saturday at Allen Fieldhouse, where the Jayhawks turned things up on both ends of the floor and overwhelmed Texas Tech in one of KU's most complete games of the season.
The challenge now is for Kansas to give that same effort the next time out, and that figures to be at least a little harder with the Jayhawks being away from home.

"It's definitely easier here," KU guard Charlie Moore said of playing with electric energy at Allen Fieldhouse. "We've got the fans behind us. But we know energy makes us a much better team, coming out with energy. Everyone's active, our defense is better and our offense is better, as well. So energy has been big for us the past couple of days."
As for how his team can bottle that energy up and take it on the road, Self said one of the biggest keys was not to tap into the supply too soon.
"I want my guys to be poised and calm," Self explained. "This isn't going to be a game where their players have to be told anything to get up for it. It shouldn't be a game where our players have to be told anything to get up for it. These are the easy games to play. So I think that we'll be energized. But I would say, don't burn any energy early in the day. Let's be as even-keeled as we possibly can, because it's not going to be hard to get excited once the game starts."
3. Second-chance points
One of the things that makes K-State's defense so effective is its ability to control the glass.
The Wildcats lead the conference in defensive rebound percentage, allowing opponents to get just 22.2 percent of offensive rebounding chances (a number that ranks 3rd nationally), and that, combined with their sound half-court defense, make it awfully tough for their opponents to get cheap baskets.
Kansas, which ranks 181st nationally in offensive rebounds, at 10 per game, would do well to try to emphasize the offensive glass for that very reason.
Beyond that, though, the Jayhawks should feel free to fly to the glass when shots go up because the Wildcats are not a team that looks to run.
Kansas State's tempo rating of 64.4 ranks 337th out of 353 Division I teams and the Wildcats' 61.7 tempo rating ranks last in the Big 12 during conference games. KU, meanwhile, leads the conference in tempo, with a rating of 69.9 since Big 12 play began and 70.8 (77th nationally) for the season.
Marquee Matchup
KU freshman Ochai Agbaji vs. Kansas State senior Dean Wade
Under normal circumstances, the matchup everyone would have their eyes on in this game would be KU's best defensive player, Marcus Garrett, against K-State's most dangerous offensive player, Dean Wade.
But with Garrett expected to miss a second game because of an ankle sprain, the focus shifts to freshman Ochai Agbaji, who owns a similar build and takes similar pride in playing defense as Garrett.
After a rough start to his career against the Jayhawks during his first couple of seasons, Wade, a native of St. John who Self said Monday he wished he "would've tried a lot harder" to recruit, has been really good against the Jayhawks of late, creating a problematic mismatch with his size, athleticism and shooting touch.
"If you put a small guy on him, he can shoot right over him and he's done that with us many times," Self said. "And if you put a smaller guy on him, he can take him down low and post him. And he's a good athlete. He's obviously playing at a high level without question."
Wade was 9-for-9 for 24 points in last Saturday's win over Oklahoma State and the Wildcats are 5-1 since his return from injury on Jan. 12.
Similarly, the Jayhawks have made a bit of a surge since Agbaji joined the rotation, and the freshman's athleticism, fundamentals, strength and determination make him as good a matchup for Wade as the Jayhawks have with Garrett in street clothes.
Jayhawk Pulse
The Jayhawks are 26-4 all-time in Bramlage Coliseum and, yes, their dominance in the building that many KU fans call Allen Fieldhouse West has been well-documented.
But traveling to Manhattan is far from the easy win it once was, and even this young team of Jayhawks is aware of that.
"We've heard it's going to probably be the toughest environment we've played in all year," freshman guard Quentin Grimes said Monday. "They don't like us, we don't like them, so it's definitely going to probably be the craziest atmosphere that we've played in this season."
Adding juice to the matchup is the fact that the Wildcats actually sit a game up on the Jayhawks in the loss column halfway through the Big 12 schedule. That, according to Self, should make things as intense as ever in the building the locals call The Octagon of Doom.
"The thing that makes it as tough as possible is that the stakes are high," Self said.
Tonight's meeting is the 290th all time in the Sunflower Showdown and KU leads the series with K-State, 196-93, including a 78-47 all-time mark in games played in Manhattan.
K-State opened as a 1-point favorite in Las Vegas.

Probable Starters
No. 13 Kansas
G – Devon Dotson, 6-2, 185, Fr.
G – Ochai Agbaji, 6-5, 210, Fr.
G – Lagerald Vick, 6-5, 190, Sr.
G – Quentin Grimes, 6-5, 210, Fr.
F – Dedric Lawson, 6-9, 235, Jr.
Kansas State
G – Kamau Stokes, 6-0, 170, Sr.
F – Barry Brown, Jr., 6-3, 195, Sr.
F – Xavier Sneed, 6-5, 220, Jr.
F – Dean Wade, 6-10, 228, Sr.
F – Makol Mawien, 6-9, 245, Jr.