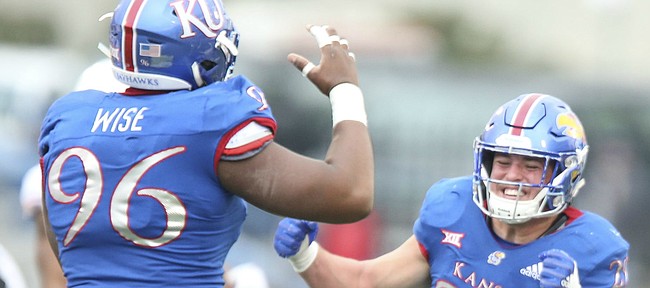 The past 10 years for the University of Kansas football program have featured far more lows than highs.
Coaches and players alike attempted to turn the program around, but even the best strides made haven't done the trick yet. KU finished the past decade 21-99, failing to win more than three games in any season between 2010 and 2019.
Nevertheless, a number of Jayhawks delivered memorable performances during the down decade, providing KU's most loyal fans with at least some hope and/or entertainment.
So before the Jayhawks head into 2020, and the second year under head coach Les Miles, here's a look at the previous 10 years, and some of the program's best players.
KU football All-Decade Team - Defense
(Any player who suited up for the Jayhawks at least one season between 2010 and 2019 was eligible.)
DE - Dorance Armstrong Jr. (2015-17): A three-star prospect when he showed up in Lawrence as a freshman from Houston, Armstrong turned himself into a fourth-round draft pick of the Dallas Cowboys in three years' time.
During his breakout sophomore season, Armstrong's power and speed led him to 10 sacks and 20 tackles for loss. He finished his career with 15.5 sacks, 34.5 tackles for loss and 142 total tackles, as well as six forced fumbles and three fumble recoveries.
Armstrong became a first-team All-Big 12 selection as a sophomore and earned second-team distinction as a junior before leaving KU early to enter the draft.
DT - Daniel Wise (2015-18): A dominant defensive force on the interior of KU's line, Wise demanded double teams often by the time he became an upperclassman. Before that type of attention became even more common during his senior season, Wise produced 53 total tackles and 16 tackles for loss as a junior.
Wise finished a standout four-year career with 152 total tackles, 18.5 sacks and 44 tackles for loss. His TFL total ranks him second all-time at KU, behind only his four-year teammate, Joe Dineen.
The 6-foot-3 lineman from Lewisville, Texas, was a first-team All-Big 12 performer in both his junior and senior seasons.
DE - Jake Laptad (2007-10): Long before Armstrong and Wise teamed up as disruptors for the KU defense, Laptad opened the decade by doing the same.
A Tulsa, Okla., native who got to play on two winning KU bowl teams in the previous decade, Laptad brought that experience into the next one, as the Jayhawks transitioned out of the Mark Mangino era.
As a senior in 2010, Laptad forced three fumbles, made 4.5 sacks and totaled 38 tackles on the defensive line, garnering All-Big 12 honorable mention.
LB - Joe Dineen (2014-18): A hometown tackling machine, the Lawrence native and Free State High graduate, oddly enough began his KU career as a reserve running back.
That wouldn't stick, and before long Dineen emerged as a key defender and standout linebacker. A hamstring injury and medical redshirt in 2016 meant the Jayhawks got an extra year of Dineen, and his redshirt junior and senior years helped him make his mark in KU's record books.
A second-team All-Big 12 stopper in 2017 and a first-teamer as a senior in 2018, Dineen's 386 career tackles rank fourth all-time at Kansas, and he became the program's best at tackles for loss, finishing with 45.5. Dineen's 25 TFLs in 2017 is the most by a Jayhawk in one season.
LB - Ben Heeney (2011-14): By his second college season, the Hutchinson product turned into KU's most reliable tackler.
During each of his final three years with the Jayhawks, Heeney led the team in total stops: 112 as a sophomore, 88 as a junior and 127 as a senior to cap his career.
Heeney made 335 total tackles in his career, as well as 35.5 tackles for loss. In just one game as a senior, at Texas Tech, Heeney racked up 21 total tackles.
The Oakland Raiders selected Heeney in the fifth round of the 2015 draft.
LB - Steven Johnson (2008-11): The first couple of years of this past decade, the linebacker from Pennsylvania was as crucial to KU's defense as anyone.
Johnson led KU with 95 total tackles in 2010, and followed that up with 120 more during his senior year, leading the Big 12 in that category in 2011.
Though undrafted, Johnson went on to play six seasons in the NFL.
CB - JaCorey Shepherd (2011-14): Though his first games with the Jayhawks came with Shepherd playing receiver (as a true freshman he even had a 100-yard game), he switched over to the secondary before his sophomore season and would evolve into a first-team All-Big 12 cornerback by his senior season.
Despite a shift in his responsibilities, the native of Mesquite, Texas, still got to touch the ball as a kick returner. And Shepherd did his best to get his hands on the football as a defender, too. In 2014 he ranked fourth in the nation with 1.5 passes defended per game. He broke up 15 passes in total as a senior, leading the Big 12.
The Eagles took Shepherd in the sixth round of the 2015 NFL Draft.
S - Fish Smithson (2014-16): A junior college transfer who got to contribute three years to KU's defense, the Baltimore native started 23 games at safety and often cleaned up whatever mistakes had transpired in front of him.
As a junior, Smithson led the Big 12 in total tackles (111) and solo tackles (7.9 per game). A captain for KU each of his final two seasons, he added 93 total tackles as a senior. During both of those years, the safety also led KU in interceptions, with two in 2015 and four in 2016.
The Big 12's coaches named Smithson a first-team all-conference player following his final season.
S - Bradley McDougald (2009-12): A multifaceted talent from Columbus, Ohio, McDougald opened this past decade as a starter on both offense and defense, while also returning kickoffs.
As an upperclassman, his responsibilities became more focused and as a 6-1 safety, became a second-team All-Big 12 defensive back as a senior.
McDougald's 189 career interception return yards — on seven picks over four seasons — rank second all-time at KU to Talib's 322. He scored a touchdown on one of his interceptions in 2011.
After totaling 90 tackles as a junior and 92 as a senior for KU, McDougald went undrafted. However, he has played in the NFL in every season since, spending the past three years with Seattle.
S - Mike Lee (2016-19): The KU secondary was thin and in need of help when Lee arrived in Lawrence a year ahead of schedule as an early high school graduate from New Orleans. Sure enough, five games into his freshman year, Lee became a starter and soon after a fixture for the defense.
Known for his crushing hits on opposing runners and receivers, Lee quickly became a fan favorite. By the end of his freshman year he averaged 6.4 solo tackles per game, the best mark in the Big 12.
Lee intercepted five passes and forced five fumbles over the course of four seasons and 38 career starts. He racked up 286 total tackles in that time and many high-impact collisions that made opponents think twice about challenging him.
CB: Chris Harris Jr. (2007-10): True, the most memorable moments of Harris' time with the Jayhawks came during the previous decade and the height of the program's success. But the defensive playmaker from Bixby, Okla., did play his senior season for KU in the 2010s.
A team captain in his final year with the Jayhawks, Harris, before becoming a standout cornerback with the Denver Broncos, started at both corner and safety for KU in 2010. Harris made 82 total tackles that year, including 5.5 tackles for loss.
Although he somehow went undrafted, Harris, of course, turned into one of the most respected corners in the NFL, and since leaving KU has made four pro bowls and won a Super Bowl.
P - Trevor Pardula (2013-14): Boy, did the Jayhawks need Pardula's powerful left leg. The 6-foot-5 specialist from San Jose, Calif., occupies each of the top two spots in KU's record books for most punts in a season.
Pardula punted 84 times in 2013 and 83 more in 2014.
In one miserable game at West Virginia, in 2014, Pardula punted 18 times.
He was good at his job, too. Pardula's career average of 44.0 yards per punt rank second all-time among KU specialists, slightly behind Bucky Scribner (44.6 from 1980-82).
Pardula's efforts landed him on the All-Big 12 first team in 2014, when his 44.3 yards per punt led the league.