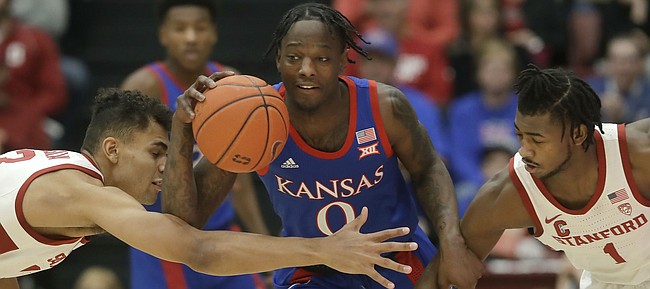 Color commentator Dick Vitale pleaded for the ball to go in.
Once Isaac White's baseline jumper went through the net, Vitale and the home crowd cheered in approval. It served as Stanford's first made field goal of the game. The only problem was that it came at the 8:08 mark in the first half, and Kansas already had a double-digit lead.
Thanks to a dominant defensive effort out of the gate, No. 5 Kansas earned a 72-56 road win over Stanford Sunday afternoon. It was a much-needed response by the Jayhawks, who dropped a 56-55 decision at Villanova just a week ago.
Things weren't always as easy after that, but the opening 12 minutes by KU's defense was enough to help the team notch its first road win of the 2019-20 campaign. Kansas now leads the series with Stanford by a 12-3 margin.
Kansas is 10-2 entering Big 12 play, while Stanford fell to 11-2 on the year.
Here's a quick look back at some of the action:
• The game turned when: The Jayhawks set the tone with a strong start, at least on the defensive end.
The Cardinal did not score any points until the 12:11 mark in the first half, hitting a pair of attempts from the free throw line. It came after 12 scoreless possessions by the hosts, allowing Kansas to jump out to an 11-0 advantage.
Stanford didn't hit a shot until there was 8:08 left in the first half. The Cardinal missed their first 14 attempts from the floor.
• One highlight: It can't be overstated how crucial KU's last bucket in the first half was.
With seven seconds remaining, Tristan Enaruna hauled in a rebound and immediately went up the court. As he crossed midcourt, Enaruna fired a pass to Isaiah Moss on the right wing. Moss drilled the 3-pointer to close out the first half.
After leading by 20-4 at one point, KU's advantage was cut to single digits before stretching it back out to 10 via a triple by Moss.
• Key stat: Moss was able to make an impact in this game.
The sharpshooter hadn't scored more than 8 points in an outing over the last six games entering Sunday afternoon. Shots were falling for Moss against Stanford, as he finished with 17 points in the win. Moss went 6-of-12 from the floor, including a 4-for-7 clip from deep.
• Up next: Kansas will play host to West Virginia on Saturday.