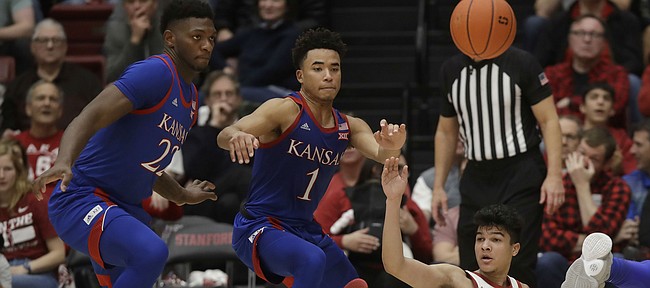 Stanford, Calif. — The road sure is a lot friendlier when it sounds like home.
With a couple of thousand blue shirts, relentless Rock Chalk roars and even a replica "Beware of the Phog" banner filling Maples Pavilion on Sunday afternoon, fifth-ranked Kansas bounced back from last weekend's road loss at Villanova with a convincing 72-56 victory over Stanford on the Stanford campus.
With Stanford students still on winter break — which meant no band, no cheerleaders, and even no famed Stanford tree — KU fans packed the 7,000-seat arena and gave the Jayhawks a boost from start to finish.
It didn't hurt, of course, that the Jayhawks (10-2) were stellar at the start of both halves, eliminating any hope the home team had of pulling off the upset.
"I'm sure other programs have it, but I don't know that anybody travels to everywhere better than we do," KU coach Bill Self said after the victory. "I don't know who travels better than us. But I don't think it's people who travel as much from home. I think it's people in this area that get a chance to go see their team. And we're very appreciative of that. You don't get that at many places. We're very spoiled."
The pseudo-home-court advantage showed up well before tipoff. Both Marcus Garrett and Tristan Enaruna told stories of talking with teammates about how Sunday's matchup "felt like a home game" because of the roar that surfaced when they took the floor.
"That was great," Enaruna said. "When we walked in we were already saying to each other it sounds like we're playing a home game. That's crazy, and that's just what it brings when you have such a great fan base."
Not in any kind of mood to let their adoring fans down, the Jayhawks raced out to a 20-4 lead on the strength of their lockdown defense that kept Stanford off the board until the 12:11 mark of the first half.
Even when the Cardinal finally broke their scoreless drought, 4 of their first 6 points came at the free-throw line and they did not bag their first field goal until 8:08 remained in the half.
"They had three or four open looks to start the game," Self said. "So (our play) wasn't as good as the score. But both teams were so inept offensively that I'm sure it was a hard game to watch. But we did defend and rebound."
After racing out to the early lead, KU saw the actual home team trim the Kansas lead to just 6 — 22-16 — late in the first half. The Jayhawks turned it over 14 times during the first half (21 for the game) and shot just 37.5% from the floor and 21.4% from 3-point range during the first 20 minutes.
Had either of those numbers been even just a little higher, Kansas might've thrown the knockout punch by halftime.
The run that buried Stanford didn't come until the second half, but a late spurt just before the halftime buzzer came pretty close to doing it and also served as a sign of what was to come.
Leading 25-18 in the final minute of the half, the Jayhawks staved off two attempts by Stanford to cut the lead to 5. After the second one failed, Enaruna raced the ball up the right side of the floor and tossed ahead to senior Isaiah Moss in the deep corner, who caught and shot to beat the halftime buzzer by a couple of seconds.
That put Kansas back up by double digits on the way to the locker room and helped snatch back any momentum Stanford had stolen.
"I felt like we controlled the whole thing," Self said. "But (a 7-point lead is) only three baskets. So I think it was important that (Moss) made it, and then he made the 3 to start the second half and we were on our way after that."
At one point early in the second half, Moss, who finished with 17 points to lead the Jayhawks, hit three 3-pointers on three consecutive KU possessions, all in 65 seconds to turn a 9-point lead into an 18-point advantage.
"It felt great," Moss said of the spurt. "It's been a while, but I'm glad to be knocking down shots and my teammates got me the ball."
Asked if anything changed in the week between the Villanova loss and Sunday, Moss said he was "just a little more relaxed, not thinking about it as much, just letting it go."
That's exactly the mentality his teammates want him to have the rest of the season.
"He was really good," Enaruna said. "I think he can do that even more often. Sometimes it looks like he's kind of hesitant to shoot it. But today, after he made a couple, he could feel it and he knew he just had to let it go. That really worked out."
It was particularly important in this one because of the fact that the Jayhawks got just 4 points on 2-of-5 shooting from their three big men.
Despite senior center Udoka Azubuike's 1-of-2, 2-point outing, Self called the game "one of the better games he's played," largely because of his 13 rebounds, seven of which came on the offensive end.
Those numbers helped pace KU to a 44-25 rebounding edge (15-4 on the offensive glass) and further illustrated the importance of Moss shooting 4-of-7 from 3-point range and freshman Christian Braun knocking in 3 of 4 from behind the arc, as well.
"We had to have somebody make some shots," said Self, whose team shot 46.6% from the floor for the game and 40.9% from 3-point range. "Having our bench guys combine to make seven 3s, that's something that we welcome."
As good as the Jayhawks were from distance — after making 3 of 14 3-point tries in the first half, KU hit 6 of 8 in the second — it was his team's defense that left Self smiling the most on Sunday.
KU forced Stanford leading scorer Oscar da Silva into eight turnovers, and the Cardinal coughed it up 19 times as a team. Beyond that, Self said the Jayhawks played good team defense and used Azubuike as the anchor for all of it.
"Dok was good," Self said. "I thought he defended, I thought he protected the rim and I thought they didn't challenge us as much inside because of the way he protected it. I thought we were turned up defensively."
Kansas now returns to campus with the start of Big 12 Conference play looming. The Jayhawks will host West Virginia at 3 p.m. Saturday at Allen Fieldhouse to kick off their quest to bring a Big 12 trophy back to Lawrence.