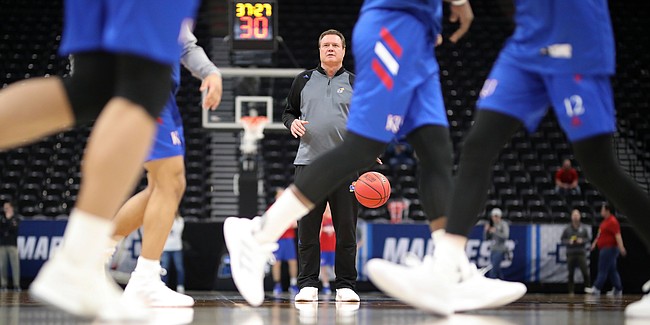 From titles and first-time triumphs to legal issues and hope for the football program, the past 12 months delivered several memorable moments and stories that will be talked about for years to come for athletic programs at the University of Kansas.
Here is a quick look back at the biggest KU sports stories of the past year.
1 – KU Receives Notice of Allegations – After months of wondering and waiting, KU officially received a notice of allegations from the NCAA in late September regarding the men's basketball program's involvement in college basketball's recent recruiting scandal that led to the conviction of three former Adidas employees.

Hit with three Level 1 violations, a lack of institutional control tag and a charge of head coach responsibility, KU and attorneys for the university and Self quickly began writing their response, which has to be delivered to the NCAA by Feb. 12, 2020.
The NOA and whatever comes of it is not likely to have an impact on the current season, but it did impact KU's recruiting and the result, which is expected to land sometime next spring or summer, could have a major impact on the future of Kansas basketball.
2 – Big 12 Title Streak Snapped – After breaking the tie with UCLA for the NCAA record of consecutive conference championships a season earlier, KU could not add to it in 2019.
With injuries and a host of new faces saddled with the chore of extending the streak to 15 in a row, the Jayhawks fell short by a couple of games.
The streak appeared to be in jeopardy throughout the Big 12 season, but KU fought to make it interesting. With two games to play, the Jayhawks were still within striking distance of at least tying for yet another title. But a late-season loss at Oklahoma officially knocked the Jayhawks from contention.
Kansas State and Texas Tech, at 14-4, went on to tie for the Big 12 crown and the Jayhawks finished with a conference record of 12-6.
The Jayhawks then went on to lose in the championship game of the Big 12 tournament and were rocked by Auburn as a 4 seed in the second round of the NCAA Tournament. One of the roughest seasons in recent KU memory ended with the Jayhawks finishing 26-10.
3 – Silvio De Sousa Suspension Reduced – After sitting out the entire 2018-19 season while waiting for a ruling on his eligibility, De Sousa learned in May that his appeal of a two-year NCAA suspension handed out in February was reduced to one year, and the long wait for De Sousa and the Kansas fan base was over.
Initially held out and then suspended for his guardian's role in the recent college basketball recruiting scandal, the KU forward received all kinds of support and love from KU's fan base during his appeal.
The 6-foot-9 forward from Angola remained upbeat throughout his wait, saying he always believed he would be cleared. The ruling paved the way for De Sousa to play as a junior during the 2019-20 season, bringing him back to the floor for the first time since the 2018 Final Four.
So far this season he has appeared in all 11 games and is averaging 3.7 points and 3.0 rebounds in 9.5 minutes per game.
4 - Bryce Hoppel's dream season — The stretch of victories and success put together by KU junior Bryce Hoppel on the track was among the most impressive accomplishments in the rich history of KU track and field.
A winner of 21 consecutive 800 meter races from the indoor season through the end of July, Hoppel won the indoor and outdoor 800 meter NCAA titles and also ran the fifth fastest time (1:44.41) in NCAA history in the event.
The Midland, Texas native challenged or set a handful of school records and elected to turn pro at the end of his junior season.
5 – Snoop Dogg at Late Night – Shortly before the Jayhawks annual season tipoff event arrived, KU announced that legendary rapper and hip-hop artist Snoop Dogg would be this year's guest performer.
And when the rapper showed up on the Allen Fieldhouse floor to close the event, he gave Kansas fans a full taste of one of his tour shows.
The 35-minute set that included some of Snoop Dogg's most iconic hits also featured stripper poles, a money gun that he used to shoot fake dollar bills toward the KU bench and unedited lyrics. The performance drew criticism from national media outlets, and KU coach Bill Self and Athletic Director Jeff Long voiced their displeasure with the way the show went down after it was over.
Said Snoop Dogg a few days later during an interview with Howard Stern — "You pay for Snoop Dogg, you going to get Snoop Dogg."
6 – Gary Woodland Wins U.S. Open – Heading into the 2019 golf season, there were plenty of people who believed it was merely a matter of time until the 2007 KU grad won a major on the PGA Tour.
That time came in June, when Woodland roared his way to the U.S. Open title at famed Pebble Beach. With world-beater Brooks Koepka chasing him down on the final day of the tournament, Woodland delivered a steady round and held him off to hoist the trophy.
Woodland became the first Jayhawk in history to win one of golf's four major tournaments and the story of his connection with special needs golf enthusiast Amy Bockerstette made headlines from coast to coast.
A few weeks after sinking the putt that secured the Open title, Woodland was honored in his hometown of Topeka with a downtown block party that attracted a crowd of more than 1,000 Woodland fans.
T7 – KU Tennis Makes a Run – Behind head coach Todd Chapman being named Big 12 Coach of the Year and the program's first ever Big 12 tournament title, the senior-laden Jayhawks delivered a season for the ages on the tennis courts at Rock Chalk Park.
Led by singles players Anastasia Rychagova and Sofia Smagina, along with a powerhouse doubles team of Janet Koch and Nina Khmelnitckaia, the Jayhawks improved throughout the season and were as confident as any club in the country during postseason play.
After running through TCU, Oklahoma State and Texas to claim the Big 12 crown, Kansas earned the right to host an NCAA Tournament regional and then beat Denver and Florida in rounds 1 and 2 before falling to Stanford in the Sweet 16.
T7 – KU Soccer Wins Big – Behind senior goal-scorer Katie McClure, a key group of veterans at her side and the stellar play of sophomore goalkeeper Sarah Peters, the Jayhawks won their first ever Big 12 tournament championship and did not stop there.
Mark Francis' club also won a pair of NCAA Tournament games, including a home win over Iowa at Rock Chalk Park, in Round 1, and advanced to just the second Sweet 16 in program history.
The Jayhawks' trip to the postseason in 2019 marked the fourth time in the past six years that Francis had led his squad to an NCAA Tournament berth.
9 – The Future of KU Football — The Kansas football team may have finished Les Miles' first season with a 3-9 record, but there were more than a few memorable moments along the way.
Miles won his KU debut, 24-17 over Indiana State. And the Jayhawks actually took a 2-1 record into Big 12 play. But that was as good as it got in terms of wins and losses, as the Jayhawks won just one more game — 37-34 over ninth-place Texas Tech — and once again finished in the Big 12 basement.
Despite the sub-.500 record, Miles' first season in charge featured the Jayhawks' first home sellout in a decade (vs. Kansas State), five fourth-quarter leads in 12 games and a 2020 recruiting class that ranked in the top half of the Big 12 conference.
KU's offense also found life after a mid-season change from offensive coordinator Les Koenning to Brent Dearmon. The RPO wizard who joined Les Miles' staff as an offensive consultant was promoted to run the show during KU's first bye week. In his first game, after a bye week, the Jayhawks put up 48 points and 569 yards of offense in a near-win at Texas. He followed that up by guiding KU to 527 yards and 37 points in a homecoming win over Texas Tech.
It wasn't all roses for the 34-year-old Dearmon during the second half of the 2019 season, but his style, personality and production have given KU football fans optimism for the future.
10 – David Beaty Lawsuit — Though Kansas Athletics fired former KU football coach David Beaty in November of 2018, a battle over the payout in his contract ensued in the months after the football program rid itself of the head coach.
Lawyers representing Beaty filed a lawsuit against his former employer this past March, alleging a breach of contract and $3 million in unpaid wages.
While Kansas Athletics maintains an alleged violation by a Beaty staffer — a video coordinator serving in a coaching capacity — led to the decision to withhold payments, Beaty's law team since the suit became public has reiterated that KU fired Beaty without cause with three games remaining in the 2018 season and then came up with an alternate reason for his termination after the fact. The legal battle in U.S. District Court remains unresolved.