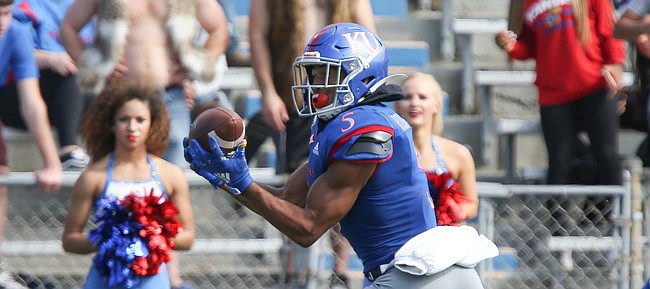 When the Big 12's football coaches and a panel of media members selected their respective all-league teams for 2019, only two Jayhawks made the cut.
But even more KU standouts were included when national college football writer Phil Steele unveiled his all-conference choices this week.
Not only did sophomore running back Pooka Williams and senior left tackle Hakeem Adeniji pick up first-team All-Big 12 honors (mirroring their spots on the coaches' team) from Steele, but his second team included junior KU receiver Stephon Robinson Jr., as well.
What's more, Steele's lists, unlike those from the Big 12 coaches and Associated Press, featured a third team, and junior KU receiver Andrew Parchment landed on that tier.
Adeniji, who also was named a fourth-team All-American by Steele, started all 48 games of his now completed KU career. The Garland, Texas, native and team captain was a fixture up front for the Jayhawks (3-9 overall, 1-8 Big 12), as the offense averaged 377.3 yards per game.
Williams, a second-year back from Louisiana, led KU with 1,061 rushing yards and three rushing touchdowns, and added 214 receiving yards and two more scores via receptions.
Parchment and Robinson, meanwhile, broke out this past season as deep threats in KU's passing game. Parchment, a Florida native who transferred to Kansas from the junior college ranks, led the team with 65 receptions and 831 yards in his first season in the program. Parchment also scored seven touchdowns.
Robinson, originally from Los Angeles, caught 45 passes for 727 yards and led KU with eight TD receptions.
Incoming recruits from all over
When the KU football program announced the official additions of 19 prospects during the recent early signing period, the newest Jayhawks weren't all found in the program's backyard.
In fact, Shawnee Mission South tight end Will Huggins was the only signee from the Sunflower State, while KU signed three more prospects from the Kansas City, Mo., metro area: Lee's Summit West tight end Trevor Kardell, Staley defensive lineman Caleb Taylor and Raymore-Peculiar receiver Luke Grimm.
But the rest came from outside what head coach Les Miles has referred to as "the Kansas footprint." Among the other signees, four hail from Texas, three are from Oklahoma, three others are from California, two are from Louisiana, and the states of Michigan, Florida and Virginia brought KU one signee apiece.
Discussing the recruiting reach of the KU coaching staff, Miles reiterated he wants to bring in players from in-state high schools and the K.C. area.
"But it's easy for us to go to Texas at times, and we have nice ties there," Miles added. "Certainly football is tremendously important there. We'll kind of go south, as well."
The state that borders both Kansas and Texas, Miles went on, should be an important spot for recruiting, too.
"It's a nice drive from Kansas to Oklahoma," he said. "It's something that the mom and dad can watch that son play and participate."
Filling needs in 2020 class
As KU's coaching staff strategized for the 2020 recruiting class there were a few attributes they sought out with their newest batch of signees.
Jeff Hecklinski, the Jayhawks' tight ends coach and recruiting coordinator, said one of those needs was length.
"We talk about it all the time — it's a big man's game," Hecklinski said after KU signed several players in December. "So (we focused on) length, speed and toughness. So we want to shorten the field, we want to get longer, we want to have faster kids on the field. And then, when we get to the point of contact, we want toughness at the point of contact."
Regarding the length Hecklinski referenced, tight end Kardell and offensive linemen Nicholas Martinez and Armaj Adams-Reed all were examples of signees with size, each of them listed at 6-foot-5. But they weren't even the tallest in the class. Huggins, the tight end from nearby Lenexa, is 6-7. In all, 10 of KU's 19 signees announced to date are 6-2 or taller.
Additionally, Hecklinski liked that KU signed players who showed some versatility as high school players, and thought that further addressed a KU need.
"When you look at every one of those players, every one of those players plays multiple spots on the field," Hecklinski shared. "And that's a good sign of toughness, that's a good sign of team and that's a good sign of what their coaches and their teammates feel about them."
KU football's announced 2020 signees
(Rivals recruiting rankings listed)
√ Garrett Jones - 3-star OL from Michigan; 6-4, 285 pounds
√ Will Huggins - 3-star TE from Kansas; 6-7, 235 pounds
√ Daniel Hishaw Jr. - 2-star athlete from Oklahoma; 5-10, 200 pounds
√ Caleb Taylor - 3-star DE from Missouri; 6-2, 255 pounds
√ Trevor Kardell - 3-star TE from Lee's Missouri; 6-5, 225 pounds
√ Krishawn Brown - 3-star LB from Oklahoma; 6-1, 200 pounds
√ Taiwan Berryhill - 3-star LB from Louisiana; 6-2, 200 pounds
√ Steven McBride - 3-star WR from Louisiana; 6-0, 160 pounds
√ Johnquai Lewis - 3-star CB from Florida; 6-0, 185 pounds
√ Tristan Golightly - 3-star WR/TE from Texas; 6-4, 200 pounds
√ Lawrence Arnold - 3-star WR from Texas; 6-3, 185 pounds
√ Armaj Adams-Reed - 2-star OL from Texas; 6-5, 350 pounds
√ Malik Johnson - 3-star WR from Texas; 5-9, 180 pounds
√ Nicholas Martinez - 3-star OL from California; 6-5, 285 pounds
√ Duece Mayberry - 3-star CB from Oklahoma; 6-0, 185 pounds
√ Karon Prunty - 2-star CB from Virginia; 6-1, 190 pounds
√ Jalon Daniels - 2-star QB from California; 6-0, 207 pounds
√ Alonso Person - 3-star LB from California; 6-3, 200 pounds
√ Luke Grimm - 3-star WR from Missouri; 6-0, 170 pounds
KU football 2020 unsigned commitments
• Brennon Scott - 4-star LB from Texas
• Ja'Cobee Bryant - 3-star CB from Alabama
• Kenean Caldwell - 3-star DT from Louisiana
• Chris Jones - 3-star DE from Florida
• DaVonshai Harden Jr. - 2-star QB from Kansas
• Kyler Pearson - 2-star WR from Oklahoma (signing not yet announced by KU)