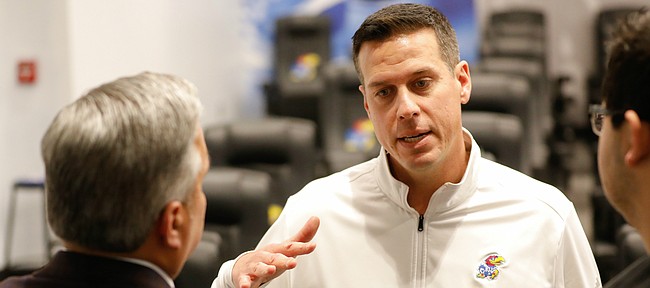 As coordinator D.J. Eliot looks to enhance the Kansas football defense for next season and beyond, the hope is incoming freshmen will be able to contribute in some fashion during their first year on campus next year.
Actually, that possibility often is a selling point during Eliot's conversations with prospects.
"We're recruiting young players and we're recruiting them to come in and play," Eliot said this past week, when KU signed seven defensive players during the Class of 2020 early signing period. "With our numbers, they see the opportunity to come in and play."
Eliot and the Jayhawks will need varying degrees of help at all three levels defensively, and KU added at least one player for the defensive line, linebackers and secondary in December.
"When you're building a program you've got to have guys every year at every position, so you don't get in holes with your position needs," Eliot said, adding he's excited that the KU defense added players with "good character" who are also quality students.
Up front, KU signed Caleb Taylor, a three-star defensive end from Kansas City, Mo.
Eliot, who also coaches outside linebackers, already has three three-star linebackers signed to shore up depth at that level: New Orleans prep Taiwan Berryhill, Tulsa, Okla., prospect Krishawn Brown and Harbor City Calif., linebacker Alsonso Person.
In the secondary, KU signed three-star cornerback Johnquai Lewis from Hialeah, Fla., three-star corner Duece Mayberry from Tulsa, Okla., and two-star corner Karon Prunty from Portsmouth, Va.
Of course, Eliot and other assistants on head coach Les Miles' staff will likely bolster the defense further by securing more signings to finish up the class in February.
"We're always looking. We're definitely keeping our eyes on some spots," Eliot said, when asked what other positions needed to be addressed. "Defensive linemen here and there. But we're always looking to improve on defense at any position."
The KU staff also has longstanding verbal commitments in place with four more prep defensive prospects for the Class of 2020: four-star Dallas linebacker Brennon Scott, three-star Alabama corner Ja'Cobee Bryant, three-star Louisiana defensive tackle Kenean Caldwell and three-star Florida defensive end Chris Jones.
Over the course of the next several weeks Eliot and other KU coaches will continue working toward turning those nonbinding verbal pledges into official signings.
Eliot pointed out that during winter break coaches can't contact recruits in person and can only call them on a weekly basis, per NCAA rules. Coaches can text with prospects more often during that time, though, and players can call coaches whenever they like.
"So there will be a lot of phone conversations and communication through your cell phone. As a matter of fact, most of these kids would probably rather text anyway. I don't even know if they know what the talk button is. They would rather just hit you through Twitter or a text message," Eliot shared. "That will be the biggest part of the communication until we get back on the road in January."
Once that winter break is over, coaches can visit recruits once a week in January, leading up to National Signing Day in early February.
KU football's announced 2020 signees
(Rivals recruiting rankings listed)
√ Garrett Jones - 3-star OL from Michigan; 6-4, 285 pounds
√ Will Huggins - 3-star TE from Kansas; 6-7, 235 pounds
√ Daniel Hishaw Jr. - 2-star athlete from Oklahoma; 5-10, 200 pounds
√ Caleb Taylor - 3-star DE from Missouri; 6-2, 255 pounds
√ Trevor Kardell - 3-star TE from Lee's Missouri; 6-5, 225 pounds
√ Krishawn Brown - 3-star LB from Oklahoma; 6-1, 200 pounds
√ Taiwan Berryhill - 3-star LB from Louisiana; 6-2, 200 pounds
√ Steven McBride - 3-star WR from Louisiana; 6-0, 160 pounds
√ Johnquai Lewis - 3-star CB from Florida; 6-0, 185 pounds
√ Tristan Golightly - 3-star WR/TE from Texas; 6-4, 200 pounds
√ Lawrence Arnold - 3-star WR from Texas; 6-3, 185 pounds
√ Armaj Adams-Reed - 2-star OL from Texas; 6-5, 350 pounds
√ Malik Johnson - 3-star WR from Texas; 5-9, 180 pounds
√ Nicholas Martinez - 3-star OL from California; 6-5, 285 pounds
√ Duece Mayberry - 3-star CB from Oklahoma; 6-0, 185 pounds
√ Karon Prunty - 2-star CB from Virginia; 6-1, 190 pounds
√ Jalon Daniels - 2-star QB from California; 6-0, 207 pounds
√ Alonso Person - 3-star LB from California; 6-3, 200 pounds
√ Luke Grimm - 3-star WR from Missouri; 6-0, 170 pounds
KU football 2020 unsigned commitments
• Brennon Scott - 4-star LB from Texas
• Ja'Cobee Bryant - 3-star CB from Alabama
• Kenean Caldwell - 3-star DT from Louisiana
• Chris Jones - 3-star DE from Florida
• DaVonshai Harden Jr. - 2-star QB from Kansas
• Kyler Pearson - 2-star WR from Oklahoma (signing not yet announced by KU)