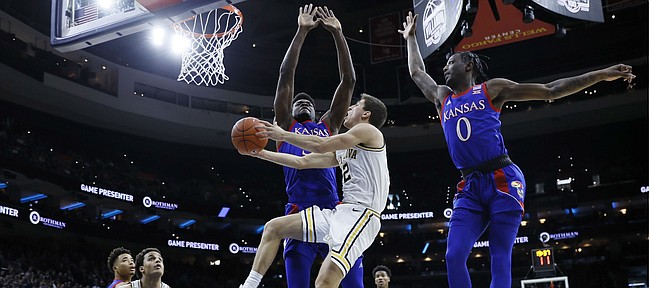 Last Saturday's 1-point loss to Villanova in Philadelphia cost the Kansas men's basketball team four spots in the latest Associated Press rankings.
For the second time this season, the Jayhawks fell to No. 5 in the AP Top 25 following a loss.
The first time came after the season opener, when Kansas dropped from third to fifth following a 2-point loss to Duke in the Champions Classic in New York. And this time KU fell to fifth from the top spot, which was claimed by Gonzaga.
The Jayhawks (9-2) also fell to fifth in the USA Today coaches poll.
The Zags became the sixth team this season to hold the No. 1 spot, marking the most top-ranked teams before Jan. 1 in poll history. The record for most No. 1 teams in a single season is seven, set in 1982-83.
Ohio State, Louisville and Duke fill out the top four ahead of Kansas, with Oregon, Baylor, Auburn, Memphis and Villanova rounding out the Top 10.
The weekend victory was worth eight spots for the Wildcats, who jumped from No. 18 to No. 10 in this week's poll.
Four Big 12 teams remained ranked this week, with KU and Baylor in the Top 10 and West Virginia and Texas Tech each moving up a spot from last week to Nos. 22 and 23, respectively.
The Jayhawks have now been ranked in the AP Top 25 for 208 consecutive weeks. The next closest active streak is Duke's, at 71, and the Jayhawks are closing in on UCLA's all-time record of 221 consecutive weeks in the AP Top 25.
Kansas has been a Top 10 team in the AP poll in 158 of the last 193 AP polls.
The Bruins, who had their consecutive conference championships streak (13) bested by Kansas two seasons ago, put together their AP Top 25 run between 1967-80.
While the Jayhawks fell in the AP poll, the loss to Villanova did nothing to hurt their status in the KenPom.com rankings.
Fourth in the nation per KenPom entering last weekend's game, the Jayhawks remained in the No. 4 spot on KenPom.com throughout the weekend, albeit with a slightly different adjusted efficiency margin.
Ohio State, Duke and Louisville occupy spots 1-3 in the most recent KenPom rankings.
Here's the complete AP Poll for Dec. 23:
1 – Gonzaga, 13-1, 1,608 (54)
2 – Ohio State, 11-1, 1,520 (9)
3 – Louisville, 11-1, 1,460 (1)
4 – Duke, 10-1, 1,429 (1)
5 – Kansas, 9-2, 1,388
6 – Oregon, 10-2, 1,286
7 – Baylor, 9-1, 1,207
8 – Auburn, 11-0, 1,107
9 – Memphis, 10-1, 1,040
10 – Villanova, 9-2, 950
11 – Michigan, 9-3, 889
12 – Butler, 11-1, 853
13 – Maryland, 10-2, 785
14 – Michigan State, 9-3, 775
15 – San Diego State, 12-0, 763
16 – Virginia, 9-2, 595
17 – Florida State, 10-2, 583
18 – Dayton, 9-2, 541
19 – Kentucky, 8-3, 411
20 – Penn State, 10-2, 332
21 – Washington, 9-2, 326
22 – West Virginia, 10-1, 229
23 – Texas Tech, 8-3, 178
24 – Arizona, 10-3, 153
25 – Iowa, 9-3, 125
Others receiving votes: Wichita State 112, Colorado 79, Xavier 68, DePaul 54, Indiana 45, Liberty 40, Utah State 36, Saint Mary's 29, Marquette 28, Tennessee 24, Northern Iowa 23, Creighton 12, Purdue 11, Georgetown 9, Stanford 7, BYU 4, St. John's 4, Virginia Tech 3, Seton Hall 2, East Tennessee State 1, Yale 1
More like this story on KUsports.com