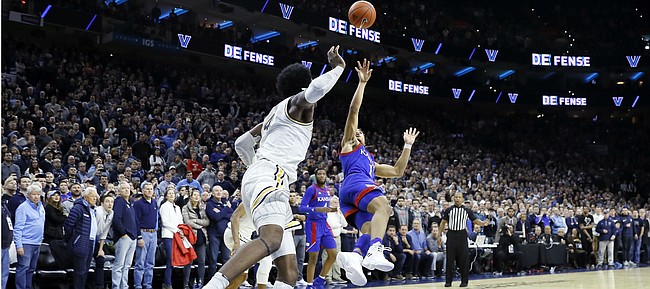 Philadelphia — The No. 1 spot at the top of the college basketball polls will remain a revolving door for at least another week thanks to top-ranked Kansas' 56-55 loss to No. 18 Villanova on Saturday at Wells Fargo Center.
Just three days after his team became the fifth squad to slide into the No. 1 spot in the polls this season, Kansas coach Bill Self accurately predicted that his Jayhawks would not be the last team to hold the perch this season.
What Self did not know — or at least hoped against — was that KU's run on top would end a couple of days later.
The Jayhawks (9-2) were not without their chances against Jay Wright's Wildcats.
After playing to a sluggish 23-all tie in Saturday's first half, things picked up in the second, with both teams hitting each other with runs that left the other wobbly.
But it was Villanova that landed the last punch, knocking Kansas out of the game and, come Monday, out of the top spot in the national polls, clearing the way for a record sixth team to claim the No. 1 ranking before Jan. 1.
The record for different No. 1 teams in the Associated Press Top 25 in a single season is seven, set during the 1982-83 season.
"It's one of those years," Wright said after knocking off Kansas for the third time since 2016. "There just isn't one team that's dominant. (Kansas is) definitely worthy of a No. 1 ranking, but going on the road in college basketball is tough, man. Especially this time of year."
Self agreed about the potential pitfalls of life on the road around the holidays and finals. But he said his team came to Philadelphia focused not on the big picture but instead on the task at hand.
"That didn't have anything to do with this game," Self said of his team falling from atop the polls. "The reason No. 1, supposedly, lost today was because they played a really good team in their building and (that team) made more plays down the stretch. But I don't think it had anything to do with what anybody's ranked."
What's more, Self said he was unsure of what a stint on top even means this season, when Michigan State, Duke, Kentucky, Louisville and now Kansas already have lost while sporting the big No. 1 next to their names.
"I don't even know if there is a No. 1," Self said.
Someone will be there when the latest version of the poll is released Monday morning. And after the Bulldogs' 112-77 win Saturday over Eastern Washington, the smart money is on that someone being No. 2 Gonzaga (11-1), which received 15 of the 65 first-place votes in last week's AP poll.
But even if the Zags occupy the top spot in this week's poll, Wright said they probably won't be the last team to move into or out of No. 1.
"It's going to be tough for anyone to hold a No. 1 ranking this season," he said. "I just think it's one of those years."
Asked to take a stab at explaining what's made it that way, Wright pointed to roster turnover at the top of recent polls.
"I think a lot of it is about who decides to come back," he said, noting that teams like Duke, Virginia and Texas Tech, which finished at the top of last year's final AP poll, all lost underclassmen to the NBA following the 2018-19 season. "There's not really a team that's got everybody back that's experienced."
Villanova's win over Kansas improved the Wildcats to 7-16 all-time against the top-ranked team in the AP poll. The Wildcats' last three matchups with No. 1 have come against Kansas, with Nova winning Saturday and in the Elite Eight in 2016 and falling last year in Allen Fieldhouse.
Meanwhile, KU is now 23-12 all-time while ranked No. 1, including a 13-5 mark under Self.
The Jayhawks will be off for the holidays until Thursday, when they will begin preparations for next Sunday's game at Stanford.