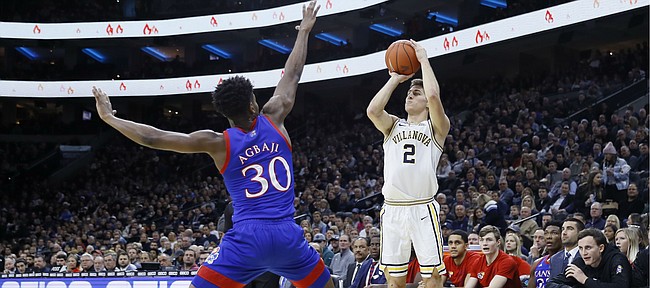 Down goes another No. 1 team.
This time, No. 1 Kansas was unable to hang on in a 56-55 loss to No. 18 Villanova Saturday afternoon at Wells Fargo Center. The Jayhawks led by as many as 4 points with 1:49 remaining, but faltered down the stretch.
Kansas (9-2) still had a chance after forcing a late turnover, but Devon Dotson's floater at the buzzer misfired on the final possession. The Jayhawks became the fifth No. 1 team in the nation to go down this season.
For a moment, though, KU appeared poised to walk away with a win in its first true road test of the season.
With the game tied at 51-51, Kansas forced a much-needed shot clock violation. It ended with a block by Udoka Azubuike as the play clock expired. On the other end, sophomores Devon Dotson and Ochai Agbaji linked up for a backdoor play to give the Jayhawks a 53-51 advantage.
One possession later, KU stretched its lead with a tough basket in traffic by freshman Christian Braun. The Wildcats eventually drilled a go-ahead 3-pointer with 17 seconds remaining, though the Jayhawks forced a key turnover late to make the game come down to the wire.
Villanova (9-2) now leads the all-time series, 5-4, against Kansas.
Here's a quick look back at some of the action:
• Offensive highlight: Villanova appeared to be creating some distance early in the second half, but a dunk by the Jayhawks got them back in the game.
Dotson drove hard to the rim, and fired a quick pass to Ochai Agbaji. The sophomore wing finished off the sequence with the slam, pulling Kansas within a basket. The Jayhawks eventually evened the score and traded punches with the Wildcats down the stretch.
• Defensive highlight: Agbaji had active hands early during a defensive battle in Philadelphia.
Agbaji had three steals by the second media timeout in the first half. On one of those steals, Agbaji poked the ball free and immediately headed toward the other end. He then hit Dotson in stride for a fastbreak layup.
• Key note: Junior Marcus Garrett sustained an injury in the first half of Saturday's nonconference tilt.
Garrett drove down the middle of the lane and attempted a shot around the rim in traffic. He hit the floor, and was forced out of the game with a right ankle injury. Garrett was ruled out for the remainder of the contest at halftime.
Garrett, who missed five games last year with a left ankle injury, entered the game with an average of 9.4 points, 4.0 rebounds and 4.5 assists per game.
• Up next: Kansas will travel to Stanford next Sunday.