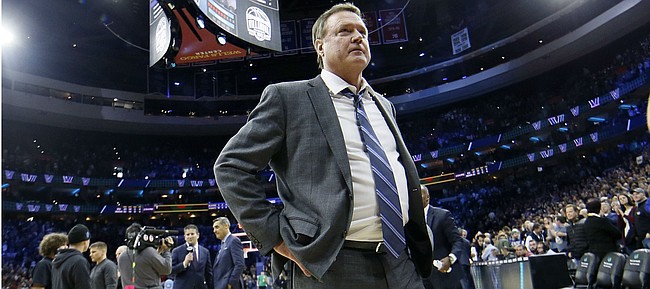 Philadelphia — Kansas coach Bill Self needed just three words to communicate his thoughts on his team's late-game execution in Saturday's 56-55 loss to No. 18 Villanova at Wells Fargo Center.
"It was awful," Self noted.
After a grind-it-out affair in which both teams shoot less than 44% and Villanova attempted a school-record 41 3-pointers, the top-ranked Jayhawks found themselves up four with the ball and 71 seconds to play, yet somehow still found a way to lose it.
Three low-percentage plays in what Villanova guard Collin Gillespie referred to as "The Wildcat Minute," — all of which went Nova's way — led to the Jayhawks' second loss of the season and a second consecutive December where they fell as the No. 1-ranked team in the nation on the road in the final game before the holiday break.
The first came when sophomore point guard Devon Dotson had his pocket picked near mid-court by Gillespie.
The steal and layup cut KU's lead to 55-53. But even at that point the Jayhawks (9-2) still had the upper hand.
In hindsight, Self said he wished Dotson would have fouled Gillespie in the open floor, resulting in a sideline out-of-bounds situation instead of two easy points because the Jayhawks had just three team fouls at the time.
"But kids don't think like that," Self noted. "So that's OK."
Next came a jumbled possession that ended with a missed jumper by David McCormack (3-of-7 on the day) and that gave the Wildcats (9-2) an opportunity to tie or take the lead.
Although attempting a 2-pointer or trying to get to the free throw line certainly was in play, nearly everyone in the building knew the 3-pointer was coming. Including Self, who lamented his team's understanding of that very thing following Saturday's loss.
"We knew we had to take the 3s that were available to us," Villanova coach Jay Wright, noting KU's size in the paint made it tough around the rim. "And we were going to have to live and die with it."
Added Self of the game-winning triple by Villanova junior Jermaine Samuels over a flat-footed Dotson: "It's an easy switch. You're up two with under 30 (seconds) left so the worst you can do is play for the last shot to win it even if they make a two. And we let them shoot a 3."
The final miscue that sealed KU's fate came at the free throw line, where Dotson, a 85.3% free throw shooter entering Saturday, missed the front end of a one-and-one situation that could have tied the game or led to Kansas taking the lead.
Villanova grabbed the rebound with 17 seconds to play and then did its best to meltdown in the game's final seconds.
After three fouls by Kansas and one timeout by each team, Dotson forced a turnover on Villanova's inbounds play of the day.
"We kind of ran out of our plays, honestly," Wright said. "We have three different baseline press offenses and we ran all three. I don't think I've ever been in that situation. Credit them the most."
KU's late defensive stand set up an opportunity for Dotson to erase his rough final minute by hitting the game-winning shot, but his off-balanced driving fadeaway just outside of the paint clanged off the glass and off the rim as the final horn sounded.
"Just take it and go," was the way Self described the final 11 seconds, which also featured Azubuike unable to check in because officials said he did not go far enough down to the scorer's table when trying to get back on the floor.
"We were just trying to get Dot with his right hand going downhill," Self explained. "He actually got a decent look. But that was about the best I thought we could hope for in that situation."
The late collapse overshadowed what had been a strong finish for the Jayhawks.
After a 23-all tie at the half, Villanova took control early in the second half by finding its range and rhythm from the outside.
An 8-0 run by the Wildcats early in the second half put the Jayhawks in a tough spot, down eight with the crowd breathing down their necks.
But after the under-16 media timeout, Self went with four guards and KU quickly found its offense. The Jayhawks scored 10 of the next 12 points, all on drives to the rim, to pull back within two.
"I brought the guys in and I was like, 'Just keep going downhill,'" sophomore guard Ochai Agbaji said after the loss. "That's what we were going to and that's what was working, being more aggressive, really. Going out there and getting fouls."
Added Dotson, who led Kansas with 15 points on 5-of-15 shooting, including a 4-of-7 clip at the free throw line: "In the first half there weren't a lot of driving lanes or opportunities to attack. I just tried to stay in attack mode, stay aggressive and my teammates were on me and coaches were on me, (telling me) to just be aggressive and that's what I tried to do."
Freshman guard Christian Braun played a key role in six of those Kansas points during the Jayhawks' 17-8 run that erased Villanova's eight-point lead.
He drove hard for a right-handed runner off the glass to put a stop to the Nova run on one possession and drove it again on the next KU possession to force a breakdown by the Villanova D that led to an Agbaji lay-in.
Braun's drive down the lane that produced two more points after a goaltending call on Villanova tied the game at 37 and KU actually went ahead for a few seconds following a 3-pointer from the top of the key by Dotson.
Neither team led by more than four points the rest of the way, and the sellout crowd of 20,706 was treated to a wild finish that left the home fans happy and the Jayhawks, who played the final 27 minutes of this one without junior guard Marcus Garrett, wishing one or two bounces had gone the other way.
"Not discouraged at all," said Self, pointing to the strong play of freshmen Braun and Tristan Enaruna in Garrett's absence as reasons his team "got better today." "I hate that we lost, but I'm not discouraged."
His players agreed.
"Everything we can take away from the game we are," McCormack said. "And we're just going to become better."
Added Dotson: "It's tough. I mean, you can't dwell on it. You can learn from it. But we've got to move forward and onto the next."
After another week off, the Jayhawks return to the road next Sunday, when they travel to Stanford to take on the Cardinal before the start of Big 12 play in early January.