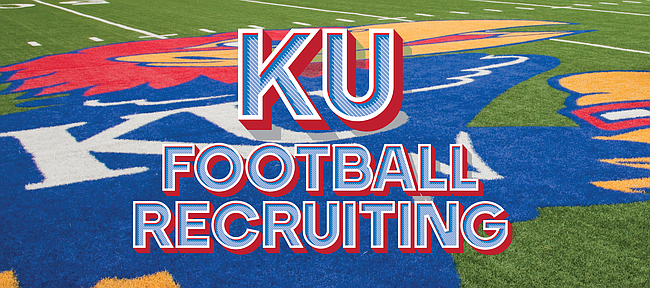 As head coach Les Miles and his Kansas football staff celebrated Wednesday the signings of 18 high school prospects, it seemed one recruit who had been committed to the program for months would end up playing elsewhere.
By Friday morning, however, Luke Grimm signed with the Jayhawks, not even 48 hours removed from reopening his recruitment.
Earlier in the week, Grimm, a standout receiver in the Kansas City metro area, at Raymore-Peculiar High, told the Journal-World he planned to sign in February. On Wednesday evening, after KU announced 18 of its signees on the first day of December's early signing period, Grimm announced on Twitter he would be exploring his options in the weeks ahead and reopening his recruitment, citing "changes in the scholarship expectation" with KU.
Later on Wednesday, Grimm, who committed to KU back in June, announced he received a scholarship offer from Arkansas State.
KU announced Friday morning Grimm, listed at 6 feet and 170 pounds, signed with the Jayhawks. A few hours later, Grimm took to Twitter to share that KU never pulled the scholarship offer that had been extended to him. Grimm thanked Miles and his staff for the opportunity.
"I look forward to being able to play for a local school and show that the Kansas City area has talent that can compete at the highest level," Grimm wrote in the note he tweeted out.
Formerly rated by Rivals as a two-star prospect at receiver, the recruiting site now has Grimm as a three-star talent. He was a finalist for the Thomas A. Simone and Otis Taylor awards this year, after scoring 10 touchdowns and gaining 853 receiving yards as a senior at Ray-Pec.
He reportedly also had offers from Army, Columbia, Dartmouth and several other non-Power Five programs.
With the addition of Grimm, KU now has announced 19 signings in its 2020 recruiting class. The most the Jayhawks could sign and add to the roster for next season is 25, per NCAA rules.
KU has yet to announce the signing of Kyler Pearson, a two-star receiver from Tulsa, Okla. However, that should come in February once he has officially been accepted through KU's student application process and cleared by the NCAA to participate, Pearson told the Journal-World.
Friday marked the last day of the three-day early signing period. National Signing Day for 2020 is set for Feb. 5. KU will have to wait until then to officially add its committed but unsigned recruits, such as four-star Texas linebacker Brennon Scott. On Thursday, Scott tweeted he's "still very much committed to KU" but added "I'm also open to any and all schools," describing his recruitment as still open.
KU football's announced 2020 signees
(Rivals recruiting rankings listed)
√ Garrett Jones - 3-star OL from Michigan; 6-4, 285 pounds
√ Will Huggins - 3-star TE from Kansas; 6-7, 235 pounds
√ Daniel Hishaw Jr. - 2-star athlete from Oklahoma; 5-10, 200 pounds
√ Caleb Taylor - 3-star DE from Missouri; 6-2, 255 pounds
√ Trevor Kardell - 3-star TE from Lee's Missouri; 6-5, 225 pounds
√ Krishawn Brown - 3-star LB from Oklahoma; 6-1, 200 pounds
√ Taiwan Berryhill - 3-star LB from Louisiana; 6-2, 200 pounds
√ Steven McBride - 3-star WR from Louisiana; 6-0, 160 pounds
√ Johnquai Lewis - 3-star CB from Florida; 6-0, 185 pounds
√ Tristan Golightly - 3-star WR/TE from Texas; 6-4, 200 pounds
√ Lawrence Arnold - 3-star WR from Texas; 6-3, 185 pounds
√ Armaj Adams-Reed - 2-star OL from Texas; 6-5, 350 pounds
√ Malik Johnson - 3-star WR from Texas; 5-9, 180 pounds
√ Nicholas Martinez - 2-star OL from California; 6-5, 285 pounds
√ Duece Mayberry - 3-star CB from Oklahoma; 6-0, 185 pounds
√ Karon Prunty - 2-star CB from Virginia; 6-1, 190 pounds
√ Jalon Daniels - 2-star QB from California; 6-0, 207 pounds
√ Alonso Person - 3-star LB from California; 6-3, 200 pounds
√ Luke Grimm - 3-star WR from Missouri; 6-0, 170 pounds
KU football 2020 unsigned commitments
• Brennon Scott - 4-star LB from Texas
• JaCobee Bryant - 3-star CB from Alabama
• Kenean Caldwell - 3-star DT from Louisiana
• Chris Jones - 3-star DE from Florida
• Da'Vonshai Harden Jr. - 2-star QB from Kansas
• Kyler Pearson - 2-star WR from Oklahoma (signing not yet announced by KU)