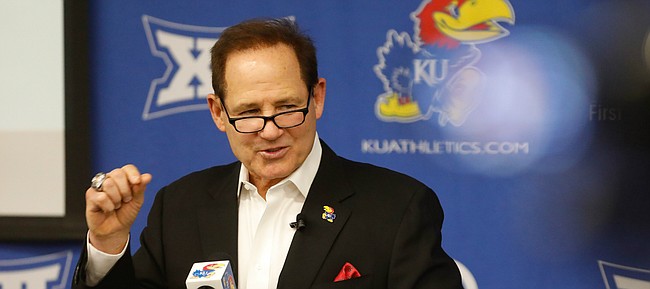 There's still some work to do for Kansas football coach Les Miles and his staff when it comes to completing their 2020 recruiting class, but by Wednesday's end the coaches didn't only have much of that labor out of the way, they also added a quarterback to the mix.
KU announced the addition of 18 signees on Day 1 of college football's early signing period, and Miles even got to introduce the fan base to QB Jalon Daniels, a dual-threat prep QB who previously had committed to Middle Tennessee State.
"Jalon is a six-foot-tall guy that can run and throw," Miles shared of the new Jayhawk during a press conference inside Anderson Family Football Complex. "I don't think there's any question that he has talent and ability, can step back in the pocket, can rush the ball, can have quarterback rushes.
Listed at 6 feet and 207 pounds, Daniels, from Lawndale, Calif., is rated by Rivals as a two-star prospect, while 247 Sports has the QB as a three-star talent.
Daniels had committed to Middle Tennessee State back in October, and remained on board with the Blue Raiders until flipping to KU and signing Wednesday.
Both Army and Air Force also recruited Daniels, but KU was the only Power Five program to offer the mobile QB a scholarship.
"Is he a quarterback of the future? He's certainly a choice," Miles said of KU's biggest surprise during the signing frenzy. "I think there could be another quarterback out there that's being pursued. I'm not really sure at this point."
As of Wednesday evening there was no news on former Florida QB Feleipe Franks, a potential graduate transfer whom the KU staff has targeted. Coaches are not allowed to comment on players until they sign, per NCAA rules.
Help on the way
The bulk of the other paper work sent KU's way came from players who had publicly committed to the program. But KU also added previously uncommitted Johnquai Lewis, a three-star cornerback from Hialeah, Fla.
"I'm extremely proud of the class we're bringing in," Miles said.
Now in the early stages of his second offseason with the program, Miles, without identifying specific prospects, predicted some of the players KU signed will be able to contribute as true freshmen.
"Guys that we took on offense are going to be really immediate helpers," Miles projected.
Of the 18 players announced as signees, 11 are listed on offense. Notably, KU added three offensive linemen: per Rivals ratings, three-star prospect Garrett Jones and two-star O-linemen Armaj Adams-Reed and Nicholas Martinez.
Plus, KU receivers coach Emmett Jones brought in four new players: three-star targets Steven McBride, Tristan Golightly, Lawrence Arnold and Malik Johnson.
On the other side of the ball, among the seven signees, three are cornerbacks and three are linebackers.
"The guys that we took on defense, especially at the corner and the linebacker spots," Miles said, "I think you'll find we're much better there than we've been."
KU's incoming freshman linebackers are all three-star prospects, per Rivals: Krishawn Brown, Taiwan Berryhill and Alonso Person.
The three corners are the aforementioned Lewis, as well as three-star Oklahoma cornerback Duece Mayberry (the younger brother of KU corner Kyle Mayberry), and two-star corner Karon Prunty.
Signing in February?
A handful of recruits, most significantly four-star linebacker Brennon Scott, remain unsigned, though committed to KU football.
Miles explained Wednesday how he and his staff deal with those situations.
"Well, if they've committed then decide not to sign, we say, 'If you've made your decision, then what's the hesitation?'" Miles began. "But if they say, 'I just need a little bit more time, I want to see, I want to come up.' You know what, we're for that. If it's more information, they seek an experience on our campus, then we're for that."
Miles said the 18 KU signed, he thought, were like most high school seniors and wanted to complete the recruiting process.
"I think the great majority of college athletes today," Miles said, "that are faced with both signing periods would much rather get it over with early."
KU also has commitments from three-star cornerback JaCobee Bryant, three-star defensive lineman Kenean Caldwell, three-star defensive end Chris Jones and two-star Topeka quarterback DaVonshai Harden Jr.
KU can sign and add to the 2020 roster a maximum of 25 scholarship players.
Pearson has signing ceremony
Though KU didn't include him on its publicized list of signees, two-star Tulsa, Okla., prep receiver Kyler Pearson participated in a signing ceremony at Union High on Wednesday.
It appears KU could wait until February to announce Pearson as part of the class, and the recruit told the Journal-World that should be the case, once he's officially accepted through KU's student application process and cleared by the NCAA to participate.
Recruits headed elsewhere
Three prospects who previously were among KU's commitments announced Wednesday their college football futures no longer are tied to the Jayhawks.
Three-star Louisiana defensive end Khari Coleman flipped and signed with TCU.
Meanwhile, Jaylin Richardson, a three-star athlete from Schlagle High in nearby Kansas City, Kan., made public the news that he signed with Northern Iowa.
Richardson also utilized Twitter to make it clear he didn't decommit from KU, rather the staff informed him recently it wouldn't be able to honor him with a scholarship as planned.
Similarly, two-star receiver Luke Grimm, shared on Twitter his scholarship expectations with KU had changed, leading him to reopen his recruitment.
KU football's announced 2020 signees
(Rivals recruiting rankings listed)
√ Garrett Jones - 3-star OL from Michigan; 6-4, 285 pounds
√ Will Huggins - 3-star TE from Kansas; 6-7, 235 pounds
√ Daniel Hishaw Jr. - 2-star athlete from Oklahoma; 5-10, 200 pounds
√ Caleb Taylor - 3-star DE from Missouri; 6-2, 255 pounds
√ Trevor Kardell - 3-star TE from Lee's Missouri; 6-5, 225 pounds
√ Krishawn Brown - 3-star LB from Oklahoma; 6-1, 200 pounds
√ Taiwan Berryhill - 3-star LB from Louisiana; 6-2, 200 pounds
√ Steven McBride - 3-star WR from Louisiana; 6-0, 160 pounds
√ Johnquai Lewis - 3-star CB from Florida; 6-0, 185 pounds
√ Tristan Golightly - 3-star WR/TE from Texas; 6-4, 200 pounds
√ Lawrence Arnold - 3-star WR from Texas; 6-3, 185 pounds
√ Armaj Adams-Reed - 2-star OL from Texas; 6-5, 350 pounds
√ Malik Johnson - 3-star WR from Texas; 5-9, 180 pounds
√ Nicholas Martinez - 2-star OL from California; 6-5, 285 pounds
√ Duece Mayberry - 3-star CB from Oklahoma; 6-0, 185 pounds
√ Karon Prunty - 2-star CB from Virginia; 6-1, 190 pounds
√ Jalon Daniels - 2-star QB from California; 6-0, 207 pounds
√ Alonso Person - 3-star LB from California; 6-3, 200 pounds
KU football 2020 unsigned commitments
• Brennon Scott - 4-star LB from Texas
• Ja'Cobee Bryant - 3-star CB from Alabama
• Kenean Caldwell - 3-star DT from Louisiana
• Chris Jones - 3-star DE from Florida
• DaVonshai Harden Jr. - 2-star QB from Kansas
• Kyler Pearson - 2-star WR from Oklahoma (signing not yet announced by KU)