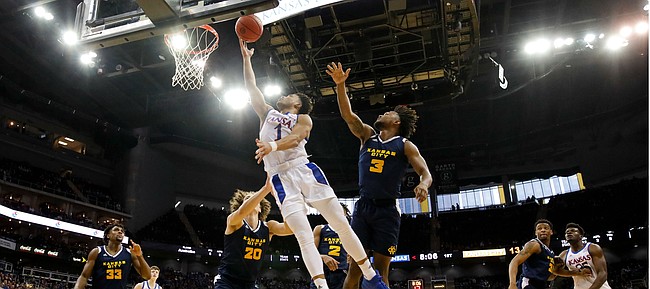 The Kansas men's basketball team is the new No. 1 in college basketball.
KU replaces Louisville at the top of this week's Associated Press Top 25 poll, following the Cardinals loss to Texas Tech last Tuesday night.
Kansas also is ranked No. 1 in the USA Today coaches poll.
It marks the 70th time in AP poll history and 62nd time in coaches poll history that Kansas has been ranked at the top.
"We'll welcome being ranked No. 1," KU coach Bill Self said in a statement. "I don't believe that any team out there is deserving, at this juncture, of separating themselves to earn that. But based on where we started and how we've played the last nine games, I do believe my guys deserve to be ranked high and the No. 1 ranking is something that will be rewarding today, in the short term, but not mean anything moving forward except a bigger bullseye on our back."
The Jayhawks, who have won nine in a row since losing the season opener to Duke in New York City, received 47 of the 65 first-place votes.
They were followed in this week's Top 5 by Gonzaga, Louisville, Duke and Ohio State.
Three Big 12 Conference schools also were ranked this week, with Baylor at No. 10 and Texas Tech (24) and West Virginia (25) jumping into this week's poll.
In many ways, the timing is perfect for the Jayhawks to jump into the top spot.
"You don't ever say the season's just starting because we've had some good games up until this point," Kansas coach Bill Self noted after last weekend's rout of Kansas City at Sprint Center. "But the season's just starting. (We've) got 18 league games and the three nonconference games against people that can obviously beat you. That's 21 regular-season games in a row with no break."
Two of those three nonconference games are in the next couple of weeks, with KU heading to Philadelphia to take on No. 18 Villanova (8-2) on Saturday and traveling to the West Coast the following weekend to take on Stanford on Dec. 29.
After that, it'll be all Big 12 games — the conference opener is set for Jan. 4 vs. West Virginia at Allen Fieldhouse — with the exception of KU vs. Tennessee on Jan. 25 in the Big 12/SEC Challenge at Allen Fieldhouse.
According to the latest KenPom.com rankings and projections, all 21 of those games are against teams ranked in the Top 80. KenPom currently has the Jayhawks slated to lose just one of those — 70-69 at Baylor on Feb. 22 — while five others are projected to be one-possession games, including Saturday at Villanova, where KenPom has KU projected to win 74-73.
As unlikely as losing just one game the rest of the way might be, if it were to happen, KU almost certainly would remain in the top spot in the polls for the next couple of months, a feat that would be a dramatic departure from what we've seen so far this season, with four other teams already occupying the No. 1 spot and losing.
Kansas, which opened the season ranked No. 3 in the AP poll, becomes the fifth team to move into the No. 1 spot in the first seven weeks of the 2019-20 season, and only Duke, for two weeks, and Louisville, for two weeks, were able to stay there for more than a week.
Monday marked the first time the AP poll has had five different No. 1 teams before New Year's Day. The record for different No. 1 teams in an entire season is seven, set in 1982-83.
Despite the move into the top spot, Self was not quite ready to call his team the best or even the most complete team in the country to date.
"We're OK," Self said. "But we'll find (out) a lot more about ourselves starting Saturday."
Saturday's 11 a.m. showdown with the Wildcats in Philly will mark the fourth meeting between Kansas and Villanova since 2016 and is a rematch of last year's 74-71 Kansas victory at Allen Fieldhouse.
Here's a quick look at the rest of this week's AP Top 25
1 – Kansas, 9-1, 1,607 (47)
2 – Gonzaga, 11-1, 1,552 (15)
3 – Louisville, 10-1, 1,412 (1)
4 – Duke, 9-1, 1,387 (2)
5 – Ohio State, 9-1, 1,334
6 – Kentucky, 8-1, 1,231
7 – Maryland, 10-1, 1,207
8 – Oregon, 8-2, 1,172
9 – Virginia, 8-1, 1,121
10 – Baylor, 8-1, 1,062
11 – Memphis, 9-1, 960
12 – Auburn, 9-0, 939
13 – Dayton, 8-1, 879
14 – Michigan, 8-3, 723
15 – Michigan State, 7-3, 656
16 – Arizona, 10-2, 631
17 – Butler, 10-1, 553
18 – Villanova, 8-2, 496
19 – Florida State, 8-2, 449
20 – San Diego State, 10-0, 431
21 – Tennessee, 7-2, 367
22 – Washington, 7-2, 213
23 – Penn State, 9-2, 182
24 – Texas Tech, 6-3, 115
25 – West Virginia, 76
Others receiving votes: North Carolina 41, Xavier 40, Wichita State 31, Purdue 30, Liberty 25, Marquette 23, Indiana 23, Virginia Commonwealth 21, Utah State 14, Saint Mary's 13, Northern Iowa 12, Colorado 12, Texas 10, Florida 7, DePaul 6, Georgetown 3, Richmond 3, Virginia Tech 3, LSU 3, Stanford 3, Seton Hall 3, Oklahoma State 2, Duquesne 1, BYU 1, Arkansas 1
More like this story on KUsports.com