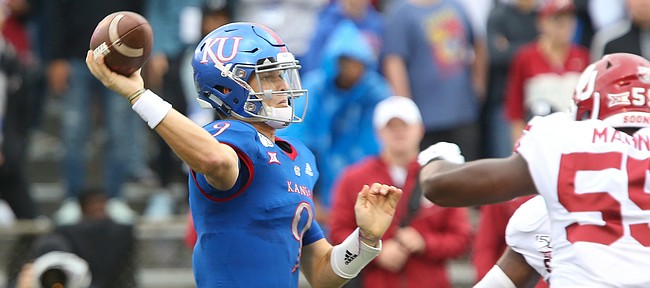 Compared to some recent Kansas football teams, the 2019 Jayhawks had a relatively successful offense. For instance, KU's 377.3 total yards per game marked the program's best average in that category since the final season of head coach Mark Mangino and quarterback Todd Reesing, in 2009.
However, compared to the rest of the FBS teams this year, statistics show that KU still has miles of ground to make up offensively.
Kansas finished 90th or worst — in the bottom 30% out of 130 teams nationally — in four key categories: scoring offense, total offense, tackles for loss allowed and turnovers lost. In most other areas the Jayhawks were average at best and below average in most cases.
At its peak moments, KU's offense was hard to stop during Les Miles' first season as head coach. Kansas put up 48 points in both a win at Boston College and a loss at Texas, scored 37 while beating Texas Tech and had 31 in a road loss at Iowa State — the Jayhawks registered 490 or more yards in each of those results.
But the offense spent most of the season underperforming, even finishing with fewer than 300 yards three times after Miles fired offensive coordinator Les Koenning six games into the season, handing the keys to Brent Dearmon.
The volatility of KU's production led to the aforementioned unimpressive statistical rankings. Thanks to those weeks when the offense bottomed out — 7 points versus Coastal Carolina, 10 against Kansas State and 6 vs. Baylor come to mind — KU only averaged 23.5 points per game in 2019 (tied for 101st).
With help from senior quarterback Carter Stanley's overall solid season — 60.9% passing, 2,664 yards, 24 touchdowns and 11 interceptions — the Jayhawks averaged 231.5 passing yards per game (66th). Though the offensive line was far from perfect, it deserves some credit for KU's passing numbers, too. KU allowed 1.92 sacks per game (tied for 62nd).
While Kansas (3-9 overall, 1-8 Big 12) had a consensus first-team All-Big 12 running back in sophomore Pooka Williams Jr. (96.5 yards per game, 5.2 yards per carry, three rushing TDs), the Jayhawks' ground game struggled to find consistency at times, too. KU averaged 145.8 yards per game (86th), impacting the offense's total yardage of 377.3 yards per game (91st).
Opponents tackled KU ball carriers in the backfield 77 times over the course of the 12-game schedule, another issue for the enigmatic offense. KU's 6.42 tackles for loss allowed ranked tied for 94th in the FBS.
A horrific season finale in the turnover department — six giveaways against Baylor — assured KU of a poor finish in that category, with 20 turnovers lost on the year (tied for 91st).
While the Jayhawks only lost six fumbles (tied for 31st), their 14 interceptions (tied for 109th) proved costly. Four of those picks came in the 61-6 loss to Baylor. Backup Manny Miles accounted for two of the team's interceptions in 2019 and Thomas MacVittie threw one on a trick play, when the reserve QB lined up at receiver at Oklahoma State.
The Jayhawks weren't awful on third downs, converting 39.16% of the time (tied for 72nd). A little bit of success on fourth downs in the second half of the season saved them from being at the absolute bottom in fourth-down conversions, where they finished at 35% (123rd), picking up seven of their 20 attempts. They were 0-for-7 on fourth downs before Dearmon took over as offensive coordinator.
Arguably, KU's biggest strength offensively could be found in the red zone. The Jayhawks scored on 88.24% (36th) of their trips inside their opponents' 20-yard line. The issue, of course, was far too many possessions never traveled into striking distance. KU scored 20 touchdowns and 10 field goals in the red zone and only went scoreless on four trips. KU's 34 red zone visits, though, ranked tied for 114th in the nation.
Despite the Jayhawks' offensive lulls, they could be explosive when they were clicking. Between Williams making moves to take off for long rushing gains and Stanley looking for Andrew Parchment (65 receptions, 831 yards, seven TDs) or Stephon Robinson Jr. (45 catches, 727 yards, eight TDs), KU benefited from big plays at times. The Jayhawks produced 171 plays of 10-plus yards (tied for 66th), with 64 of those gaining at least 20 yards (42nd).
As OC and quarterbacks coach Dearmon gets an entire offseason to address KU's production heading into 2020, the Jayhawks will lose some key seniors from the 2019 roster: Stanley, receiver Daylon Charlot, left tackle Hakeem Adeniji, center Andru Tovi, and right tackles Clyde McCauley III and Kevin Feder.
KU football's 2019 offensive stats
• Scoring offense: 23.5 points per game (tied-101st)
• Rushing offense: 145.8 yards per game (86th); 4.57 yards per rush (54th)
• Passing offense: 231.5 yards per game (66th); 7.1 yards per pass (tied-81st); 134.06 passing efficiency rating (70th)
• Total offense: 377.3 yards per game (91st); 5.86 yards per play (tied-62nd)
• Sacks allowed: 1.92 per game (tied-57th)
• Tackles for loss allowed: 6.42 per game (tied-94th)
• Turnovers lost: 20 (tied-91st)
• Fumbles lost: 6 (tied-31st)
• Interceptions lost: 14 total (tied-109th)
• Third downs: Converted on 39.16% of chances (tied-72nd)
• Fourth downs: Converted on 35% (7 for 20) of chances (123rd)
• Red zone offense: Scored on 88.24% (30 of 34; 20 TDs, 10 FGs) of red zone trips (36th)
• Long scrimmage plays: 171 plays of 10-plus yards (tied-66th); 64 plays of 20-plus yards (tied-42nd); 28 plays of 30-plus yards (tied-52nd)
• Long rushing plays: 57 plays of 10-plus yards (tied-77th); 21 plays of 20-plus yards (tied-36th); 11 plays of 30-plus yards (tied-26th)
• Long passing plays: 114 plays of 10-plus yards (58th); 43 plays of 20-plus yards (tied-53rd); 17 plays of 30-plus yards (tied-77th)
— Statistics from CFBstats.com