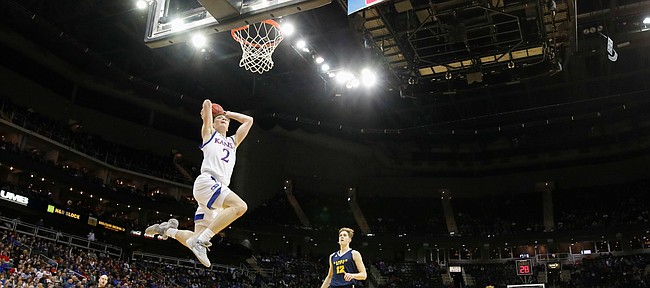 There's little doubt that Kansas freshman Christian Braun was energized by playing in front of his family in his hometown on Saturday during KU's 98-57 victory over Kansas City at Sprint Center.
"Did you hear them," Braun joked after the win.
With around 20 friends and family members there to cheer him on, Braun delivered one of his best games as a Jayhawk to date.
Four points on 2-of-4 shooting. Seven rebounds, including four on the offensive glass. Three assists, two blocks and one steal. All while playing a season-high 21 minutes.
"I felt better today," said Braun after the game, dishing another assist to leading scorer David McCormack, who dropped a career-high 28 points in the win. "I was kind of feeding off his energy and the rest of the team's energy. We did a good job of just playing hard today."
Braun previously held season-highs of four rebounds and one assist, and the two blocks were the first two of his KU career.
Saturday also marked just the fourth time in 10 games that he reached double digits in minutes played. And his intensity and effort — along with the lopsided score — had a lot to do with his extended minutes.
Nowhere was that effort — or the roar from the section of Braun supporters — more obvious or fruitful for Braun than late in the game, when he delivered a two-handed breakaway slam that proved to be the day's final highlight.
The dunk was the result of Braun being in the right place at the right time, which was where he put himself all evening.
"I got a couple loose balls today, got more rebounds, so it just felt good being out there and everything was flowing better for me," he said. "I didn't hit shots, but it happens."
It does. And it has a lot for Braun this season, who entered Saturday shooting just 36% this season. So even though he scored just 4 points, knocking in 50% of his shots was a welcomed sight.
But the offensive output was secondary to the plays that both Braun and KU coach Bill Self see as the freshman's primary role on this team — tracking down loose balls, stealing extra possessions and bringing bounce and energy to the floor.
"It's kind of my job on the team," Braun said. "Everybody has their own role, and I think I do a good job getting loose balls. So that's one thing I've got to do every game, and I've got to be more consistent with it. I do a good job in practice, but that's something that's got to translate over."
One of the reasons Braun did that so well on Saturday was Self's pregame emphasis for the 6-foot-6 freshman.
"I thought Christian was good off the bench," Self said. "I thought his activity level was much better. … When he's in there with the second group, he's usually the second guy to get back (on defense when a shot goes up). His brain isn't conditioned to go (to the offensive glass) whenever he's not, and tonight we told him to try to go every time and create as many possessions as we can. He was better at that."
So were the Jayhawks as a whole.
Kansas scored 13 second-chance points and grabbed 12 offensive rebounds. It marked just the fourth time all season that KU had posted double-digit numbers in those categories and the third game in a row. Kansas recorded 10 offensive rebounds and 12 second-chance points in a win over Colorado and 14 offensive rebounds and 21 second-chance points on Tuesday night in a rout of Milwaukee.
The second-ranked Jayhawks (9-1) are off this week for finals and will return to action at 11 a.m. Saturday against 20th-ranked Villanova in Philadelphia.