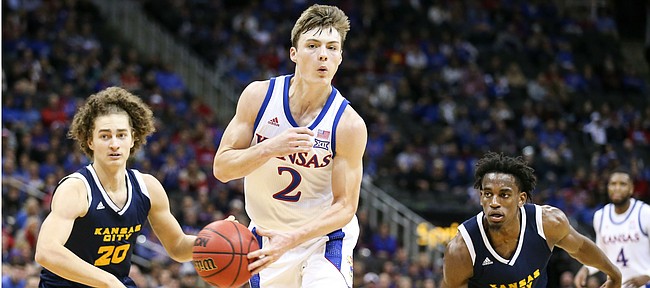 Kansas City, Mo. — With Saturday's 98-57 rout of Kansas City well in hand early in the second half, the second-ranked Jayhawks got the opportunity to give extended minutes to some of their reserves.
Freshmen Christian Braun and Tristan Enaruna were joined for much of the second half by Isaiah Moss and Silvio De Sousa and the Jayhawks (9-1) did not miss a beat.
"We played a lot better in the second half," Braun said. "We've just got to put people away and I think we did a good job (of that). We kind of felt like they stopped playing after we got that big lead. And that helps (us) get a lot more guys a little bit more experience on the court, so it's good for us."
Kansas coach Bill Self agreed, although he wasn't quite ready to hand out gold stars just yet.
"I didn't think the bench by any stretch was terrific," Self said. "But I didn't think we were poor either."
Saturday's game was a fun first for Braun, who played his high school ball near Sprint Center but never had played in the arena.
Photo Gallery
Kansas basketball v. UMKC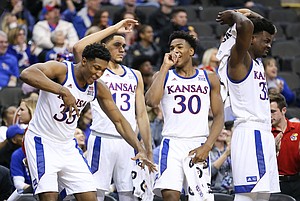 View a gallery of images from Saturday's game between the Jayhawks and Kangaroos at Sprint Center.
Braun, who starred at Blue Valley Northwest after moving to Kansas City from Burlington for high school, said he had attended several games at Sprint Center but entered Saturday trying to treat his debut in the venue as a normal outing.
"I think it's just another game," Braun said of the Sprint Center experience. "But for me, especially being a freshman, there's always a little added juice each game."
With an estimated 20 friends and family members in attendance — including BVNW coach Ed Fritz — the Kansas freshman finished Saturday's game with 4 points on 2-of-4 shooting to go along with seven rebounds and three assists.
Enaruna's first game at Sprint Center produced a little less memorable stat line (2 points and five rebounds on 1-of-10 shooting and the KU bench as a whole delivered 25 points on 10-of-28 shooting in 90 minutes on Saturday.
Jayhawks in Kansas City
Now that Saturday's game is in the books, Kansas has now played at least one regular-season game in Kansas City in 31 of the past 34 seasons.
During the three seasons in that stretch when KU did not play a regular-season game in K.C. (1987-88, 1990-91, 1996-97), the Jayhawks wound up playing conference tournament or NCAA Tournament games there later in the season.
Kansas is now 42-10 all-time inside Sprint Center, with the majority of those wins coming in postseason play, either the Big 12 tournament of NCAA Tournament.
That mark does not include three exhibition victories, two of which came over Canadian clubs in 2015 and one over Missouri in a fundraiser game for hurricane relief in 2017.
KU's history in Kansas City, Mo., of course, goes back way beyond the 12-year history of Sprint Center. The first game in program history — a 16-5 loss to Kansas City YMCA — was played in Kansas City on Feb. 3, 1899 and the Jayhawks have played 312 games all-time in Kansas City, Mo.
The Jayhawks are now 228-84 all-time in various Kansas City venues, with 81 of those victories coming at Kemper Arena, the most of any individual venue.
The Jayhawks will return to Sprint Center later this season for the Big 12 tournament, which is scheduled for March 11-14.
No more UMKC?
Saturday's opponent was playing under a new name than the one Kansas fans might be used to.
Instead of being referred to as the University of Missouri-Kansas City like in years past, the program formerly known as UMKC is now simply, "Kansas City Athletics."
The move to the new name, which has happened at programs throughout the country including KU's other opponent this week — the University of Wisconsin-Milwaukee is now simply, "Milwaukee — is part of a new branding initiative by the school to better connect with its community.
"It is all about evoking emotion with our alumni, fans, students and stakeholders," Athletic Director Dr. Brandon Martin said in an August news release. "It is a way to really bring Kansas City together and inspire Kansas City and to show Kansas City Athletics is for real."
The rebranding came with a new logo and greater emphasis on the "Roos" portion of their Kangaroo mascot.
This and that...
KU's win Saturday improved the Jayhawks' edge in the series with Kansas City to 8-0, including victories in all three meetings in Kansas City... The Jayhawks are now 9-1 or better for the second consecutive season and the ninth time in the 17-year Bill Self era... Saturday's game technically counted as a home game for Kansas and the win extended KU's home-court winning streak to 27 consecutive games, with 25 of those wins coming at Allen Fieldhouse and the other two at Sprint Center.