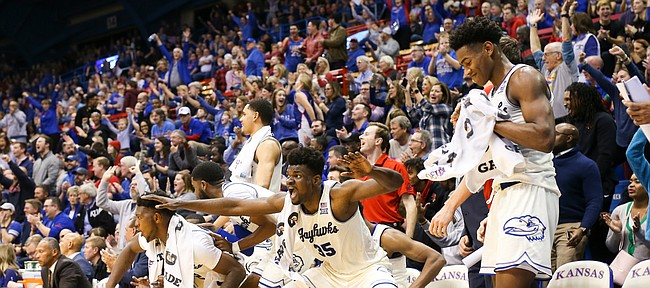 Tuesday's 95-68 victory over Milwaukee marked the final game of the decade for the second-ranked Kansas Jayhawks inside Allen Fieldhouse.
And what a decade it has been.
The Jayhawks' most recent win moved them to 151-7 in their home building during the past 10 years (from 2010-19), a record that represents not only the elite status that the Kansas brand has been known for, but also the type of consistency that other coaches and programs aspire to reach.
What's more, Tuesday's victory made Kansas just the second Division I men's basketball program to win 300 games in the last decade. The Jayhawks (8-1) join Gonzaga (304 wins) as the only two programs to reach the 300-win mark since 2010.
It marks the first time in KU's rich history that the program has reached 300 wins in the same decade, and the 81.6% winning clip for Self's Jayhawks since Jan. 1, 2010, is the second-best decade-long winning percentage in school history behind the 82% mark set during the 1990s when KU went 283-62.
Photo Gallery
Kansas basketball v. UW-Milwaukee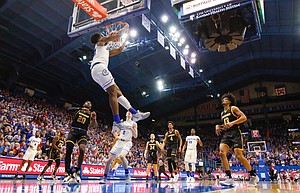 View a gallery of images from Tuesday night's game between the Jayhawks and the Panthers at Allen Fieldhouse.
Self, who went into the Hall of Fame in 2017 and led the Jayhawks to an NCAA-record 14 consecutive Big 12 Conference titles in the past decade, is both impressed by and appreciative of the consistency his teams have displayed at KU.
"Yeah, that's pretty good," Self acknowledged of his team's 151-7 record at Allen Fieldhouse since 2010. "There's a lot of things that go into that, though. Good players and a pretty good atmosphere. That helps."
Self has lost just 13 times in Allen Fieldhouse during his 17 seasons in charge of the program and the achievements by his Kansas teams in the past decade only magnify the high level at which the program has played during that time.
KU was a 1 or a 2 seed in the NCAA Tournament nine out of 10 times since 2010. The only time it wasn't came last season, when the Jayhawks were a 4 seed.
Kansas was ranked in the top 10 in 156 of 191 Associated Press Top 25 polls during the last decade, making the Jayhawks a top-10 team for 82% of the decade.
As for hardware, KU reached two Final Fours in the 2010s, and won nine Big 12 regular season titles and five Big 12 tournament titles.
The program also produced four Consensus First Team All-Americans, four Big 12 Players of the Year, 14 all-Big 12 first-team selections and one National Player of the Year.
"I think we get kind of caught with a bum rap sometimes that we have, maybe underachieved in certain areas," Self said candidly. "I don't think that's happened a lot. I think it has happened some. It happens to everybody. But I think it's because we've been pretty consistent that people expect us to play at the highest level when, basically, over the course of time, we pretty much have played at our highest level for the most part. … I am proud of the consistency factor and I think there's a lot of things that go into that."
Dotson at the line
At 19.8 points per game, Kansas point guard Devon Dotson's scoring is up so far this season from the 12.3 points per game he averaged last season as a freshman.
One of the big reasons is his ability to get to the line.
Through KU's first nine games of his sophomore season, Dotson has made 55 of 64 trips to the free throw line. But it's not just the fact that he's getting there that's helping Dotson out. He's also making his free throws at a notable rate.
An 81% free throw shooter a season ago, Dotson is making his freebies at an 86% clip so far this season.
What's more, he currently is averaging 6.1 free throw makes per game, a rate that, if it continues, would rank sixth all-time in the KU record books behind Wilt Chamberlain in 1956-57 (9.3 per game), Chamberlain in 1957-58 (8.4), Dave Robisch in 1969-70 (7.3), Wayne Hightower in 1959-60 (6.9) and B.H. Born in 1953-54 (6.4).
Teddy Bear Toss
In addition to the basketball game that was played at Allen Fieldhouse on Tuesday night, a toy drive broke out.
At halftime of the Jayhawks' win over Milwaukee, hundreds of the 16,300 Kansas fans in the building tossed teddy bears of all shapes, colors and sizes onto the Fieldhouse floor.
Dubbed by Kansas Athletics as "a new holiday tradition," the event was KU's second annual "Teddy Bear Toss" and the stuffed animals and other plush toys were collected by KU officials and will be distributed to Toys for Tots for distribution over the upcoming holidays.
Last season, KU staff members collected 1,761 teddy bears during the event, which yielded 1,104 furry friends on Tuesday. KU officials are hoping to top last year's total this year and fans will have one more crack at donating during halftime of Sunday's 2 p.m. KU women's game vs. Saint Mary's.
This and that...
KU now leads the all-time series with Milwaukee, 2-0... The only other meeting came in 2004, in Kemper Arena in Kansas City, Mo., where Self's Jayhawks knocked off Bruce Pearl, 73-66 in a non-conference game in December... KU is now 8-1 or better for the second season in a row and the 10th time in the 17-year Self era... The Jayhawks now have won 26 consecutive home games, with 25 of them coming at Allen Fieldhouse, where they are 5-0 this season... Seven of KU's eight wins this season have been by 12 points or more, including two wins by more than 30 points.