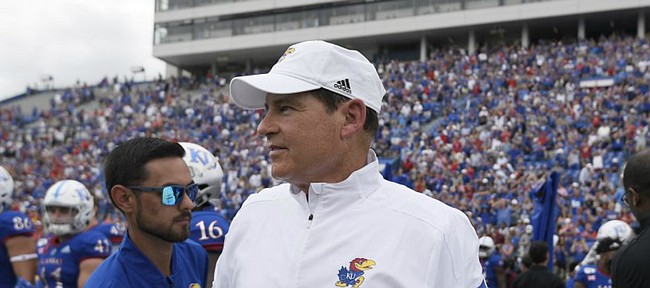 Les Miles gained no shortage of notoriety during his 11-plus seasons as the head football coach at LSU.
Even though he has since moved on to the next stage of his career at the University of Kansas, Miles still is reaping the rewards of his LSU tenure.
ESPN named Miles one of college football's top 150 coaches of all-time as part of its yearlong celebration of the sport's 150th season.
Miles landed at No. 140 on the list, with his career record currently standing at 145-64.
"The Mad Hatter chomped grass, faked field goals and won a whole bunch of ballgames during his remarkable 11-year run at LSU," Miles' entry reads on ESPN.com. "He led the Tigers to a national championship (2007), a pair of conference titles and posted seven 10-win seasons."
Miles left LSU with a 114-34 record after the university fired him four games into the 2016 season.
He resurfaced a little more than two years later at KU. The Jayhawks went 3-9 in Miles' first season at Kansas, 18 years after his head coaching run began at Oklahoma State. Miles' Cowboys teams went 28-21 and reached three bowl games in four seasons.
ESPN's list also included another KU head coach who called Lawrence home for one year, more than a century ago. Known most for his time at Michigan, Fielding Yost coached KU to a 10-0 season in 1899, his lone year with the program. Yost (198-35-12) neared the upper echelon of the list, at No. 18.
Elsewhere in the Sunflower State, legendary Kansas State coach Bill Snyder (215-117-1) landed at No. 55 on ESPN's list.