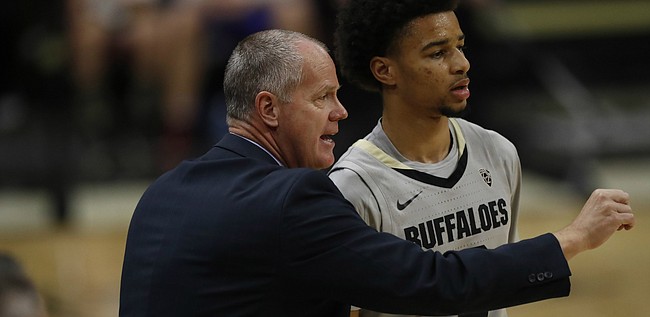 When Kansas coach Bill Self and Colorado coach Tad Boyle locked horns as players with the Jayhawks and Oklahoma State Cowboys in the early 1980s, the two guards were a natural matchup.
"I was the only guy he could guard," Boyle joked during a Thursday phone interview with the Journal-World from his office in Boulder, Colo. "And he was the only guy I could guard."
Put another way by Self: "Tad and I were the two slowest guards in the Big Eight Conference from 1981-85. And I say that in all seriousness."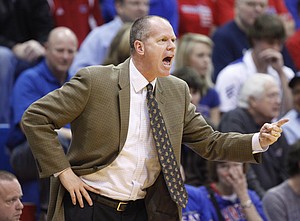 The two former Big Eight guards split 10 meetings against each other during their playing careers, with Self's Cowboys winning five of the first six matchups with Kansas and Boyle and the Jayhawks winning the final four.
While memories of those days no doubt will come flooding back to Boyle this weekend, when he leads his 20th-ranked Colorado squad (7-0) into Allen Fieldhouse for a 6 p.m. clash with No. 2 Kansas (6-1) on Saturday, the top priority for the 10th-year CU coach is bringing a competitive team to the floor this time around.
Boyle is just 1-4 against Self during his coaching career, with three of the losses coming during the 2010-11 season — Colorado's final year in the Big 12 and Boyle's second season at CU — and a split in a home-and-home series in 2012-13 and 2013-14.
"Tad's a really good dude," said Self of the coach who has led Colorado to eight postseason appearances and four NCAA Tournament berths in nine years. "And we're happy for his success. We just don't want him to be successful (Saturday). But he's done a great job."
Boyle came to Kansas after being recruited hard by Ted Owens and former KU assistant coach Bob Hill during his senior season in Greeley, Colo.
Knowing some of the history surrounding the Kansas program — James Naismith, Dean Smith, Wilt Chamberlain, Jo Jo White, etc. — Boyle considered the idea of attending college in Lawrence an opportunity that many might not get.
Back then, there was no early signing period. So Boyle played out his senior season at Greeley Central, led the Wildcats to a state championship and earned Colorado Player of the Year honors. He then watched closely as Kansas made a run to the Sweet 16 and ultimately decided to sign with the Jayhawks in April of 1981.
"Darnell Valentine was the point guard, he was a four-year starter, he was a senior, they went to the Sweet 16 that year and lost to Wichita State and I knew that there'd be some opportunity to go in there and compete for playing time as a freshman," Boyle recalled. "Most kids want that. And to go to a place like Kansas and have a chance to play right away was appealing to me. It actually worked out that way, but then when Coach Owens was replaced by Coach (Larry) Brown, a whole new level of players came in."
After averaging right around 20 minutes per game as a freshman and sophomore, Boyle saw his time on the floor cut in half under Brown.
"I had one of those unusual careers where I probably played and started more as a freshman and sophomore than I did as a junior and senior," he said. "But those were opportunities to grow and have a different perspective and appreciate the game in a different way."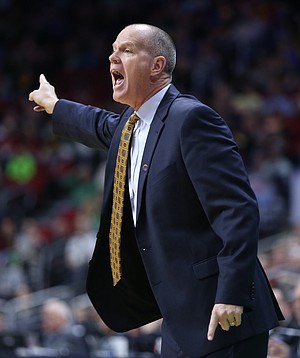 Boyle's path to the Colorado sideline has been anything but cliché.
After graduating from Kansas in 1985 with a degree in business — he was a captain on the 1984-85 team that finished 26-8 — he went to Wichita to work for Koch Industries for a year.
From there, Boyle returned home to his native Colorado, where he got into investment advising. That, too, was short-lived and the itch to get back into the gym eventually won out.
"Coaching is not something I set out to do," Boyle told the Journal-World. "I kind of found it in my mid-20s when I was away from the game for a couple years and I really missed it."
He returned to basketball as an assistant at Greeley (Colo.) West High in his hometown for the 1988-89 season and coached five more seasons of high school basketball in nearby Loveland and Longmont before breaking into college basketball.
While Boyle was finding his way, Self was fast-tracking his career. And by the time Boyle joined former KU teammate Mark Turgeon on Jerry Green's staff at Oregon during the 1994-95 season, Self was in his second season as a college head coach at Oral Roberts.
"He didn't want to go into being a GA or coaching (after graduating from KU), so I was able to sneak in here and steal that position," Self said of the graduate assistant job on Brown's staff for the 1985-86 season that launched his career. "So in a lot of ways I probably owe Tad a lot."
As for what the two expect during Saturday's showdown, Self knows his team is in for a fight.
"They're good," Self said of Boyle's Buffaloes. "They've got good players. And they really defend. That's what they do best."
Boyle, meanwhile, is approaching this weekend's return to his alma mater as if it were any other game against any other opponent.
"It's always been businesslike," he said of his return trips to Lawrence in the past. "Now, we haven't performed very well when we've been there. But it's not about me, it's about our players. I can be as prepared as I want to be, but it's the players on the floor who are going to have to handle the pressure and the excitement that's going to be in that building. And it's my job to prepare them for that. Certainly we respect KU, but we respect everybody and we don't fear anybody. So we just have to go in and play with some confidence and let it all hang out."
More like this story on KUsports.com