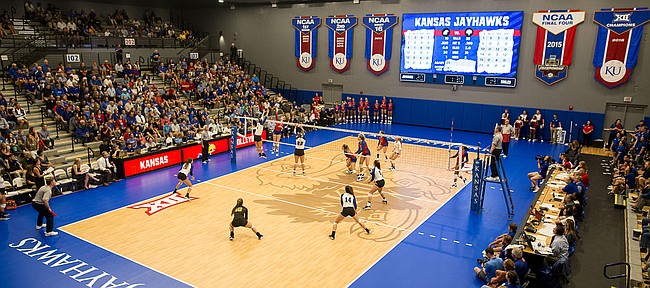 Right before Kansas volleyball faced off against Iowa State on Wednesday night, KU coach Ray Bechard was a little nervous about the fan turnout.
"I didn't know with overtime in the basketball game (whether) that was going to hurt us," Bechard said with a laugh.
But as KU men's basketball secured a 90-84 overtime win over Dayton in the Maui Invitational final, KU volleyball settled in to its senior night match. And to quell any of Bechard's fears, Horejsi Family Volleyball Arena was packed.
"Students are gone; you've got the night before Thanksgiving," Bechard said. "There's a lot of reasons why people might not show up. And they did."
The Jayhawks defeated the Cyclones 3-2 Wednesday in a thrilling comeback victory as KU trailed 2-0 earlier in the match. And while the win signified a positive sendoff for the KU seniors, it also was the final match of the first season of the renovated Horejsi Arena.
As the seniors were recognized after the match, libero Jacqui Mostrom made sure to thank the raucous fan base.
"This place has such a special energy to it, and that's all thanks to you guys who come out and support us," Mostrom said. "It's meant the world all these past years, so thank you so much."
Outside hitter Ashley Smith also has appreciated the support over her career.
"It's an honor to wear Kansas across our chests," Smith said. "We honestly love playing in front of you guys. It's been a long five years, but thank you for everything on this court."
Before the first match of the season in the renovated arena — a 3-0 win over Morehead State on Sept. 12 — senior libero Allie Nelson said she was in tears. She said "this place is magic" and holds a special place in all of the players' hearts.
While the season was a bumpy ride for KU — the Jayhawks finished 6-5 at home and 9-17 overall — Horejsi maintained that magic for Nelson, especially on Wednesday.
It's what makes her feel so lucky and fortunate for KU to have this new home for volleyball for years to come.
"We're so fortunate to have the donors we do and have people that want to put money into women's volleyball," Nelson said. "It's huge. I love women's athletics, so this just makes my heart literally burst at the seams."
Another reason that Nelson has that reaction is the atmosphere created during matches, something that Bechard also pointed to as a positive this season.
"It didn't lose its sense of intimacy," Bechard said. "Great crowd (on Wednesday). It was rocking in here."
Maintaining that relationship between fans and the team is something all four pointed to Wednesday night, and it is something Bechard hopes to continue building on in the new Horejsi Arena.
"It's going to be a special place," Bechard said. "Obviously it gave us more room — we can service more people. It's going to be a great, great place for us for many years to come."