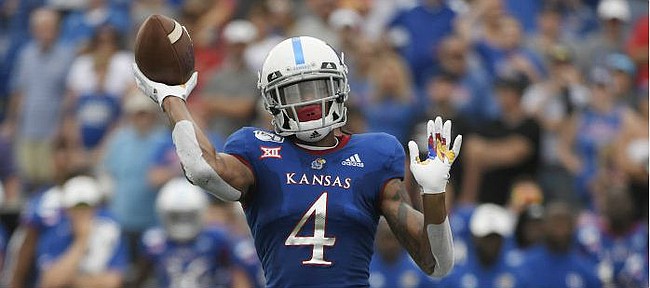 It was only a matter of time before "The Mad Hatter" decided to spice things up for the Kansas football team.
The first trick play by Kansas officially took place 58 minutes into the Les Miles era. The Jayhawks ran a reverse pass, as junior receiver Andrew Parchment linked up with junior tight end Jack Luavasa on a two-point conversion with 2:02 remaining in the season opener.
KU's trickery finished off a 24-17 win over Indiana State and provided fans a glimpse of the type of flair Miles brings to Lawrence. After all, Miles got his nickname by taking such chances as a coach during his time at LSU.
There was just one problem: Miles wasn't the one who called the play.
"We called a timeout before the two-minute (mark), I looked at Coach Miles and said, 'I want to run the play,'" Parchment said. "He trusted me, and I was ready for it."
Parchment, who also made his Kansas debut Saturday, had done enough to earn his coach's trust. In the season opener, Parchment paced the receivers with eight catches for 121 yards.
With 2:20 left in the game, redshirt senior quarterback Carter Stanley and senior receiver Daylon Charlot linked up for a 22-yard touchdown connection to give Kansas a 22-16 advantage. Everybody watching the game knew the Jayhawks had to go for two, but their lengthy celebration of the late score forced them to call a timeout.
Photo Gallery
Photo gallery: Late rally lifts Kansas football past Indiana State
Photo gallery: Late rally lifts Kansas football past Indiana State
It was during the timeout that Parchment proposed to run the reverse pass, and Miles agreed without hesitation.
"Coach Miles, I feel like me and him have a really good relationship," Parchment said. "If I see something on the field that I want to take advantage of — even if is not for me — he is going to listen to us. He's a players' coach, and I'm just happy it turned out the way it did."
Parchment has some quarterback experience from his high school days, so he offered up his services as a passer throughout the spring. After months of begging, Miles finally granted Parchment his wish.
Miles introduced the trick play on the first day that Kansas started to prepare for Indiana State. The Jayhawks then practiced it on a daily basis leading up to the season opener.
"I knew he was going to call (it). I was just waiting for it," Parchment said. "It just happened to be the two-point conversion."
The play didn't go exactly as planned, however. Against the scout team in practice, Parchment always had plenty of time and space to find his target downfield. On Saturday, Parchment was forced to improvise.
After the snap, Stanley ran a speed option to his left. Parchment, who was the only receiver on the left side, came around to the right side and received the pitch from Stanley. As soon as Parchment got the ball, though, he came face to face with an Indiana State defender.
Parchment shook off the tackle attempt around the 15-yard line before launching a pass off his back foot. The ball landed safely in Luavasa's hands, while Parchment bobbed his head in celebration on his way to the sideline.
"That was a little nerve-wracking, to make him miss first and then complete the pass," Parchment said. "I'm just happy everything went that way."
In that regard, the play served as a microcosm of Miles' debut with the Jayhawks.
It wasn't always pretty, but the result was all Kansas could ask for.