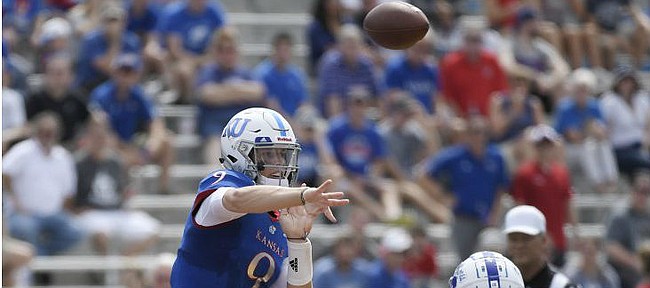 The mystery surrounding the starting quarterback job for the Kansas football team finally dissipated Saturday afternoon as head coach Les Miles went with — and stuck with — redshirt senior Carter Stanley.
But the decision didn't become clear to even the QB competition's participants behind the scenes until the eve of the season opener.
"I wasn't too worried about it to be honest," Stanley said after helping KU defeat Indiana State, 24-17, at David Booth Kansas Memorial Stadium.
Stanley, who completed 20 of 29 passes for 241 yards and two touchdowns, said he didn't learn he would open his final college season as KU's No. 1 QB until Miles mentioned it on the field Friday.
"Again, I was just focusing on this team and what I can do to be the guy for this team and lead us to a victory this week," Stanley said.
Earlier in the week, Miles indicated KU's coaches might look at playing two quarterbacks in Week 1. However, it was only Stanley who manned the most scrutinized position on the field.
"We felt like his play early on was good and made some significant throws, and our ability to move the ball with him at quarterback was definitely a positive," Miles said of going with Stanley exclusively.
Photo Gallery
Photo gallery: Late rally lifts Kansas football past Indiana State
Photo gallery: Late rally lifts Kansas football past Indiana State
Junior transfer Thomas MacVittie, recruited by Miles and his staff this past offseason, did not play in the opener.
According to Stanley, MacVittie took the news well.
"It's tough. I've been in that situation before as well," said Stanley of past preseason battles at KU. "You put so much into it and then at the end of the day the coaches have to make a decision… Even on the sideline today, he was asking me, 'What do you want me to look for?' He's been a great teammate."
Stanley, who started for the 10th time in his career, said he got "hints" the job may be his earlier in the week before it became official.
The senior QB, of course, knew about it before the fans in the stadium, who saw the pregame video board identify both MacVittie and Stanley as KU's starting QB.
Week 1 starters
Stanley wasn't the lone surprise starter for KU against ISU. The team's first public depth chart earlier in the week indicated some unfinished battles at various other spots.
Ultimately, center Andru Tovi, right guard Chris Hughes and right tackle Clyde McCauley III joined left tackle Hakeem Adeniji and Malik Clark as the offensive line's starting five.
Senior Khalil Herbert started at running back and sophomore transfer Ben Miles started at fullback for the offense.
Defensively, KU's starters matched the depth chart, while on special teams junior kicker Liam Jones handled extra points and field goals. Jones connected on one of two field goals, missing from 49 yards. He also was 1-for-2 on extra points.
Defensive leaders
The first Jayhawk to lead the team in tackles in 2019 was linebacker Dru Prox. The junior finished with nine total stops, with a sack.
Senior defensive end Darrius Moragne was close behind Prox, with seven tackles (all solo), and also produced one sack and was credited with a QB hurry.
The only other defender with a sack was senior "Jack" Azur Kamara, who finished with three total tackles.
Miles and Mallory connection
Both Miles and Indiana State head coach Curt Mallory played football at Michigan. Miles graduated from the Big Ten institution in 1976, while Mallory did in 1992.
Miles was an assistant with the Wolverines during Mallory's playing days.
Sims reportedly sticking in Washington
According to multiple reports from Washington, D.C.-based media members Saturday morning, former KU receiver Steven Sims Jr. will make Washington's regular-season roster.
Sims, who led KU in receptions each of the past three seasons, went undrafted this past spring, but joined the organization as an undrafted free agent.
In four preseason games with Washington, the 5-10, 190-pound receiver caught three passes for 32 yards and a touchdown.
Sims tweeted about the news on Saturday: "Today makes it 17 years it took for me to complete a promise I made to my mama that I would go to the NFL. All she can do is cry. I could never repay you but I'm (doing) the best I can to break even."
Beer debut
Miles wasn't the only new attraction for KU football fans at the game Saturday.
The game also marked the debut of beer being readily available to fans, who could purchase a can for $7.
"We I.D." signs were easy to spot throughout the concourse with the new game day feature.
Judging by the long halftime lines, fans seemed happy about the new beverage option.