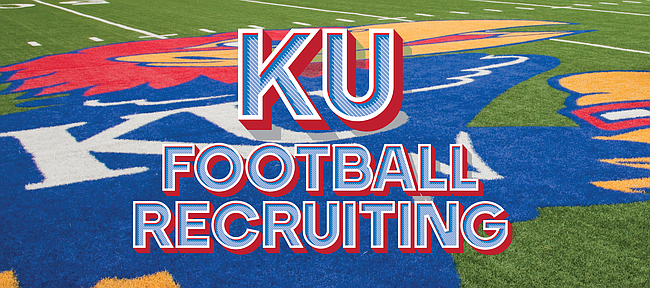 On the eve of his first game as head coach at the University of Kansas, Les Miles' 2020 recruiting class added yet another high school prospect, giving the program one more player than it could technically sign to join the program a year from now.
A three-star linebacker from Harbor City, Calif., Alonso Person made public Friday his commitment to Miles' Jayhawks.
"All the tears, sweat and blood I've put in," Person wrote in a tweet, "I am ecstatic to announce I am committed to the University of Kansas."
Listed as a 6-foot-3, 215-pound senior outside linebacker at Narbonne High (Calif.), Person, according to Rivals, also has secured scholarship offers from Arizona, Arizona State, Oregon, Oregon State, Illinois and Nevada.
With the addition of Person, KU's 2020 class grew to 26 players. The NCAA allows programs to sign a maximum of 25 scholarship players each year. Of course, much can change with nonbinding verbal pledges on the typically wild college football recruiting trail.
If all 26 commitments stick with KU, the staff could take a blueshirt or grayshirt approach with one or more of the prospects to put off adding them on scholarship until the following year. Or the coaches could decide to rescind at least one offer before it comes time to sign its prospects.
It seems unlikely that the NCAA will change its rules to allow more scholarships to be awarded in a year before 2020 prospects sign, even though such a measure has been pushed by KU Athletic Director Jeff Long and the MAC over the past several months. Still, such a change might prove beneficial to KU and other programs in future recruiting years if approved.
The earliest any of KU's 26 high school recruits can sign and make their ties to the program official is December.
2020 KU football recruiting class
- Verbal commitments
• Brennon Scott - 4-star LB from Texas
• Duece Mayberry - 3-star CB from Oklahoma
• Jackson Stoefen - 3-star OL from Iowa
• Keenan Hambrick - 3-star WR from Alabama
• Trevor Kardell - 3-star TE from Missouri
• Will Huggins - 3-star TE from Kansas
• Krishawn Brown - 3-star LB from Oklahoma
• Khari Coleman - 3-star DE from Louisiana
• Garrett Jones - 3-star OL from Michigan
• Ja'Cobee Bryant - 3-star CB from Alabama
• Malik Johnson - 3-star WR from Texas
• Caleb Taylor - 3-star DE from Missouri
• Kenean Caldwell - 3-star DT from Louisiana
• Jaylin Richardson - 3-star athlete from Kansas
• Taiwan Berryhill - 3-star LB from Louisiana
• Lawrence Arnold - 3-star WR from Texas
• Chris Jones - 3-star DE from Florida
• Tanner Hooker - 3-star CB from Louisiana
• Alonso Person - 3-star LB from California
• DaVonshai Harden Jr. - 2-star QB from Kansas
• Luke Grimm - 2-star WR from Missouri
• Tommy Brandt - 2-star OL from Minnesota
• Juan Jarrett - 2-star LB from Ohio
• Nicholas Martinez - 2-star OL from California
• Kyler Pearson - 2-star WR from Oklahoma
• Daniel Hishaw Jr. - 2-star athlete from Oklahoma