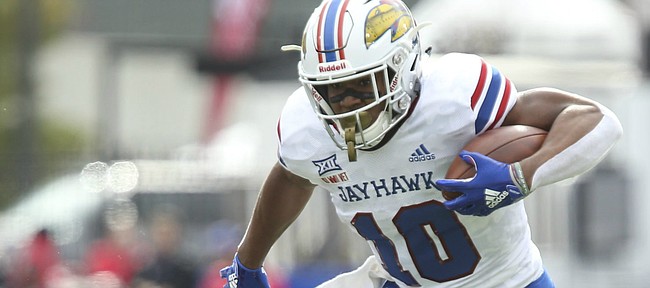 — Kansas (0-0 overall) vs. FCS No. 16 Indiana State (0-0) • 11 a.m. kickoff, David Booth Kansas Memorial Stadium • Game-time forecast: 70 degrees, partly cloudy, 48% chance of rain • TV: FOX Sports Net • Radio: KLWN, FM 101.7 / AM 1320
— Log on to KUsports.com for our live game blog and follow our coverage team on Twitter: @KUSports, @BentonASmith, @mctait and @SJacksonLJW
Keys for Kansas
1. Play call to your strengths
First-year KU head coach Les Miles spent much of his time during interviews this past month persistently talking up the Jayhawks' offensive line.
Even though the group's position coach, Luke Meadows, plans on rotating players in and out up front, Miles thinks the O-line can be an asset for Kansas this season.
If his hunch is correct, and left tackle Hakeem Adeniji, left guard Malik Clark, centers Api Mane and Andru Tovi, right guards Chris Hughes and Adagio Lopeti, and right tackles Kevin Feder and Clyde McCauley III are going to be effective blockers, there's no reason to complicate things.
Especially if the Jayhawks lack a definitive starting quarterback, they should run the ball behind their capable O-linemen.
Podcast episode
On this week's episode of the KU Sports Hour, Matt Tait, Benton Smith, Shane Jackson and Braden Shaw talk all things related to the KU football opener and offer their game predictions and season predictions for the Jayhawks in 2019.
What's more, entering the season, the receiving group is unproven. Meanwhile, even without star running back Pooka Williams (suspended one game for his offseason arrest and domestic battery charge), the Jayhawks have two capable rushers in senior Khalil Herbert (4.4 yards per carry in 2018) and junior Dom Williams (4.2 yards per carry last year). The coaches and player like the potential of true freshman running back Velton Gardner, too.
Opponents rushed for 197.6 yards per game against Indiana State in 2018. As KU's O-linemen have prepared for the Sycamores' four-man front and linebackers who flow to the ball, they're feeling confident entering the opener.
"We've been going over it for two weeks," redshirt junior Lopeti said. "It's pretty easy. It should be a walk in the park on Saturday."
2. Rely on your veteran secondary
As ISU went 7-4 in 2018 and won its final five games of the season, its offense (coordinated at the time by Jeff Hecklinski, now KU's tight ends coach) wasn't flashy, but it was productive.
A lot of that credit goes to quarterback Ryan Boyle, who was named the Missouri Valley Conference's Newcomer of the Year, after passing for 1,672 yard and 12 touchdowns in the final 10 games of the season. Boyle completed 62.4% of his 205 pass attempts and threw only three interceptions while passing for 12 touchdowns.
Although ISU lost its leading rusher from last year, Ja'Quan Keys, Boyle proved to be an effective rusher, too, averaging 5.4 yards per carry and running for six touchdowns.
Boyle, now a senior, has his favorite target from a year ago, receiver Dante Hendrix, who led the team with 47 receptions, 681 yards receiving and four touchdowns, back as well.
With the ISU QB looking like the offense's primary weapon, that should allow new KU defensive coordinator D.J. Eliot to ease into the season by leaning on his many experienced playmakers in the secondary.
In senior "Hawk" Bryce Torneden, senior cornerback Hasan Defense, senior safety Mike Lee, redshirt junior corner Kyle Mayberry, sophomore corner Corione Harris, sophomore safety Davon Ferguson and junior safety Ricky Thomas, the Jayhawks have defensive backs capable of carrying the load in Week 1 as a relatively inexperienced front tries to round into form.
3. Find your QB
Maybe Miles, offensive coordinator Les Koenning and the KU coaching staff have not only settled on who will start the season opener at quarterback but also have determined that player is the man for the job all season long.
However, if they're truly undecided on the matter and plan on rotating QBs until one separates himself as the clear No. 1 option, it's best for this offense's continuity and ceiling that either Thomas MacVittie or Carter Stanley steps up and becomes the obvious choice immediately.
An offense with two quarterbacks involves regular in-game adjustments of some sorts for the rest of the personnel. Getting everything to operate smoothly while also going back and forth between quarterbacks is tricky.
The best case scenario for the offense is that either MacVittie or Stanley serves as the starter and the play-calling sets up the as of yet unannounced No. 1 QB to be successful and gain some confidence.
Big 12 play isn't far away; neither is a Week 3 trip to Boston College. And a program known the past decade for its offensive issues needs as much momentum as possible before the schedule starts becoming more difficult.
Mega Matchup
KU's defensive front vs. ISU's O-line
Any time he's been asked about the defense's relatively inexperienced linemen and linebackers over the past month, Miles has been quick to shoot down concerns with public praise.
Everyone will soon get to see how the group, which only features two players (inside linebacker Kyron Johnson and "Jack" Azur Kamara) with starting experience, fares against a veteran ISU offensive line.
The Sycamores are set to start five fifth-year seniors on the O-line, including four starters from a year ago: left guard Isaiah Edwards (6-foot-7, 360 pounds), center Wyatt Wozniak (6-3, 300), right guard James Lang (6-3, 310) and right tackle Kevin Kcehowski (6-10, 325). The average weight for the ISU O-line, which will start fifth-year senior Mason Feltcher (6-6, 320) at left tackle, is 332 pounds.
If the visitors' veteran blockers can keep KU's linemen, pass rushers and linebackers at bay, ISU could have a chance of delivering the program its first win over an FBS foe since defeating Western Kentucky in 2011.
Conversely, if a handful of new starters from KU's front live up to their head coach's billing, the Jayhawks' defense should be able to survive.
Possible disruptors for the KU defense include defensive ends Darrius Moragne and Sam Burt, nose tackles Jelani Brown and Da'Jon Terry, "Jacks" Kamara and Steven Parker, and linebackers Johnson, Najee Stevens-McKenzie, Dru Prox and Gavin Potter.
Jayhawk Pulse
The veteran players who have been a part of this program the past few years are tired of losing. They seem invigorated by the presence of Miles, a head coach who has a national championship ring that he sports on his right hand from time to time.
Miles and his staff appear to have emboldened the Jayhawks heading into this season, and upperclassmen such as senior running back Herbert understand the team must capitalize on that now.
"I think it's definitely important to set the tone for the season during the first game," Herbert said. "Week 1 we've got to set the tone for the season, come out fast on all cylinders."
The players also look like they enjoy playing for Miles, so that could add extra bounce to their steps for the always anticipated season opener.
As for Miles, although his career record is 142-55 thanks to successful runs at Oklahoma State and LSU, he hasn't coached in a game since LSU fired him following a loss at Auburn on Sept. 24, 2016.
KU's head coach doesn't expect to be overwhelmed by emotions in his return to the sideline.
"I've done this before. So there will be some recall, but I'll enjoy it," Miles said. "I think it's an honor."
Tale of the Tape
KU ….. ISU
KU run D vs. ISU run game √
√ KU pass D vs. ISU pass game
√ KU run game vs. ISU run D
√ KU pass game vs. ISU pass D
√ Special teams
Prediction
KU 34, ISU 17
More like this story on KUsports.com