By now, even if it's not public knowledge, it's safe to assume Les Miles knows who will start at quarterback for his Kansas football team on Saturday at David Booth Kansas Memorial Stadium, when he makes his KU coaching debut.
Miles and offensive coordinator and QBs coach Les Koenning, no doubt, have determined either Thomas MacVittie or Carter Stanley will enter the season as the No. 1 QB — or that the Jayhawks will play both of them against Indiana State.
It doesn't seem that either candidate outperformed the other by a wide margin during KU's closed practices in the spring or preseason. If one had, Miles likely would have named a starter earlier in August instead of keeping the identity a mystery until the offense takes the field for the first time in Week 1.
Given that neither QB has been anywhere close to perfect, Koenning recently provided some insight about what he would like to see from the man who ends up with the job.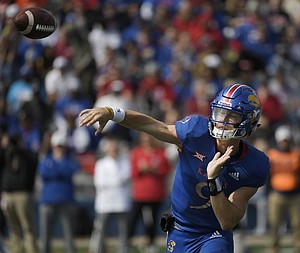 "You've got to be able to manage a game," Koenning said he often tells his quarterbacks. "It's not so much the ability that you put on the field. It's how you manage the game with the quarterback position."
During his more than three decades in the coaching ranks, Koenning said he has witnessed quarterbacks who possess "tremendous amounts of ability" cost their team victories with their in-game decisions.
"Then you see the guy who doesn't have any ability and he just moves it down the field the whole time, and everybody's playing for him," Koenning said.
That's why when Miles asks the former Mississippi State and Texas A & M offensive coordinator, Koenning, what he wants to address during practices, the OC often responds with "more situational football" for the quarterbacks.
"What are you going to do when this happens?" Koenning wants to discover.
The coach who has worked directly with MacVittie, Stanley and the rest of KU's QBs for months now said there are a handful of drills he is "religious about" for their preparation.
But another trick Koenning picked up from Dan Mullen at Mississippi State is purposely putting QBs in difficult situations during scrimmage settings because coaches can learn how a QB will react to a non-ideal play call on the fly.
"When you're the quarterback and they snap the ball to you and all of them guys are coming at you — guess what. It's a reaction," Koenning said. "You can't be thinking, 'I've got to do this.' It's a reaction. And we drill and drill."
Looking back at where MacVittie, a junior college transfer, and Stanley, a fifth-year senior at KU, were at in their development entering spring practices and comparing that to how they performed during preseason sessions, Koenning said it has been "exciting" to watch them read and react to the challenging spots in which they are sometimes placed.
Podcast episode
On this week's episode of the KU Sports Hour, Matt Tait, Benton Smith, Shane Jackson and Braden Shaw talk all things related to the KU football opener and offer their game predictions and season predictions for the Jayhawks in 2019.
"I've always been this way — blitz, is it bad or good? I think it's good, because you can always really hurt defenses if you know what you're doing," Koenning said. "And those are some of the answers that they're starting to give me in all of that. 'Coach, I got it. I got it.' And that's the maturity process with them coming on. I've really enjoyed that part of it. And they're starting to see the progression part of it, too."
Since KU played its spring game on April 13, MacVittie and Stanley have been made available for interviews only once. That was on KU's media day a couple of weeks ago.
It was then that each was asked what he would bring to the offense if he ultimately won the job.
"I think I'm pretty versatile with my passing ability and then running as well," replied MacVittie, a 6-foot-5, 225-pound junior, who played in 2018 at Mesa Community College (Ariz.). "I think that's something that people might not know too much about me, but that's kind of my secret: that I can run pretty well. Other than that just my leadership and understanding of the offense. I'm going to get the offense in the right position for the right play every time."
And what would Stanley provide as the starter?
"Energy. Excitement," the 6-2, 198-pound senior said. "Just putting my teammates in the best position to make plays. And putting this team in the best position to win games."
Miles, Koenning and KU's players have remained vague about what type of offense the Jayhawks will run this year — a tactic aimed to keep upcoming opponents less informed.
But it seems the QB who can best manage the offense and not make mistakes will be the one who gets the spot at the top of the depth chart.
Said Koenning: "The one thing about quarterback play is you can't be too vague. You have to have answers for them. I think that's important for quarterbacks. Give them an answer to tell them how to get out of that situation. And how do they react to it? That'll determine if you're successful 90 percent of the time."