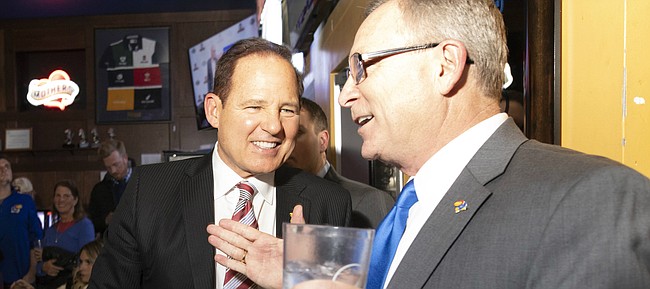 With the help of ESPN+'s new streaming series, outsiders can now officially peek behind the scenes of the Kansas football program.
If you ever wondered what basketball coach Bill Self had to say to Jeff Long on the day the athletic director fired David Beaty or how Les Miles might react to seeing one of his players doubled over vomiting into a trash can, "Miles to Go," has your answers.
The first four episodes of the series, which one needs an ESPN+ subscription to view, debuted online Thursday on the streaming service's Big 12 Now channel.
Roughly 18 to 20 minutes in length, the first four installments cover many aspects of what has happened with the program in the past 10 months, from the day Long fired Beaty, all the way up to preseason practices.
In the first episode, "The Change," the series opens in November of 2018 and follows the early stages of Long's coaching search, with scenes featuring his process as well as some sit-down interviews conducted and shot by JM Associates and Sport & Story, which is producing the show for ESPN+.
At one point, viewers get some honest reactions to the state of the program from fans around Lawrence.
"We're the worst team in college football," one fan interviewed for the series debut said. "It's hard to get worse, right?"
In the second episode, "The Search," Long flies to different locations to interview candidates. Plus, viewers go inside Miles' Baton Rouge, La., home at an unspecified time in the hiring process. It closes with Miles' first day in Lawrence.
KU football fans begin to see much more of the program itself in the third episode, "The Build." That's when Miles gets started on the recruiting front and dives into building his staff.
At one point, Miles, defensive coordinator D.J. Eliot and defensive line coach Kwahn Drake are evaluating footage of an under the radar high school defensive lineman, Da'Jon Terry — who of course ultimately signed with KU.
Episode No. 4, "New Era, New Record," features spring football and a little bit of preseason work, too.
At the conclusion of one spring practice, Miles says, "Ugly day. Ugly day offensively."
However, the episode concludes with Miles driving in August and saying to the camera crew, "I think it's a good football team — if not a great football team."
The documentary style series over which KU has some editorial control — the offseason arrest and suspension of running back Pooka Williams isn't mentioned at any point during the first four episodes — will release one episode a week for the remainder of the season.
The Jayhawks' Week 2 game against Coastal Carolina also will air exclusively on ESPN+.