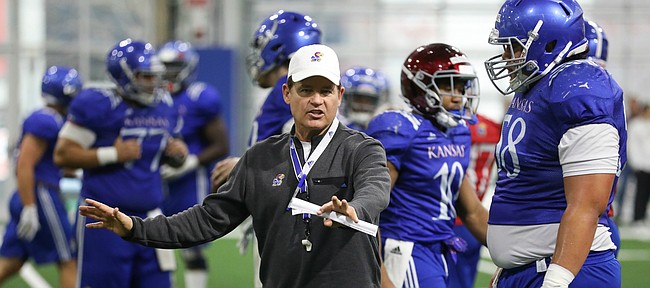 Much like any other preseason, the starting quarterback competition has been well-documented ahead of Les Miles' first year with the Kansas football team. Yet the battle to be the player snapping him the ball has flown under-the-radar.
Part of that is because the offensive line doesn't typically get as much attention. A bigger reason is because the Jayhawks don't need to settle on a starter, as they plan to play two different players.
Redshirt junior Api Mane and senior Andru Tovi will both play center for Kansas in 2019. There was an "or" listed between the two players on the first official depth chart, though both of them will get their turn on Saturday and likely for the remainder of the season.
"They will both play a lot," KU's offensive line coach Luke Meadows said. "If one guy is the one, then the other guy is the 1B. We are in a really good situation."
Meadows has admitted that he plans to rotate multiple members on the offensive line this fall. Still, since the center is arguably the quarterback of the offensive line, there is something to said about having the same man in the middle.
But Meadows and Miles do not believe that will be an issue, and that's because the two centers are nearly identical as players. They both make correct calls on the line and they have similar snaps with the quarterback under center.
Podcast episode
On this week's episode of the KU Sports Hour, Matt Tait, Benton Smith, Shane Jackson and Braden Shaw talk all things related to the KU football opener and offer their game predictions and season predictions for the Jayhawks in 2019.
They even have the same stature, which causes Meadows to mix the two players up on a daily basis. Mani is 6-foot-3 and 327 pounds, while Tovi is 6-foot-3 and 320 pounds. The uncanny resemblance between the two centers actually led Meadows to coming up with a nickname for the duo.
"I call them Bobo and Lil' Debbull," Meadows said. "Because they are big, huge — not that they are big fat guys — but it is like they are freaking clones."
Bobo and Lil' Debbull are two troll-like creatures from the movie Nothing but Trouble, which is a 1991 American horror comedy film directed by Dan Aykroyd. While Meadows might get confused by their physical similarities at times, it is evident that they have different personalities.
Mane is more outgoing, and is usually the one cracking jokes during drills or in the offensive line meeting room. Tovi is more mature, and has embraced the role of the team's chef at barbecue events hosted by the two centers.
It has led to a perfect tandem in the middle of the offensive line. The two players push each other to get better, rather than focus on competing, because they both expect to play.
"When we are not too sure on a play or whatever, we are both kind of taking each other's point of view," Tovi said. "Coach Meadows talked to us about criticizing each other and helping each other get better. Me and him, we go back and forth like, 'Hey don't do this and that.'"
Podcast episode
Each week this football season, Shane Jackson and Matt Tait will take their stab at five over/under numbers for the Jayhawks and their opponents during that week's game. Up first: KU vs. Indiana State on Saturday, Aug. 31, 2019 in the season opener. Follow the KU Sports Hour on:
Last season, both players saw action for the Jayhawks. Tovi played in all 12 games, starting in six at the center and left guard spot. He started eight games at left guard during his sophomore season, which was his first year after transferring from Pima Community College.
Mane, meanwhile, played in three games last fall before taking a redshirt during his first year in Lawrence. Prior to that, Mane spent two years at the College of San Mateo (Calif.). This marks the first season that Mane has even played center at the collegiate level.
It remains to be seen if this rotation plan will prove to be effective. Regardless, both centers believe it has helped fully prepare them for the 2019 campaign.
"That's why I feel great, because both of us are competing no matter what," Tovi said. "There is no first string (or) second string. We are both going to compete no matter what."