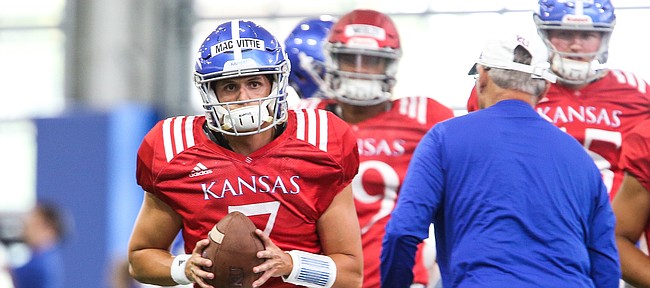 Les Miles hinted earlier this month the competition for the Kansas football team's starting quarterback job might last all the way up to the Jayhawks' season opener.
Five days before making his sideline debut as KU's head coach, Miles updated the situation Monday morning, saying he doesn't plan to announce the No. 1 QB before the Jayhawks face Indiana State on Saturday.
It will be either Thomas MacVittie or Carter Stanley taking the first snap of the next era of KU football. Asked during the Big 12's first coaches teleconference of the season about their battle, Miles said he would "wait until after the game, to be honest" to declare a starter.
"You can certainly go to the game and watch to see how they're going to be played," Miles added. "We like our quarterbacks and we're going to let it play out."
MacVittie and Stanley, who have battled for the job since spring football, and their teammates only had four more practices and a walk through left on their game week schedule when Miles stood firm in committing to neither QB as the starter.
Even if the job is decided by the week's final practice on Thursday, Miles at this point doesn't plan to make a public announcement.
"We're going to take our competition through the back end of the week," Miles said. "Obviously we'll know exactly who's going to start. But it's going to be late. It's good news, because both quarterbacks are talented. And we're looking for the best."
Could he see a situation in which KU used two quarterbacks? Well, Miles wouldn't rule it out publicly.
"I would imagine that two could conceivably play," Miles said. "We're contemplating that as we go through game week."
During his afternoon press conference Monday, Miles said there is some advantage to playing more than one quarterback.
"Different skill set," Miles said of the two contenders, the 6-foot-5 MacVittie and the 6-2 Stanley. "You put a guy on the field that can throw it, run it. You put a guy on the field that can throw it, run it faster. There's some things you could do with those guys that we haven't done thus far."
If you ask the coach which QB runs faster, though, he has a warning to offer.
"I can't tell you. I'd have to shoot you," Miles joked.
Disadvantages also accompany rotating quarterbacks, Miles said.
"What you want to do is give every rep that you can to the starter, right? The good news is we've been in this rotation for some time," Miles said, referencing how the offense has used more than one primary quarterback throughout spring and preseason practices. "And it's allowed us to look at and verify over time who the best quarterback was and/or is. You weigh the differences in giving somebody all the reps or, really, defining who the best quarterback is."
Though requested for interviews by the Journal-World, neither MacVittie nor Stanley was made available to reporters Monday afternoon.
In 2018 at Mesa Community College (Ariz.), MacVittie, a former Pittsburgh signee, played in six games and completed 92 of his 172 passes (53.5%) for 1,064 yards, with 16 touchdowns and eight interceptions.
During his most recent season at KU, Stanley went 34-for-47 (72.3%) through the air, passing for 304 yards and three TDs, with one interception, while making two starts and appearing as a reserve on five other occasions.
According to their teammates, both quarterbacks have handled the months-long battle for the starting gig well.
"They're both competitors," senior tackle Kevin Feder told reporters Monday, "and they love to compete. And it's definitely exciting to watch them back in the pocket and have them throwing the ball around all day long, and having them compete with all the little things that they're trying to get better at each day. So it's great to see that we have two — we have multiple quarterbacks right now that are competing for this spot, and it's just great to see everybody in that room. They bring the best out of each other, and it's great to see. It gives us a lot of faith on the offense that we have some great guys with great minds throwing the ball."
The Jayhawks don't yet know how either QB will perform in offensive coordinator Les Koenning's system outside of a practice setting. Still, junior running back Dom Williams said members of the offense have been impressed during the team's closed practices.
"We know that both of them can ball out," Williams said. "Just whoever is out there is going to know the offense and is going to be ready to go."
If distinguishing skill sets separate them in practices, Williams wasn't willing to share that information.
"Well, both of them are leaders and I've seen both of them can extend plays," Williams said, when asked to name any differences in the QBs. "Thomas is a lot faster than I thought he was, just like seeing him run. So both of them can make plays and extend plays."
KU opens its season at 11 a.m. Saturday versus Indiana State, ranked No. 16 in the preseason FCS poll.