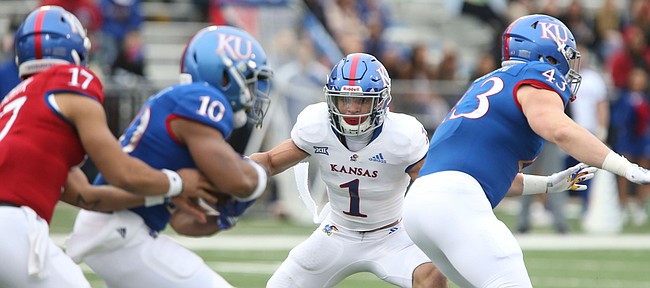 Head coach Les Miles felt confident he could identify the best leaders on his Kansas football team. A player vote this past weekend confirmed it.
"I'm thrilled about the captains," Miles said Monday, after the Jayhawks elected three — senior defensive back Bryce Torneden, senior offensive tackle Hakeem Adeniji and junior punter Kyle Thompson.
According to Miles, his philosophy for choosing team captains — one apiece for offense, defense and special teams — each season involves the players confirming the process with a vote.
"What you're doing is you're telling the coach that you know who this room is," Miles said, while speaking with media members in the same auditorium where he addresses his players, "and who they're led by. I think they got the exact right guys."
The three captains for 2019 learned after Saturday's practice that they will be the ones not only going out to midfield before every game for the coin toss but also continuing to take on large leadership roles around the football complex throughout the week.
"So we voted in our team meeting right before practice," Torneden said. "And I guess they took some time to tally them up. And then at the end of practice, they announced it. Had us stand up and kind of just said our thanks, and told the team how much it means to us. You know, we're just going to try our best to lead the team in the right direction."
Adeniji has started 36 games in his college career at KU, Torneden, a Free State High School graduate, has 24 career starts heading into his senior year, and Thompson was voted to the All-Big 12 preseason team at punter.
"It means the world," Torneden said of being named a captain. "It means more than any awards or postseason accomplishments. Just being elected, it means a lot to me, being named by my team and my coaches."
Miles described the trio of captains as "really great leaders."
No injuries to report
According to Miles, the Jayhawks made it through most of August without any major injury concerns.
"No soft tissue injury that will prohibit our guys from playing in the game," Miles said, ahead of the season opener versus Indiana State. "Or for that matter, any hard tissue either. Our health is good. We've got to get through. These game weeks can be physical (during practices) as well."
Defensive newcomer not on depth chart
When KU published its two deep on Monday, the list did not include sophomore defensive lineman Malcolm Lee.
Earlier this summer, Lee was arrested in Lawrence on suspicion of driving under the influence.
"He's not on the depth chart at this moment," Miles said Monday. "When he's eligible, we'll certainly include him."
Lee arrived this summer at KU as a transfer from Iowa Western Community College. An Omaha, Neb., native, Lee is listed at 6-foot-5 and 285 pounds.
He is scheduled to appear in municipal court on Tuesday for a plea hearing.