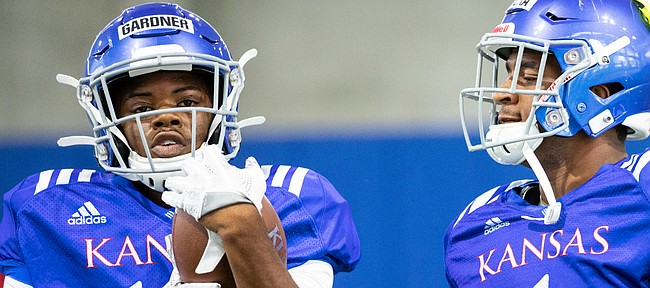 After playing mainly quarterback during high school, Kansas freshman running back Velton Gardner has gone through a bit of a learning curve during preseason camp. 
"Yeah, it's been an adjustment, but the older running backs, they got me and stuff like that," said Gardner, a newcomer from Dallas. "When I do wrong they help me and give me advice on what to do better."
That group — sophomore Pooka Williams Jr., junior Dom Williams and senior Khalil Herbert — has helped Gardner develop as he watches and learns from the older running backs.
"Just showing me the stuff I used to get away with in high school and letting me know like, 'You've got to do this a little different,' and stuff like that to help me contribute to my game," Gardner said.
More specifically, the group has taught him the "maturity and preparation" necessary for playing in the Big 12 and at the college level.
"Just working hard and taking on everything that comes to me," Gardner said.
Podcast episode
KU Sports writers Matt Tait, Benton Smith, Shane Jackson and Braden Shaw talk about KU basketball strength and conditioning coach Andrea Hudy leaving to accept a job at the University of Texas, the KU football quarterback battle and who they think will be QB1 against Indiana State, the biggest concern ...
Even though the depth chart isn't set, Gardner won't be the top option out of the backfield. Still, running backs coach Tony Hull said he's looking to include Gardner in the offense.
"Competitors are not ever really patient," Hull said. "He is fighting hard to carve out a role in this offense, and I've embraced that and I've helped him with that to find a way."
That's translated to practice and during scrimmages, according to Hull and junior quarterback Thomas MacVittie.
Hull said he looks for players who make it possible for the offense to not "have to snap the ball again" — a player who has the explosiveness and breakaway speed for touchdowns.
"I think he's had two or three long runs from practice," MacVittie said. "Just from the line of scrimmage — two jump cuts and he's gone. And he's beating safeties down the field, so he's not getting caught."
Gardner emphasized focusing on what he can control and credits his coaches with helping him feel more acclimated to the offense and capitalizing on his speed.
"(Hull's) been a great teacher," Gardner said. "I've learned a lot from him, and he's helped me adjust to college and what it takes to be a great running back. I can relate to him and just go and talk to him when I'm feeling down or whatever."
Another assistant — receivers coach Emmett Jones, whom Gardner has known since he was in middle school — is like family to Gardner.
"He's like a legend back at home," Gardner said. "He just was honest the whole time in recruitment, which played a big role in me coming here."
Jones, a Dallas native, pitched to Gardner that the culture was changing at KU. That was something Gardner wanted to be a part of, he said, and brought him to KU over offers from Texas Tech, Colorado and Kansas State, among others.
Now that he's a Jayhawk, Gardner is continuing to learn from his teammates and finding his role in the offense.
"I've just been working hard trying to contribute to the team," Gardner said. "Just trying to make a difference."
Hull recognizes that work ethic and talent Gardner is bringing to the position group, and they both hope to capitalize on those attributes this season.
"He's a dynamic kid and more importantly he's a dynamic competitor," Hull said. "Usually you get kids that are very, very talented, but they're not competitive. He wants to compete. He wants to be the best, just like those guys in the room. He's going to have a role on this team. We just have to figure out what's the best way to utilize the talent that he brings to the team."