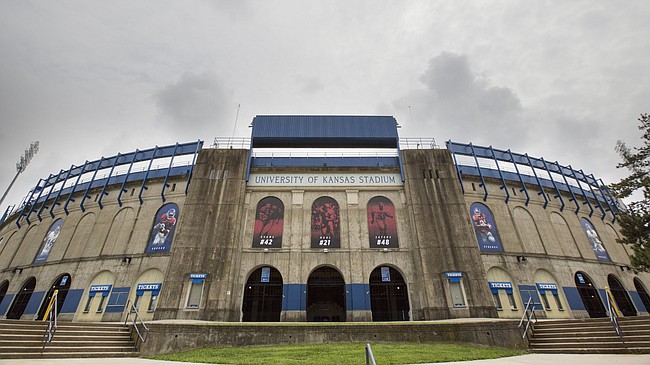 It all came down to a simple question: Would you rather fight 12 tiny Bill Selfs or one giant Les Miles?
"I've got the answer," Kansas athletic director Jeff Long responded. "I'm not going to fight either of them because I'm smarter than that. But I would go to battle with each one of these two.
"They are going to win for Kansas, they're going to win for the Jayhawks and we're excited to have both of them here."
This exchange with Miles, Self and host Danny Woods, a 2012 KU graduate, was a part of the playful atmosphere of Traditions Night at David Booth Kansas Memorial Stadium.
The annual event serves as a time for incoming KU freshmen to learn the different traditions and history of KU, from the Rock Chalk chant to the origins of Big Jay and Baby Jay.
"We're going to learn some of KU's biggest mysteries," Woods said to open the event.
Before Miles, Self and Long walked onto the field, Woods had the KU band and Rock Chalk Dancers perform, as well as teach the freshmen the complicated clap that goes with the fight song to varying degrees of success.
To top it off, Miles, Self and Long smiled and "waved the wheat" with the students.
Eventually, the trio walked onto the field to answer questions from Woods and continue ramping up excitement for the students for the upcoming football and men's basketball seasons.
"I love you Bill!" a fan shouted right at Self.
Self said he favors the Rock Chalk chant because "that means victory" and Miles emphasized how excited he was to start the football season next Saturday against Indiana State.
"(I look forward to) developing a team, bringing the team to the field, taking the field at David Booth Memorial Stadium and winning," Miles said.
The conversation went off the playing field, too, as Woods mentioned Miles' acting career and Self's previous outfits for Late Night in the Phog, which included an Oklahoma State uniform and dressing up as Ron Burgundy from "Anchorman."
Even though he enjoyed acting, Miles said coaching football has been both his greatest challenge and greatest joy.
"There's never been anything that I really wanted to do more than coach football," Miles said. "Football is a demanding sport, both by the players and the coaches, and you have to do a lot to have success. It's (always) football."
And while Self built up the history and previous success of Late Night in the Phog, he made sure to remind everyone the annual basketball tip-off event is still "a long ways away."
"We've got some business to take care of Saturday and the following Saturday and the following Saturday before we ever get to Oct. 4," Self said. "The people here tonight, all 3,000 of you will want to be at Allen Fieldhouse that night."
While Miles and Self were there to promote their respective teams, Long made sure to also put the spotlights on the students and implored them to purchase All Sports Combo Passes to come to Allen Fieldhouse and "The Booth" this fall.
"Be here for coach Miles," Long said. "We already see your student support for coach Self in Allen Fieldhouse. Now we need all of you out here at the Booth next week."
In other Kansas basketball news:
• KU coach Bill Self said he was hoping to have a new strength and conditioning coach hired by as soon as the end of next week. The hire became necessary after longtime KU strength coach Andrea Hudy recently left to take a similar position at the University of Texas.
• Self said KU's annual boot camp was slated to begin Sept. 9. Boot camp is a preseason conditioning series that tests physical and mental strength and prepares the Jayhawks for the upcoming season.
• Senior grad transfer Isaiah Moss is on campus after spending the summer in his native Chicago working an internship and working out with trainers in preparation for his move to Kansas. Moss, a 6-foot-5, 208-pound shooting guard who previously starred at Iowa, is immediately eligible and is expected to bring key 3-point shooting to the Kansas rotation.
• Speaking of eligibility, KU commitment Dajuan Harris, a point guard from Columbia, Mo., who committed to KU this summer as the Jayhawks' 13th scholarship player on the 2019-20 roster, remains unsigned and is not yet on campus but is still expected to join the program in time for the 2019-20 season. Harris spent the summer working on academic requirements to pave the way for his move to KU.
— KUsports.com's Matt Tait contributed to this report.