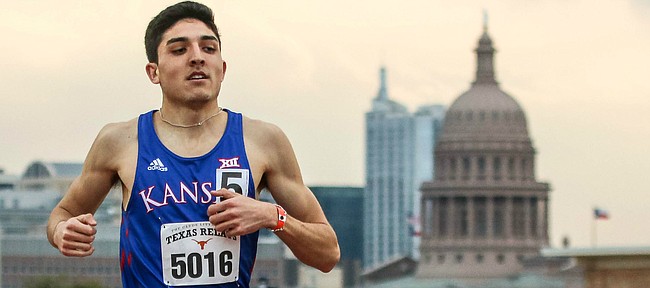 A two-time NCAA Champion with the University of Kansas track program, Bryce Hoppel announced on Saturday he has signed a professional contract to represent Adidas.
"I am excited to venture into the professional world as a part of the adidas family and to wear the three stripes with pride," Hoppel wrote in a statement. "In the coming year at Kansas I will have the opportunity to finish my degree at the pace that is best for both my athletic and academic careers and thrive under the familiar training structure and support I have already found so much success in."
A Midland, Texas, native, Hoppel is coming off a standout junior season that inspired his decision to turn pro early.
Hoppel won 22 consecutive races, sweeping both NCAA Indoor and Outdoor 800 meter titles. Hoppel became the first Jayhawk to win the 800 meter title both indoors and outdoors, while his time of 1:44.41 at the NCAA Outdoor Championships was the fifth-fastest in collegiate history.
While at Kansas, Hoppel won four Big 12 titles, including a sweep of the 800 meter title both indoors and outdoors in 2019. He also was a five-time All-American.