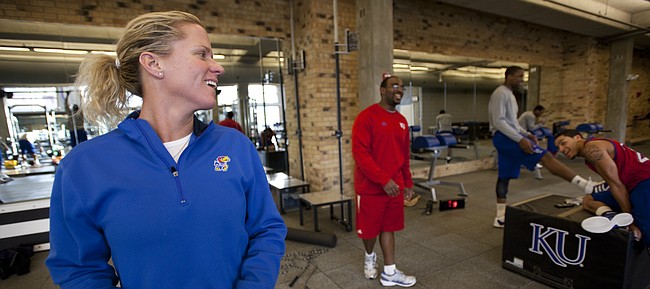 After 15 years at a place that "means the world" to her, Kansas basketball strength and conditioning coach Andrea Hudy is officially leaving KU.
The news, which first broke Thursday night, became official on Friday afternoon when KU announced in a news release that Hudy was leaving the program for a slightly different role at the University of Texas.
"Andrea informed me Wednesday night that she was visiting with the University of Texas about a position a little bit different than the one she had with us," Self said in the release. "I saw it as potentially a good opportunity for her. While I'm disappointed she is leaving, I am also excited for her, and I know our players will be as well. Bottom line is, we hate to lose her, but we understand that she has a great opportunity to grow and do something new professionally. We wish her the best, and we look forward to seeing her during the Big 12 season."
According to a UT news release announcing Hudy's hire, the now-former KU employee will oversee strength and conditioning for both men's and women's basketball at Texas.
The men's program had an opening after strength coach Daniel Roose, who followed UT head coach Shaka Smart from VCU to Texas, left earlier this month to return to VCU.
"After speaking with Shaka, I am encouraged that I will not only be able to continue working with outstanding student-athletes, but I will also have the chance to impact the program by building strong relationships," Hudy said in a statement released by the UT athletic department.
Added Smart: "We're very excited about the addition of Andrea Hudy to our program. Her track record of training elite performers is second to none, and her ability to connect with the players she trains makes her a terrific fit for our relationship-based culture. When Andrea expressed an interest in joining our team, it quickly became clear that her unique skill set is ideally suited for our team's performance needs. We're looking forward to Andrea getting to work with our guys immediately."
Hudy is slated to start her new job in Austin on Monday.
Hudy protege Zack Zillner, who works with the Texas women's program, will now work for his mentor in Austin.
"Together, Texas basketball will be served by the best strength and conditioning team in the nation," UT women's coach Karen Aston said in a statement.
For 15 years Hudy was credited with being a huge part of the success that Kansas basketball has enjoyed under Self.
"Andrea Hudy has played a pivotal role in our success over the last 15 years," Self said Friday.
In 2013, Hudy was named the National College Strength and Conditioning Coach of the Year by the National Strength and Conditioning Association. A few years later, in 2017, she was awarded with the NSCA's Impact Award, given annually to someone who has contributed to the advancement of the industry.
"I have had the most amazing experience during my time as a Jayhawk," Hudy said. "and will always be grateful for the people I had the opportunity to work alongside."
After working for nine years as the strength and conditioning coach for men's and women's basketball at UConn, Hudy came to Kansas in 2004 and immediately found success. On Friday, she gave special thanks to Self.
"There are not words to adequately describe my gratitude to Bill Self," Hudy said in the release. "He empowered me to be a leader and supported me every step of the way. His unwavering faith in me allowed me to truly make an impact with our players, and that is the work I am proudest of. Working in college athletics is unique because of the opportunity to make a difference in student-athletes' lives. At Kansas I was able to do just that, and I will cherish those relationships for the rest of my life."
Hudy's departure comes a few months after KU's athletic department restructured its health care plan for student-athletes by shifting to a new model that led to Hudy and roughly 40 other employees working for the newly formed Kansas Team Health, a joint venture that includes the KU athletic department, The University of Kansas Health System and LMH Health in Lawrence.
All of the former KU employees affected by the change began reporting to medical professionals at KU Health System instead of athletic department officials.
Former longtime KU football trainer, Murphy Grant, another accomplished professional in the sports medicine industry, recently left KU for a similar job at Wake Forest.
Although Grant had not been KU football's primary trainer for more than a year, he still was around the program in his role as KU's Associate Athletic Director for sports medicine. As of Friday, that position had not been filled, a KU spokesperson said.
The search to find Hudy's replacement will begin immediately and KU Athletic Director Jeff Long, just beginning his second year at Kansas, explained a little about how that process will work in the release.
"We will work with Coach Self and Kansas Team Health to find another outstanding strength and conditioning coach who will help our student-athletes be their very best," Long said.
In May, when the Kansas Team Health model was launched, Long answered hypothetical questions about hirings and firings under the new structure by calling it a "shared responsibility."
"(The) coach is still involved in the hiring," Long said in May. "But there's others involved as well to make sure that that strength coach or that trainer has the proper credentials and understands our model and can operate and work in our new model."
On Friday, Long added: "We appreciate Coach Hudy's contributions to Kansas Athletics and are proud that she has been recognized nationally as a role model for young women who are interested in sports performance. We wish her well as she pursues other challenges."
Those challenges will come within the Big 12 Conference, meaning that Hudy will be crossing paths with the KU several times a year.
"There are so many people I have come across at KU who have helped push me forward in my career, and made an impact in my life in numerous ways," Hudy said in the release. "Lawrence will always have a special place in my heart. The people here embraced me immediately upon joining the Jayhawk family, and made me feel at home. Thank you Jayhawk Nation for an amazing 15 years! Rock Chalk!"