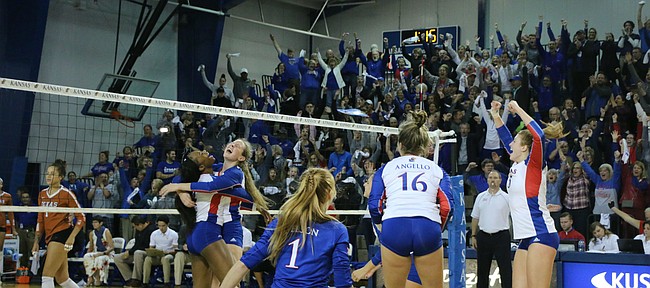 New arena. New team. Same expectations.
This season marks the first year the Kansas volleyball team will compete in the new Horejsi Family Volleyball Arena. The Jayhawks will also feature plenty of new faces, as they welcome five true freshman and a transfer setter.
Despite all this unfamiliarity, though, KU has the same mindset entering the 2019 campaign.
"We have to be competitive within our league," Kansas head coach Ray Bechard said. "We have always set a goal to win a Big 12 championship, but the top-three is certainly something we think is going to be realistic. But it will be a challenge."
Because the construction of the new arena is not complete, the Jayhawks have been practicing in the Ambler Recreation Center during preseason practices. It has gone smoothly, but Kansas is eager to start getting to work in its new home.
"We are looking forward to the day that we can move into the new spot," Bechard said. "(Players) are anxious, but I know they are doing a great job over there. Hopefully by the time the end of the month rolls around, we will be ready to go."
KU will make its official debut in the new arena on Sept. 12 during the Kansas Invitational, when it takes on Morehead State. Kansas will also face Arizona (Sept. 13) and Syracuse (Sept. 15) during its home event.
Prior to that, the Jayhawks have three exhibition matches on the road against Wichita State, UMKC and Omaha. Kansas will be on the road to start the season, as it is slated to compete in the UCF Challenge between Sept. 6 and Sept. 8.
For seniors Allie Nelson, Zoe Hill and Ashley Smith, spending one final season in the new arena is the perfect way to end their careers.
"I don't think there is a better way to go out for your last season than finish it in a whole new building," Nelson said.
Kansas was picked seventh out of nine teams in this year's Big 12 preseason poll following a 15-12 (8-8 Big 12) campaign last season. Hill and sophomore Rachel Langs, who are both middle blockers, were the only KU players recognized on the All-Big 12 preseason team.
Yet the Jayhawks were also one of four teams to receive votes in the AVCA Preseason Poll. Texas was ranked No. 4, while Baylor was listed at No. 20. Both TCU and KU were recognized in the receiving votes category.
Theoretically, it should take time to get the five true freshmen — Gracie Van Driel, Kennedy Farris, Rachel Hickman, Riley Foltz and Morgan Christon — acclimated to how things are done at the collegiate level.
However, the Jayhawks were helped in that regard by their trip as a team to Europe in late May. At one point, Kansas even competed against the Italy Junior National Team. The trip was especially important for junior setter Sara Nielsen, who transferred from Minnesota.
"We competed well, it was great for Sara Nielsen to get some time to set. She only had three practices with us before we left," Bechard said. "I think the fact we had the opportunity to do the Europe thing, I think I might not be quite as anxious as I might be."
Because of the trip, the Jayhawks feel ahead of schedule heading into the season with many new players. And it might be the difference in KU, which won a Big 12 title in 2016, competing with the elite teams once again.
"We have been through a lot together," Nelson said. "We definitely have that grit that it takes to get to the top of the Big 12. I've been there, so I'm really excited to see this team work and see what we can do this year."
2019 KU volleyball schedule
Aug. 30 — at Kansas City, 7 p.m.
Sept. 3 — at Omaha, 6:30 p.m.
UCF Challenge
Sept. 6 — vs. Albany, 4 p.m.
Sept. 7 — vs. South Carolina, 3 p.m.
Sept. 8 — at UCF, 3 p.m.
Kansas Invitational
Sept. 12 — vs. Morehead State, 7 p.m.
Sept. 13 — vs. Arizona, 6:30 p.m.
Sept. 15 — vs. Syracuse, 1 p.m.
Rebel Challenge
Sept. 20 — vs. Arizona State, 5:30 p.m.
Sept. 21 — at UNLV, 2 p.m.
Big 12 play
Sept. 28 — vs. Baylor, 1 p.m.
Oct. 2 — at Iowa State, TBD
Oct. 5 — at Oklahoma, TBD
Oct. 10 — vs. West Virginia, 6:30 p.m.
Oct. 16 — at Texas Tech, TBD
Oct. 19 — vs. TCU, 1 p.m.
Oct. 23 — at Kansas State, TBD
Oct. 26 — vs. Texas, TBD
Nov. 2 — vs. Oklahoma, TBD
Nov. 6 — vs. Texas Tech, 6:30 p.m.
Nov. 9 — at TCU, TBD
Nov. 13 — at Baylor, TBD
Nov. 16 — vs. Kansas State, 1 p.m.
Nov. 23 — at Texas, TBD
Nov. 27 — vs. Iowa State, 6:30 p.m.
Nov. 30 — at West Virginia, TBD