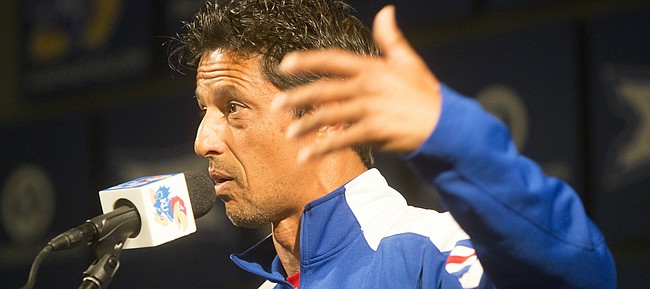 After making it to the second round of the NCAA tournament a year ago, Kansas soccer has made a concerted effort during offseason training to build on 2018.
"You know, you can have talent, you can have ability, you can coach them and do all the things you think you can do as a coach, but ultimately it comes down to they have to execute, they have to have the right mentality," KU coach Mark Francis said. "Last year I thought that was one of the reasons we had the season that we did."
The Jayhawks' 2018 season ended in a 4-1 loss to No. 3 North Carolina, with KU finishing the year 12-6-3. Even with that success, Francis said he still thinks the team missed opportunities late in the season, something he is working to correct in 2019.
"The intensity has been really good (at practice), pretty consistent in their attitude every day," Francis said. "We're making progress and each day we're getting a little bit better."
KU brings back three key senior returners, forward Katie McClure, midfielder Ceri Holland and defender Madison Meador. All three will be team captains this season.
"We all have different personalities and traits that we bring to the team that will help the team and make it special," McClure said.
However, the Jayhawks also lost a handful of significant contributors from last year's squad in forwards Grace Hagan and Taylor Christie and midfielders Kaycie Young and Anna Courtney, among others.
McClure said she recognized the significance of those losses, but added that there was a new contingent ready to fill those gaps.
"I think it's hard when you lose great people like that, but I think (new recruits) and other people have stepped up and made a significant role in the midfield and up top with losing Grace," McClure said.
KU also has eight incoming freshmen this season in Gabbie Dawe, Melania Pasar, Ellie Prybylski, Mya Sheridan, Ebba Costow, Gracely Briley, Lia Beyer and Margherita Giubilato.
Pasar (Slovenia), Costow (Sweden) and Giubilato (Italy) in particular are international recruits, something that Francis said has been a priority when "you don't find the quality you're looking for" with potential recruits in the United States.
"They've all played internationally for their countries and stuff so they come in with a lot of experience having played at a higher level," Francis said. "I think that just brings good quality to the group."
Those two groups, the veteran returners and newcomers, have meshed well this offseason and McClure said team chemistry has already been built over the summer and during preseason camp.
That's even with various position changes, such as moving senior Eva Eliasdottir and sophomore Bri Amos to forward and sophomore Sam Barnett to midfield.
"We just knew we were going to be thin in numbers up top," Francis said.
Now, the team is looking toward the upcoming season, hoping to use the "grit, resilience and sacrifice" gained from 2018, specifically from their 5-1-3 record in nine overtime games last season.
"So just to bring that back to this team again would help a lot and if we can push even more, not only to get to those spots, but kind of put them away at the beginning," McClure said.
Francis said he believes this team can compete for the Big 12 title and wants to see the team close out matches when it performs up to its capabilities.
"So I think this year, based on the performance, if we should win the game we should win the game," Francis said. "If we play better than the other team, we should win. And that wasn't always the case last year. So that's one thing we'll try to improve on."
2019 Kansas Soccer Schedule
Aug. 16 - Omaha (Exhibition) 7 p.m.
Aug. 22 – Nebraska, 7 p.m.
Aug. 25 – Loyola-Chicago, 1 p.m.
Aug. 29 – Memphis, 7 p.m.
Sept. 1 - Florida Atlantic, 1 p.m.
Sept. 6 - at DePaul, 3 p.m.
Sept. 8 - at Purdue, 1 p.m.
Sept. 13 - at Northwestern, 7 p.m.
Sept. 15 - at Western Michigan, 12 p.m.
Sept. 19 – BYU, 7 p.m.
Sept. 22 - Kennesaw State, 12 p.m.
Sept. 26 – Texas, 7 p.m.
Sept. 29 – Baylor, 1 p.m.
Oct. 3 - at Oklahoma State, 7 p.m.
Oct. 10 - at Oklahoma, 7 p.m.
Oct. 13 - at Texas Tech, 1 p.m.
Oct. 18 - Kansas State, 7 p.m.
Oct. 24 - West Virginia, 7 p.m.
Oct. 27 - at TCU, 1 p.m.
Oct. 31 - at Iowa State, 7 p.m.
Nov. 3 - Big 12 Championship Quarterfinals, TBA
Nov. 8 - Big 12 Championship Semifinals, TBA
Nov. 10 - Big 12 Championship Final, TBA
Nov. 15 - NCAA Tournament First Round, TBA
Nov. 22 - NCAA Tournament Second and Third Rounds, TBA
Nov. 29 - NCAA Tournament Quarterfinals, TBA
Dec. 6 - NCAA Division I College Cup, TBA
Dec. 8 - NCAA Division I College Cup, TBA