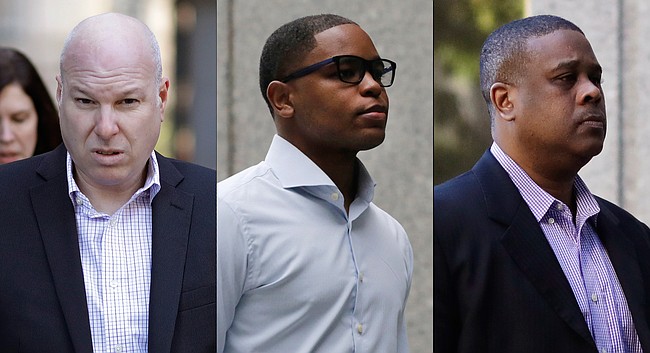 Attorneys for three men convicted of providing payments from Adidas to steer high-profile college basketball prospects to specific universities have filed an appeal, according to a Wednesday report from ESPN.com.
In March, Judge Lewis A. Kaplan sentenced former Adidas executive James Gatto to nine months in prison and business manager Christian Dawkins and amateur league director Merl Code to six months in prison for their roles in a college basketball recruiting scandal.
Kaplan recommended all three men serve their sentences at minimum security prisons and said each could remain free until a federal appeals court decided whether to uphold their convictions.
Wednesday's report stated that a 144-page appeal filed at the U.S. Court of Appeals for the Second Circuit on Tuesday included claims from the defendants' attorneys that their clients might have broken NCAA rules but did not commit federal crimes.
"It is not illegal to give someone money to persuade him to attend a particular college," the lawyers wrote, according to ESPN. "A grandmother can offer her grandson a car as an inducement to attend her alma mater. Indeed, colleges regularly offer scholarships and other direct financial assistance to prospective students to convince them to enroll. These actions do not violate the law."
There is no known timeline for how long the appeals process will last.