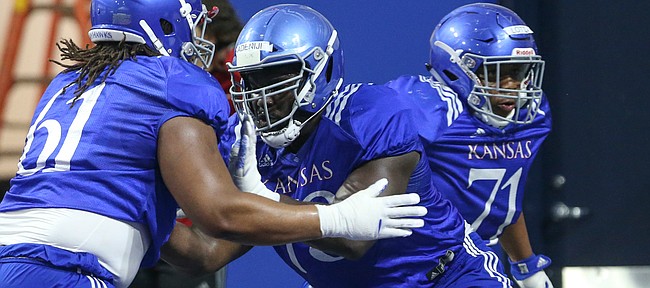 A three-year starter on the Kansas football team's offensive line, senior left tackle Hakeem Adeniji earned a spot on the preseason watch list for the Earl Campbell Tyler Rose Award.
Candidates for the award have to be born in Texas, a graduate of a Texas high school or a player for a college football program in the Lone Star State. A graduate of Garland High, in Texas, Adeniji and other candidates for the honor are said to also exhibit characteristics that define legendary Longhorns running back Earl Campbell, including integrity, performance, teamwork, sportsmanship, drive and an interest in the community.
The watch list, announced Tuesday, will be trimmed to at most 16 semifinalists in November and down to as many as five finalists in December. The ultimate 2019 recipient will be voted on by broadcasters, commentators, journalists, fans, and previous winners.
Adeniji hasn't missed a game since joining KU as a true freshman in 2016 and has started all 36 games of his career.
Local backup QB no longer with team
After a year with KU football, reserve quarterback Billy Maples is no longer with the program.
A walk on from Park Hill High, in Kansas City, Mo., Maples redshirted in 2018.
The 6-foot-2, 210-pound QB played briefly in KU's spring game and appeared in KU's media guide that was published earlier this summer but has since left the team for undisclosed reasons.
As a high school senior Maples passed for 3,130 yards and 41 touchdowns in 2017.
'Hawk Talk' on horizon
Les Miles' first season at KU will include weekly appearances on the athletic department's coach's show, "Hawk Talk."
This year the live recordings of "Hawk Talk" with Miles will take place at Johnny's Tavern West, in Lawrence, with 12 shows scheduled for the upcoming season, beginning on Aug. 28.
The episodes are scheduled for every Wednesday evening at 7 p.m. throughout the season, with the exception of KU's first bye week (Oct. 9) and the final week of the 2019 season (Nov. 27).
KU Kickoff event set for Aug. 23
A little over a week before Miles' KU debut, the football program will have its annual KU Kickoff at Corinth Square, in Prairie Village, on Aug. 23.
The event, scheduled to begin at 6 p.m., will feature an appearance by Miles, as well as KU Athletic Director Jeff Long. The festivities also include KU's band, spirit squads, mascots, food, inflatables and more.